Thinapp 4.7 ins and outs in this book from Peter Björk. This new book which is detailing everything you need to know about VMware Thinapp 4.7, by Peter Björk, EMEA Horizon and ThinApp Specialist Systems Engineer at VMware, from Sweden. His latest book Thinapp 4.7 Essentials has just been published by Packt publishing but it's also available through Amazon – Paper:  VMware Thinapp 4.7 Essentials or Kindle.
You'll be able to learn not only the best methods to deploy ThinApp packages, their maintenance, upgrading and troubleshooting, but also the application linking. What is one of the most important.
The testimonials (from Amazon):
By @LucD
Peter does a great job explaining all the aspects of using ThinApp to virtualise your software packages. From capturing, over deployment all the way to troubleshooting.
The book is filled with tips and tricks. So even the somewhat more experienced ThinApp user will find practical information that will help him in his day-to-day use of ThinApp. I did in any case !

The Troubleshooting chapter alone is already enough justification to buy the book.
Peter Björk
Peter Björk has many years of ThinApp experience. He started out working with Thinstall, and continued after VMware acquired the product in 2008, renaming it ThinApp. Peter supports ThinApp in the EMEA region. As a teacher, Peter has educated many ThinApp packagers around the world. Peter lives in Sweden with his wife and two kids, a boy and a girl.
Concepts behind Application Virtualization
ThinApp architecture and vocabulary
Application Linking
Application packaging process and best practices
Various methods to deploy ThinApp packages
How to update your ThinApp project
ThinApp 4.7 design and implementation best practices
ThinApp troubleshooting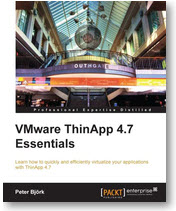 Here is the sub-chapters from the Chapter 7 of the book – The Troubleshooting, to give you an idea of what's inside…
The theory behind troubleshooting
Effective test procedures
The Dirty Test
The Washed Test
The Clean Test
The Production Test
Common troubleshooting tools
Process Explorer
Process Monitor
Dependency Walker
Microsoft Event Viewer
Error messages
ThinApp Log Monitor
Troubleshooting tips and tricks
Your everyday capturing process
Summary
Get your copy VMware Thinapp 4.7 Essentials or Kindle.
VMware Thinapp 4.7 Essentials completes number of other VMware books, which are useful when studying the latest VMware technology.
There are many other books available on my Books page, which helps you to to through in learning VMware Virtualization technologies.