A few days back VMware has released an independent package VMware Tools 10.3.0. Since several releases, VMware tools are released independently from ESXi hypervisor images. You might wonder what's new in this release and how to update/maintain your hosts.
VMware Tools 10.3.0 brings some updates and bug fixes as usual.
You might want to check the release notes and see if it's beneficial for your environment, or simply wait for a new update/patch for ESXi which you can distribute via vSphere Update Manager (VUM). We'll show you at the end of the post how to upgrade your host/cluster with the latest VMware tools 10.3.0 by using vSphere update manager (VUM). All this within the new HTML5 web-based interface. Read on…
Windows Guest OS Requirements
This release of VMware tools has some requirements before installation in the Guest OS.
VMware tools 10.3.0 has a requirements – Microsoft Visual C++ 2017 Redistributable version 14.x. If this component isn't installed, VMware installer will take care of it and installs it prior to installing.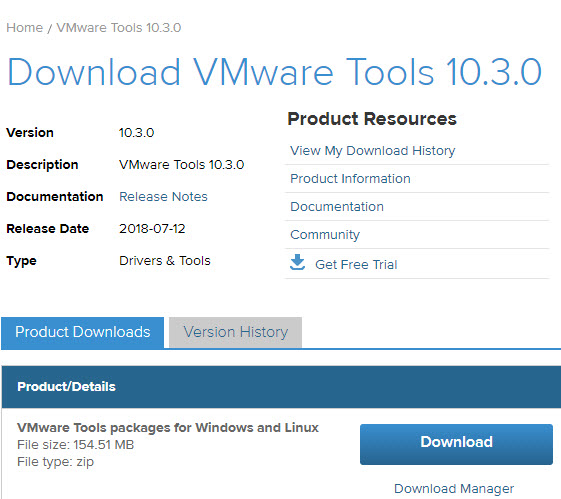 Quote:
VMware Tools 10.3.0 depends on and ships Microsoft Visual C++ 2017 Redistributable version 14.x. While preparing the system for VMware Tools 10.3.0 installation, Microsoft Visual C++ 2017 Redistributable is installed on the system as a prerequisite. For more information, see Installing or Upgrading to VMware Tools 10.3.0.
Check the eventual problems you might encounter on this page.
Some interesting facts about perhaps limited space on ProductLocker partition of the ESXi:
In earlier versions, VMware Tools ISO images were shipped with the ESXi image. These ISO images are deployed on ProductLocker partition of the ESXi. However, this approach poses a challenge due to limited space in ProductLocker. In order to address this space limitation, only windows.iso , linux.iso and winPreVista.iso are bundled with ESXi. Other ISO images are available for download from https://myvmware.com and will not be shipped with ESXi in the tools-light vib. ISO images for few end of life guest operating systems are frozen.
This means that you might need to pay closer attention to space you're having on your USB stick (if you're running ESXi installed on low capacity USB stick).
Note: If you're running low on space, you may want to reconfigure your hosts to use a shared location for VMware tools.
Other than that, by simply replacing the old ISO images within the ProductLocker location by the new ones, and restarting a VMware vCenter agent service on a host would refresh the version info on a per-host basis. You would do that if you have just a couple of ESXi hosts.
If you're running a cluster of hundreds of ESXi then you would consider putting VMware tools in a shared location and updating the shared VMware tools location via host profiles.
Here is what's new (quote from Release notes):
VMware Tools 10.3.0 supports the following guest operating systems:

windows.iso supports Windows Vista and later. 

VMware Tools 10.3.0 depends on and ships Microsoft Visual C++ 2017 Redistributable version 14.0. While preparing the system for VMware Tools 10.3.0 installation, Microsoft Visual C++ 2017 Redistributable is installed on the system as a prerequisite. Installing or upgrading to VMware Tools 10.3.0 is not supported for Windows versions that do not meet the prerequisites and customers should continue to use VMware Tools 10.2.x or older until they can patch or update Windows OS to meet the prerequisites for VMware Tools 10.3.0.
Windows OS level pre-requisites

Windows Server 2016
Windows 10
Windows Server 2012 R2
Windows 8.1
Windows Server 2012
Windows 8
Windows Server 2008 R2 Service Pack 1 (SP1)
Windows 7 SP1
Windows Server 2008 Service Pack 2 (SP2)
Windows Vista SP2
Windows Server 2012 R2 with Microsoft update KB2919355
Windows 8.1 with Microsoft update  KB2919355

linux.iso supports Linux guest operating systems Red Hat Enterprise Linux (RHEL) 5 and later, SUSE Linux Enterprise Server (SLES) 11 and later, Ubuntu 10.04 and later. It also supports other distributions with glibc versions 2.5 and later.
darwin.iso supports Mac OS X versions 10.11 and later.
solaris.iso supports Solaris versions.

Integration of VMware AppDefense with VMware Tools: VMware Tools installation includes the VMware AppDefense, a security management, and monitoring solution. This data center security solution is based on application control, detection, and response. For more information, see the VMware Tools User Guide.
Changes in the OpenGL driver: OpenGL driver has been updated for bug fixes and performance improvements

Vertex buffer object (VBO) optimization
Display list drawing optimization

Changes in the VMXNET3 driver: Receive data ring support for the Windows VMXNET3 driver.
Shared folders: FUSE-based Shared Folders client which is used as a replacement for the kernel mode client supports Linux distributions with kernel version 3.10 and later.
VMware Tools user space compiler upgrade: Compiler for VMware Tools 10.3.0 for Windows has been upgraded to Microsoft Visual Studio 2015.
Resolved Issues: This release of VMware Tools resolves few issues which are documented in the Resolved Issues section of this release notes.
Interesting to know that VMware tools ISOs contains installers from all Operating systems and those ISOs are depending on VMware product and Quest operating system installed in particular VM.
3 Ways of distribution for VMware Tools:
ISOs (containing installers): These are packaged with a particular product and are installed in a number of ways, depending upon the VMware product and the guest operating system installed in the virtual machine. VMware Tools provides a different ISO file for each type of supported guest operating system: Mac OS X, Windows, Linux, NetWare, Solaris, and FreeBSD.
Operating System Specific Packages (OSPs): Downloadable binary packages that are built and provided by VMware for particular versions of Linux distributions. OSPs are typically available for older releases, such as RHEL 6. Most current versions of Linux include Open VM Tools, eliminating the need to separately install OSPs. If you want to download OSPs and to find important information and instructions, check the  VMware Tools Operating System Specific Packages (OSPs) page.
open-vm-tools (OVT): This is the open source implementation of VMware Tools. Usually, the guys who maintain Linux distros, they pack those tools within their distros, so the administrators can easily install and update VMware Tools side-by-side with other Linux packages.
There is also many International languages packed into VMware Tools.
VMware Tools 10.3.0 is available in the following languages:
English
French
German
Spanish
Italian
Japanese
Korean
Simplified Chinese
Traditional Chinese
The download location is below:
Download:
Download VMware Tools 10.3.0 from VMware:
When on the Download page at VMware look for the VMware-Tools-10.3.0-core-offline-depot-ESXi-all-8931395.zip file. You'll find it at the bottom of the page where are the different VMware tools packages….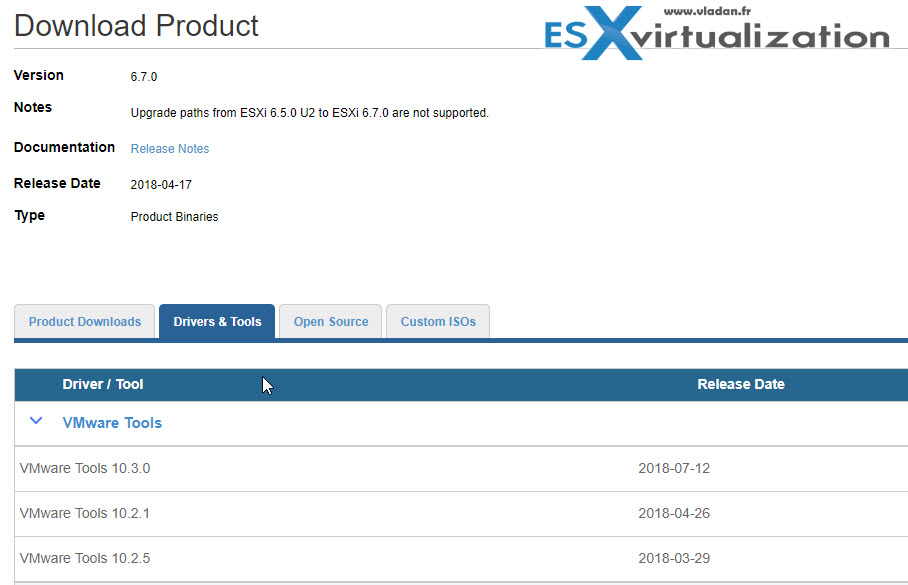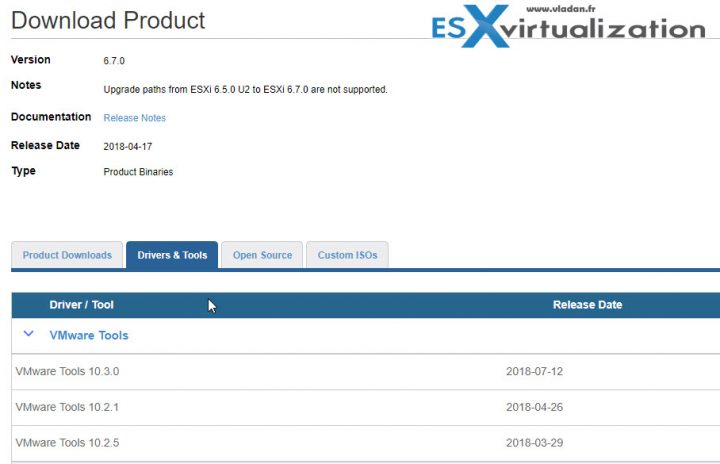 And then here at the bottom, as VMware Tools Offline VIB bundle…..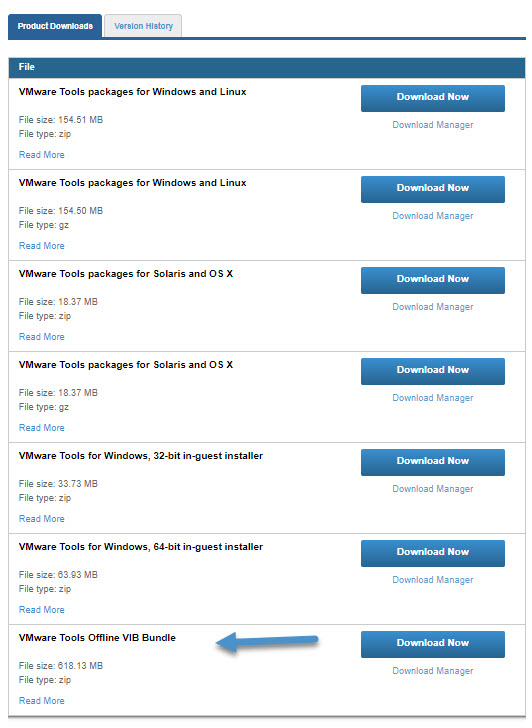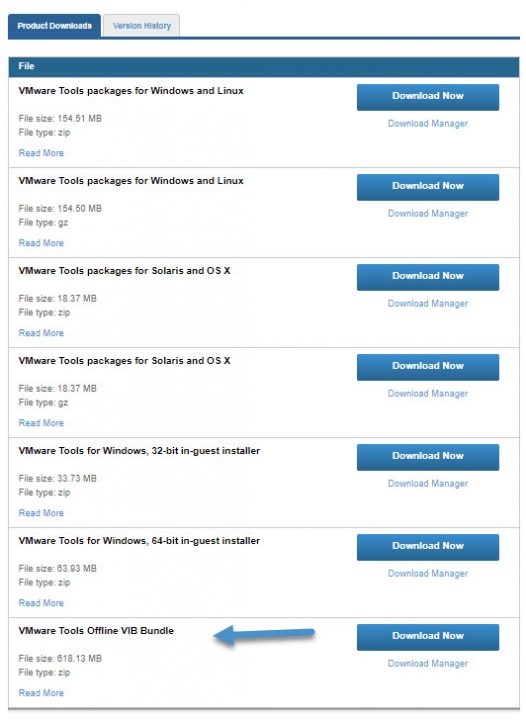 The update via VUM – vSphere Update Manager
Download the VMware-Tools-10.3.0-core-offline-depot-ESXi-all-8931395.zip file from VMware.

This is the file….

After that, go to the vSphere Update manager.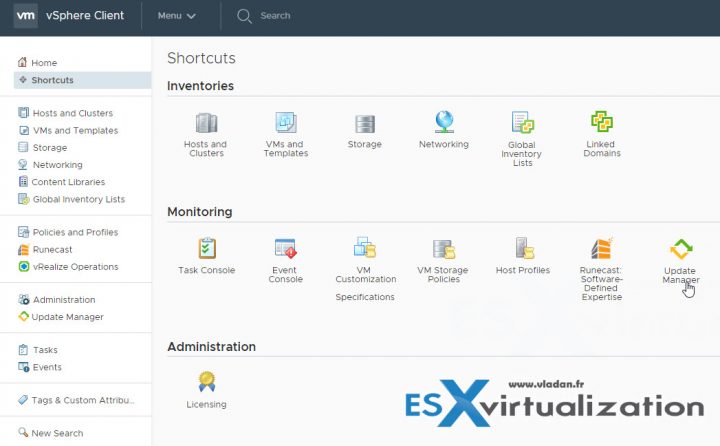 Import this file into the patch repository.
Click the Updates > Import > Provide a path to your Download folder > Import.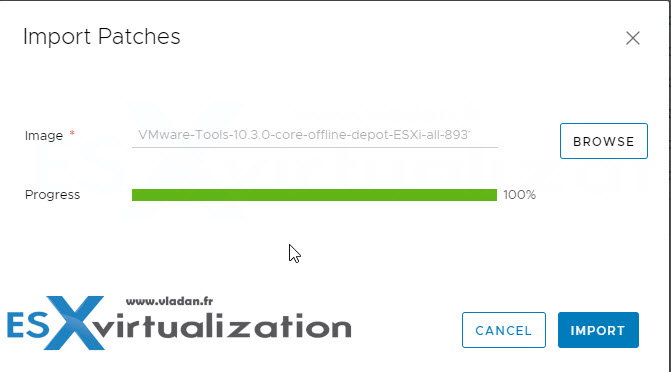 Then check for the package in the "Updates" where you can easily sort by date.

Once done, you should find it within your non-critical host patches baseline where it has been dynamically added.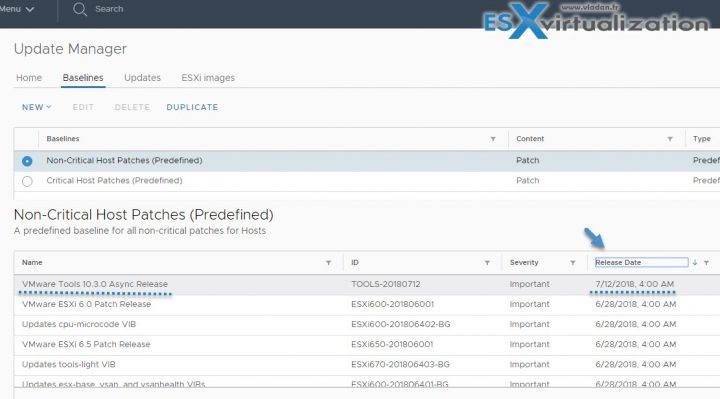 Then as usual, remediate your clusters/hosts as usual, and you should see the VMware tools as an "Async Release" within the update window.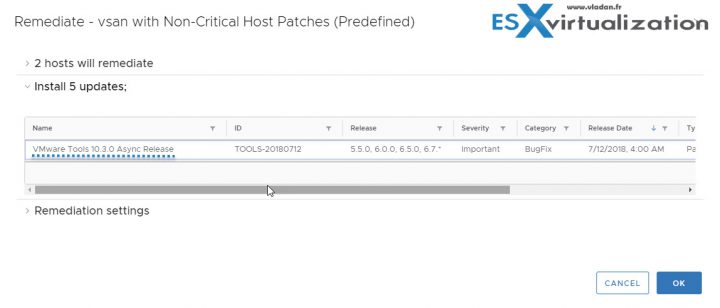 After upgrading your cluster/hosts you'll also need to upgrade VMware tools within all your VMs.
Wrap Up:
VMware Tools are important to vSphere infrastructure as they are tightly integrated and part of vSphere environment. VMware Tools enhance the performance of virtual machines and adds functionalities like host time synchronization for example. They also allow quiesced snapshots used for snapshots or by your backup software to do backups or replication.
So I'm just saying that it's pretty important to keep the VMware Tools package up-to-date. And you must do that not only at the host level but also at the VM level.
More from ESX Virtualization
Stay tuned through RSS, and social media channels (Twitter, FB, YouTube)