Almost everybody knows about P2V migrations. Physical to virtual conversion process. We have all done this at least once in the past. With P2V process you're able to select a server within your physical infrastructure and convert it into a virtual machine with minimal effort (we all know that time is money). You should know that there is a similar process called a virtual to virtual (V2V) migration, which allows you to move a VM from one infrastructure to another.
While most IT shops converted their physical workloads into virtual already, V2V migration might be interesting when it comes to migrate, optimize or resize. You can use many software utilities on the market for your P2V, V2V, and disk resizing operations. But the use of the VMware Converter standalone tool is advised and in most cases trouble free.
Last, but not least, this tool is free. Who does not like free tools, right? There are numerous types of machines (physical or virtual) that can be converted using this tool. To give you few ideas, it can be a powered-on server, an existing VMware Infrastructure VM, VMware Workstation VM, some third-party VMs, Hyper-V VMs, or even a backup image such as Symantec.
This tool will convert a server or workstation into a virtual machine image (VM). It will basically create a copy of the original VM, and you can do so without downtime for the original VM.
P2V conversion for Which purpose other than migration?
TIP 01: Imagine a testing scenario where you will be converting a physical server into a VM and running it in a testbed to ensure that the end-result, the copied VM will meet your needs. Not only this provides you a fully running and operating backup of your server, but it also allows your workflow being portable.
You can easily copy that VM to test it on much more powerful hardware than the original one. I've seen some spectacular results in the past where a client did a P2V and tested on a much newer generation of Xeon CPU. The VM was able to perform 3-5 times faster than the aging physical host.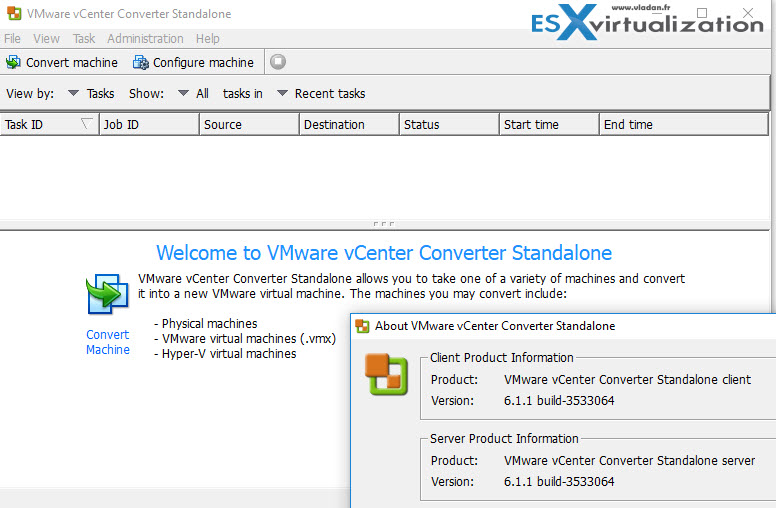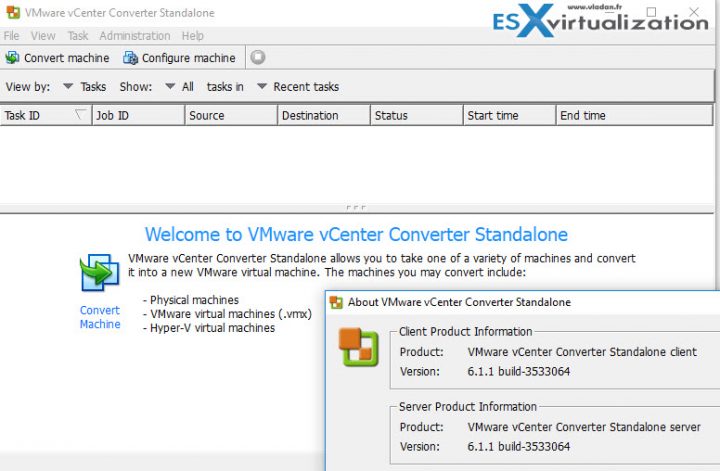 Figure 0: VMware vCenter Converter Standalone – Free Software utility
Optimizing the destination VM when P2V or V2V
Another part of P2V or V2V work can be a situation when you want to re-size virtual disk or reclaim some dead space from within thin provisioned disk. So this is other section that is overlooked when using this tool, and this is the possibility to resize the destination VM's disk and optimize its layout.
This also gives you a possibility to size correctly the VM where you'll adjust the resources for the VM accordingly. Just because the source server was a super server with four CPUs allocated with
64 GB of RAM and a 4 TB disk drives doesn't mean that the end state of this server, the P2V system will need to have those requirements as well.
Tip 02: Start small, add more ressources when needed. Add more vCPU, vRAM or vStorage. It's easier to increase then decrease.
Where to Download VMware Converter?
VMware vCenter Converter 6.1.1 is the latest version. It is also compatible with  VMware vSphere 6.5.
Support for additional guest operating systems: Windows 10, Ubuntu 15.
Offline conversions for HyperV 2012 R2 virtual machines.
Get Your copy and check the release notes from below.
Check our free tools page for more P2V or V2V tools.
Cold Clone Converter ISO Image Download?

You cannot do a hot conversion every time.  Sometimes you need to perform a cold clone to convert your physical servers. You might wonder whether Cold clone converter ISO is still around. Yes, it is. It is a cold-clone disc, a bootable CD-ROM that you actually boot the physical server from.
The disc contains a pre-installed Windows 2003 image that runs a built-in version of Converter.
Tip 03: Get Cold Clone Converter. You can find this tool through my VMware Free Tools page, I've added a direct download link from my Dropbox folder there.
V2V Migration with VMware Converter – More tips
Tip 04: Downgrade Virtual Machine Version is possible within the workflow. You might be in a situation where you have received a VM from your software developer, and this VM is newer than your current VMware vSphere environment so the VM cannot run. You must downgrade the VM hardware first.
One of the options to do so is using VMware converter for the job.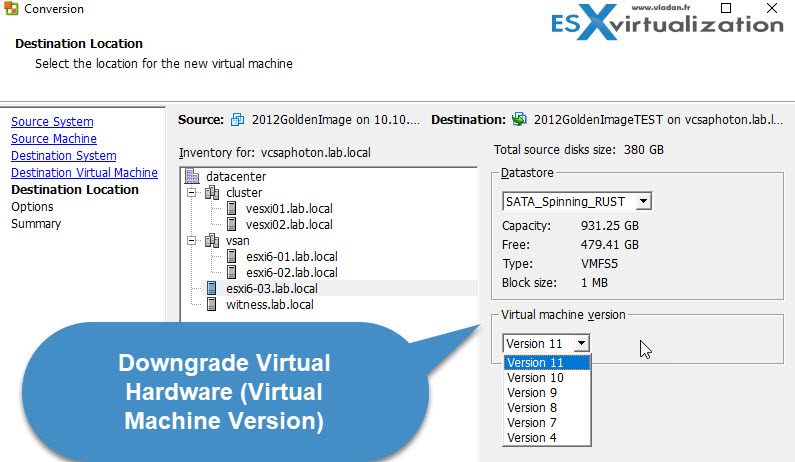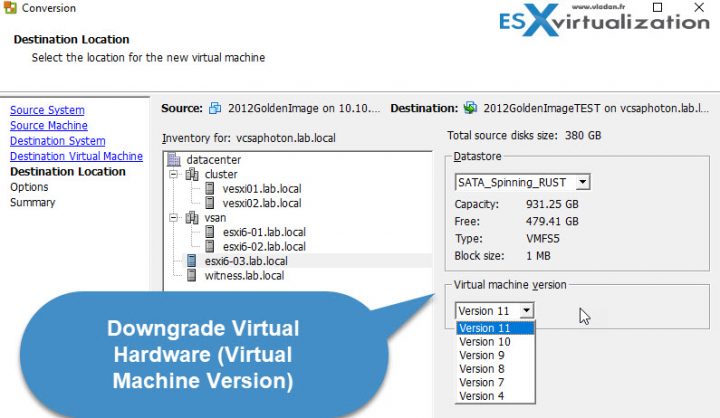 Figure 1: V2V or P2V conversion option – downgrade Virtual Machine version
VMware Converter Option – Connect to another server
Tip 05: This option allows you to connect to another converter server remotely and manage the jobs which this "node" is doing. Imagine you have a lot of conversion tasks to do, you can create a bunch of converter server nodes and launch multiple conversion tasks at the same time. (Well, better perhaps after the working hours since the network traffic might be disturbing for your coworkers).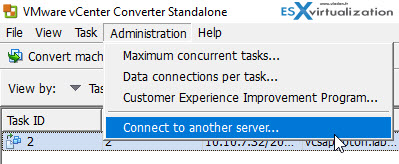 Few other tips when P2V or V2V with VMware Converter
After V2V conversion (or P2V too) there are also some post-conversion tasks to do, like cleaning "ghosted" devices. Those are basically hardware elements that are not active inside the VM but they are still part of the device manager (advanced view) and that might be causing performance issues.
Here are few posts from our archives showing some tips and tweaks for conversions, getting more speedy conversions etc…
More from ESX Virtualization:
Stay tuned through RSS, and social media channels (Twitter, FB, YouTube)