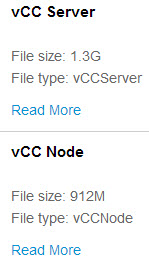 VMware has made vCloud connector available as a free tool. In the past there were two versions of VCC, which one of them was paid one. The core and advanced versions were merged together in the version 2.6 to be available as free download. The architecture is still based on server node and client node (two downloads).
Just to remind what's this utility is for? It basically allows to connect your local datacenter into a cloud provider datacenter and initiate transfer of vApps or VMs AND templates to and from remote location. Between datacenters. You can fully manage such a "hybrid" environment with the help of VCC.
There is also an interesting option to manage content library (a catalog), which can distribute and synchronize templates across clouds and extend a single Layer 2 network from your private data center to a vSphere-based public cloud.
Quote from VMware vCloud Blog:
With vCloud Connector 2.6, VMware has converged the core and advanced versions into a single free edition with access to all vCloud Connector features. Yes, advanced edition features such as content sync and data center extension are now free! A VMware vCloud Suite license or VMware vCloud Hybrid Service subscription is no longer required to take advantage of these advanced edition features.
New Features
Removal of Licensing Requirements –  All features, including Content Sync and Data Center Extension, are now available without a license. vCloud Connector 2.6 does not have any editions.
Copy Validation – In vCloud Connector 2.6, several pre-checks have been added that help you avoid copy failures by checking for common errors before the Copy command is executed. These pre-checks are run when you click the Validate button in the Copy wizard. Errors and warnings are displayed.
Guest Customization option for deployment – When you copy and deploy a template, you now have the option to enable guest customization and specify guest customization settings.
Network connection mode for deployment – When you copy and deploy to a vCloud Director-based cloud, including vCloud Hybrid Service, you can now select the network connection mode for the vApp in the destination. You can select fenced mode or direct mode. For Offline Data Transfer, direct mode is used.
Bug Fixes
Supported Browsers
Internet Explorer 8, 9
Chrome 22, 23
Supported Platforms
vSphere 4.0, 4.1, 5.0, 5.1, and 5.5
vCloud Director 1.5, 5.1, and 5.5
vCloud Networking and Security 5.1.2 and 5.5
Links:
vCloud Connector 2.6 can be downloaded from this location (1.3 Gb)
Source: vCloud Blog