vCloud Connector 2.0 is now available for download now. vCloud Connector (vCC) allows you to view, copy and manage VMs across vSphere and vCloud Director, but also to public vCloud offers.
There are two versions of the vCloud Connector, where the free version called Core does lucks the Automatic catalog synchronization across clouds and migrating of VMs while maintaining IP and MAC addresses.
Backwards compatibility – VMware vCloud Connector can connect vSphere 4.0, 4.1 & 5.0 as well as vCloud Director 1.5, and all VMware vCloud Suite-based private and public clouds.
Supported Browsers – Internet Explorer 8, 9; Firefox 15, 16; Chrome 22, 23
The product has been enhanced and simplified in the version 2.0:
deployment of vCloud connector is now simpler and faster in multi-tenant clouds. The vCloud Connector node, which handles the transfers, can now be deployed once to manage all tenants in a cloud – in the previous version one node per tenant was required. We also improved the user interface and transfer capability based on your feedback.
The two versions of vCloud Connector – Core (Free version) and Advanced (bundled with vcloud suite) are showing below: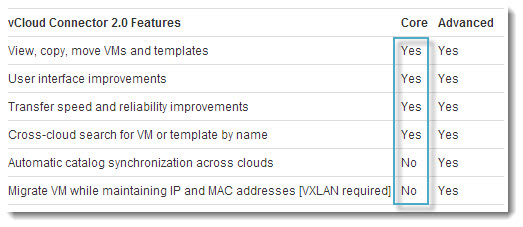 To deploy the vCloud Connector you basically need to deploy a vCC server first, and then the nodes (clients).
The deployment process is described in details in the user guide, where you also find the default user name and password for the configuration. the default credentials are login: admin and  vmware, the default password.
Make sure that you checkout those links where you'll find best practices as well as the vCloud connector documentation:
FAQ
Core Edition is available as a free download
vCloud Connector supports vSphere and vCloud Director 4.x and 5.x. The vCloud Connector 2.0 is available from the "Drivers And Tools" tab of vSphere 5.1 and vCloud Director 5.1, or by following this link: vmware.com/go/downloadvcc.
Source: VMware