As I already reported today, VMware has released vSphere 5.5 Update 1 which introduced VMware Virtual SAN (VSAN). Some folks call it version 1.0 of VSAN, but it's VSAN, it's GA product and it scales up to 32 nodes. In this post I'll try to look first at the pricing options which had been unveiled and also what is the design options for IT admins today.
From now on the choice for buying new storage gear is not limited to well known storage brands but there is an option to buy the storage components for existing hardware and use VSAN which is part of the hypervizor (from 5.5 U1 onwards). Basically you take any server which is on the VMware HCL and pick individual components (which needs also to be on the HCL) and build your own storage solution through VSAN. This is something completely new as VMware previously only offered vSphere storage appliance (VSA). VSAN is radically different. But, customers might want to upgrade from VSA to VSAN as VMware is offering a promo with the launch.
Ready Nodes or Build your Own.
With the launch of VSAN and vSphere 5.5 U1, the partner ecosystems starts to propose VSAN ready nodes and VSAN compatible hardware. Check back the HCL.
There is already the first certified host:


But as you can see you can basically just pick up the individual components, CPU, memory, flash device, HDDs, SCSI controller, NIC, and to create your own node depending of your needs.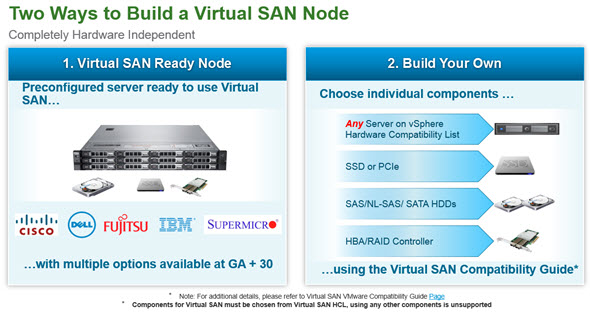 The SSD's follows different performance classes
The SSDs which are on the HCL do follow 4 different performance classes. The SSDs has to have a certain endurance and performance, so basically those devices has been tested with VSAN not only to have certain performance, but also durability. See the image below.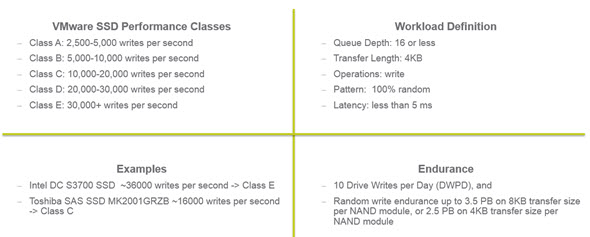 VSAN Architecture is Scalable
Before you look at the pricing, you should note that granular scaling is option you cannot get when buying traditional SAN or NAS. You can scale your VSAN architecture, depending on your needs. You can start small (with 3 nodes at least), then grow up:
For capacity (1 + 7 HDDs for maximum capacity)
For IOPS  (1 SSD + 1 HDD for maximum performance)
For Performance And capacity (use several disk groups per host)
For compute capacity only (host is part of VSAN cluster but not participating with storage – possible, but not recommended).
You can check those two images where the first shows the scale up and scale out architecture, and the second shows the granular scaling.
Scale UP or Scale Out…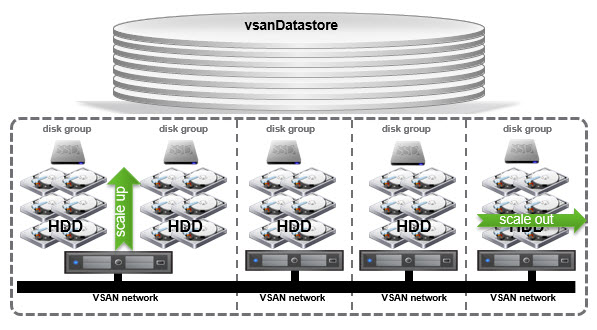 Example of predictable scaling (linear vs non linear) for example of VDI architecture.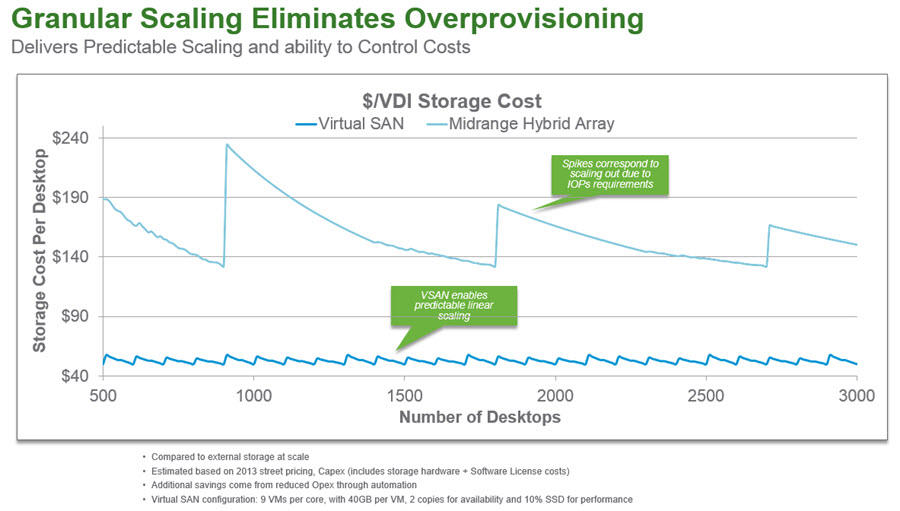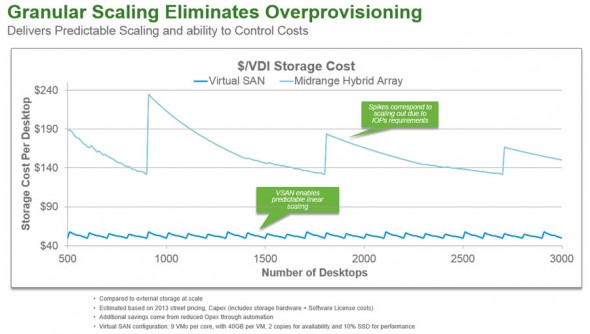 VSAN licensing brings you vSphere Distributed Switch!
Yes, that's rather good news. If you buy VSAN license – per CPU – for let's say 3 hosts, you are automatically entitled to use vSphere Distributed Switch. No matter which licensing you chose. It means that for VSAN cluster you don't need to use enterprise plus, but you can use for example standard only.
For small clusters destined for ROBO environments there is possibility to use vSphere Essentials Plus.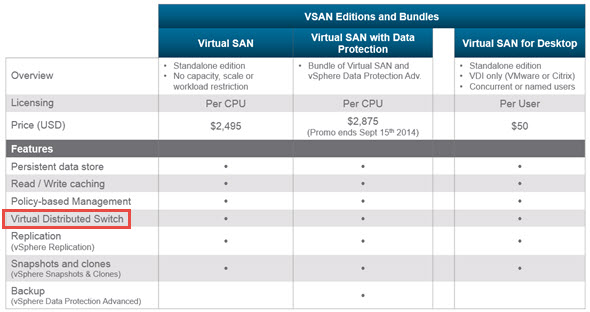 VSAN Promo!
At the moment there is a lot of promotions with the launch of VSAN. For example if you participated in the beta you can buy VSAN with nice 20% discount (min 10 licenses).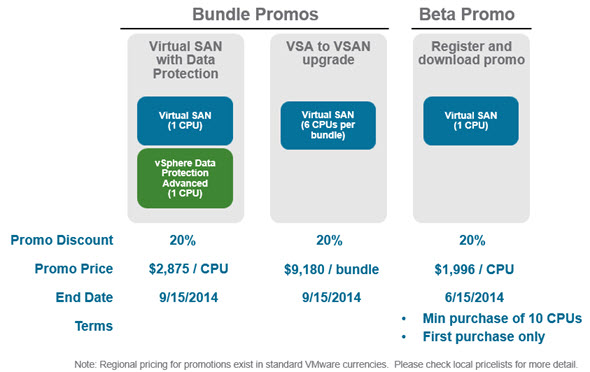 UP to 50% Reduction of Total Costs of Ownership
VMware has also published some details concerning savings when a VSAN infrastructure is managed compared to an infrastructure with a lot of LUNs, Datastores etc….  Up to 50% TCO reduction is certainly nice reduction…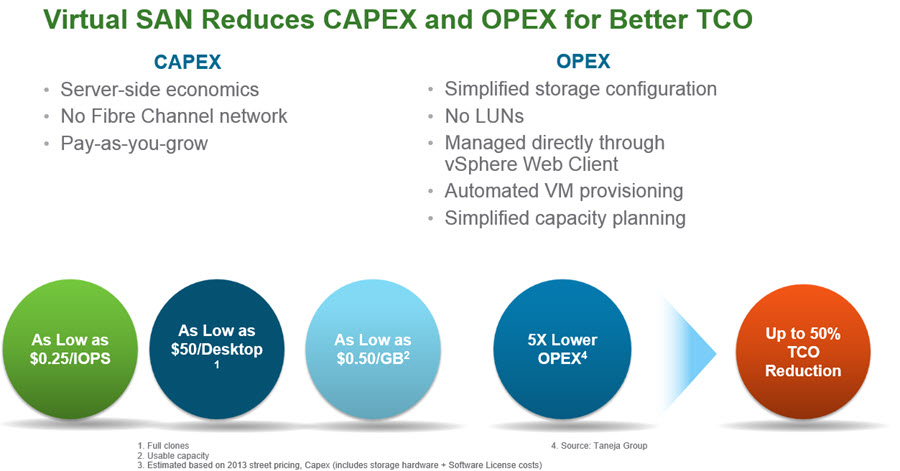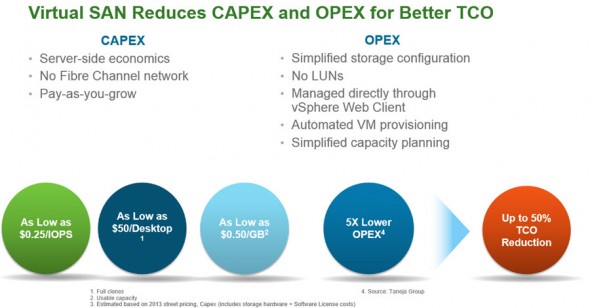 VSAN Interoperability
VSAN is supported by:
VMware SRM – automated DR
vCloud Automation Center
VMware View (5.3.1 has been updated!!!!).
 VSAN FAQ
Q: How to correctly size for Flash capacity?
R: It's about 10% of anticipated consumed storage capacity. There is a good screenshot I can share, with an example:

Q: Is 10Gb connectivity for VSAN traffic required?
R: No, but highly recommended, as during rebuilds (if some component has failure) the VSAN traffic will flow through the 1GbE and the link might get saturated.
Q: The vSphere Distributed Switch offer is only to be used on VSAN clusters, right?
R: Yes, when activating the VSAN licensing option, there will be option to use VDS.
Q: Where can I find some ready nodes config document
R: There is a PDF document on the VMware partner site which you can download here. There are Dell, Cisco, Supermicro, IBM ready nodes present, as for now.
Links:
KB Articles:
Configs and requirements:
vSphere 5.5 Virtual SAN requirements (2058424)
Adding additional hosts to an existing Virtual SAN cluster (2059936)
Retaining virtual machines of Virtual SAN Beta cluster when upgrading to vSphere 5.5 Update 1 (2074147)
Performance:
Errors:
Horizon View and VSAN:
Horizon View 5.3.1 on VMware Virtual SAN – Quick Start Guide (2073795)