VMware has released their latest update to vSphere 5.5 Update 1. This update includes most of the vCloud Suite products, including VMware Virtual SAN (VSAN). VMware VSAN (detailed post here: VMware Virtual SAN (VSAN) 1.0 GA – FAQ, Pricing and Design Options) has been long awaited storage feature which is "baked" into the hypervizor and which enables to use locally attached disks and SSD drives, to create a storage pool across the whole cluster. Without the need for an external SAN or NAS.
I've been part of the beta program, together with 12 000 other people and it has been a great success so far. Many of my VSAN articles can be found from my vSphere 5.5 page. VSAN is quite game changing not only for managing storage, but also for buying storage, as you can transform your existing (for example diskles) hosts to hosts participating in the VSAN cluster. With locally attached HDDs and SSD. Later this week VMware should also unveil the ready nodes, which are preconfigured VSAN hosts which will be found through HCL.
Quote from the release notes concerning vSphere 5.5 Update 1:
Virtual SAN 5.5 is a new hypervisor-converged storage tier that extends the vSphere Hypervisor to pool server-side magnetic disks (HDDs) and solid-state drives (SSDs). By clustering server-side HDDs and SSDs, Virtual SAN creates a distributed shared datastore designed and optimized for virtual environments. Virtual SAN is a standalone product that is sold separate from vSphere and requires its own license key
VMware vSphere 5.5 Update 1 – which products has been updated?
ESXi 5.5 U1
VMware vCenter Server 5.5 U1
vSphere Replication 5.5.1
vSphere Data Protection 5.5.6
VMware vCenter Orchestrator appliance 5.5.1
VMware vCloud Director 5.5.1
VMware vCenter Operataions Manager Advanced 5.8.1
VMware vCentere Hyperic 5.8.1 Server (and agent)
VMware vCenter Site recovery manager 5.5.1
VMware vCloud Application Director 6.0.1

VMware vCenter Server – what's new?
vCloud® Hybrid Service™ vSphere® Client Plug-in, is now available in vSphere Web Client
vCenter Server is now supported on Windows Server 2012 R2
This release delivers a number of bug fixes
Full release notes can be found here.
Upgrades to VSAN beta aren't supported so you'll have to re-install. From the release notes.
Virtual SAN does not support clusters that are configured with ESXi hosts earlier than 5.5 Update 1. Make sure all hosts in the Virtual SAN cluster are upgraded to ESXi 5.5 Update 1 before enabling Virtual SAN.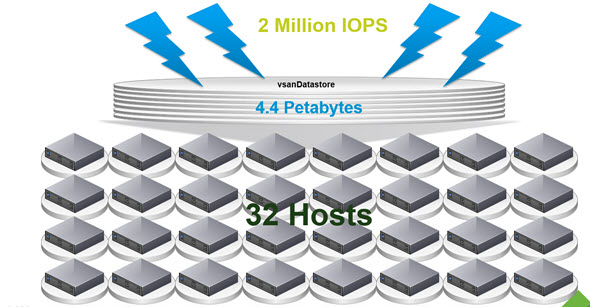 Trial downloads and evaluations are available from Download page.