VMware announces vRealize Operations 6.6 which brings some long attended new features such as more simplicity for utilization or HTML 5 web-based user interface. The product will bring some new dashboards, and completely redesigned getting started pages. This post will detail some of the major new features and enhancements of VMware vRealize Operations 6.6.
The product seems to go hybrid approach by integrating vRealize Log Insight and vRealize Business Cloud within its menus. There is more and we hav the details unveiled by VMware. Note that it is not sure when the product will be released as we only assisted to an announce. The new product is based on Clarity design system and the UI is well appreciated by a developer and users communities.
The new product is based on Clarity design system and the UI is well appreciated by a developer and users communities.
There is a new integration between vRealize Operations 6.6 and vLog Insight as you have the possibility to go to LogInsight from within the vROPS 6.6. No need to open another TAB on your web browser, log-in and start using log insight.
There is another integration with vRealize Business Cloud (vRBC) which gives you the insight into cloud visibility, cost insight, budget, charges etc….
vRealize Operations Manager 6.6 – What's New?
Simplified Usability – New HTML5 UI has easier and consistent experience allows to get completely new feelings, with no more dependency on Adobe Flash.
Quicker Navigation – this includes new dashboard icons allowing you to navigate more rapidly to the section you're looking for. You'll find it with the "Getting started" dashboard points.

Faster remediation – Troubleshooting, cloud capacity, compliance, and config.
Faster Time to Value (TTV) – Storage (vSAN), Logs (vRLI), Business (vRBC) and Automation (vRA)
Native vSAN Management – shows Performance, capacity, logs, configuration and health.
You can natively monitor stretched clusters environments.

Fully Automated Workload Balancing – DRS can ensure performance across data centers with fully automated workload balancing which is easily automatable and schedulable during a maintenance window. it works across clusters, across datastores with svMotion.
The right balance mitigates risk and prevents hot spots within your environment. While DRS can effectively balance VMs within your cluster's hosts, the vROPS can perfectly automate the movement of VMs across clusters.
The tool makes sure that clusters do provide resources avoiding future contention and makes an intelligent placement to cluster and datastore.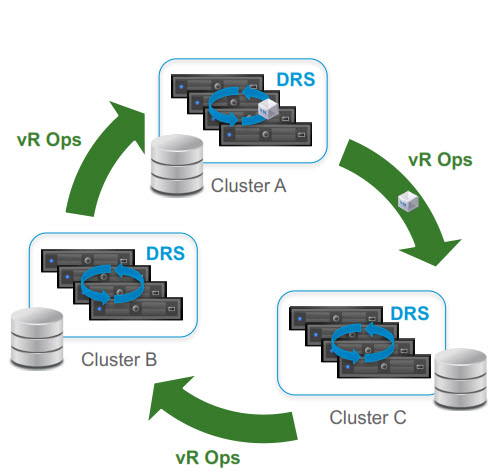 What is Custom Datacenter?
The custom datacenter is a logical grouping of clusters.
Automated Workload balance works with DRS/SDRS and uses a logical grouping of clusters separated. (ex. Prod and Test). The Automated workload balance has certain logic which defines optimal placement to balance workloads, based on business policies and considers current CPU, memory and disk space.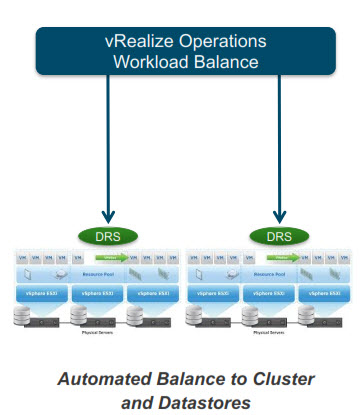 The DRS Policy settings
You'll have an overview page from which you'll be able to select a data center, and see how it is balanced, how are the settings there etc… When you select a datacenter, you'll get a number of clusters overview. (one of them has memory workload in red…).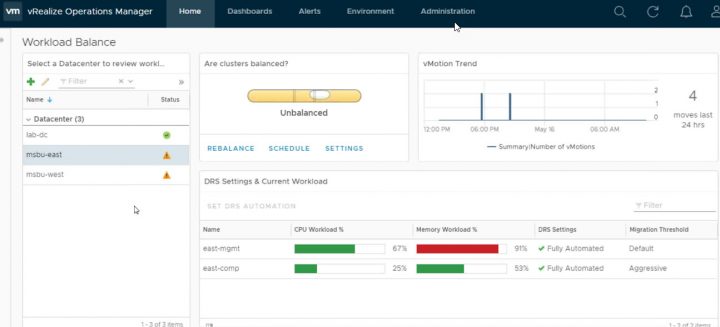 And here you can see what's possible configuration. On the left the DRS is conservative, so until any host will really "get hot", nothing will happen. No DRS actions. And on the right, you see that we set a different policy which balances the cluster rather aggressively….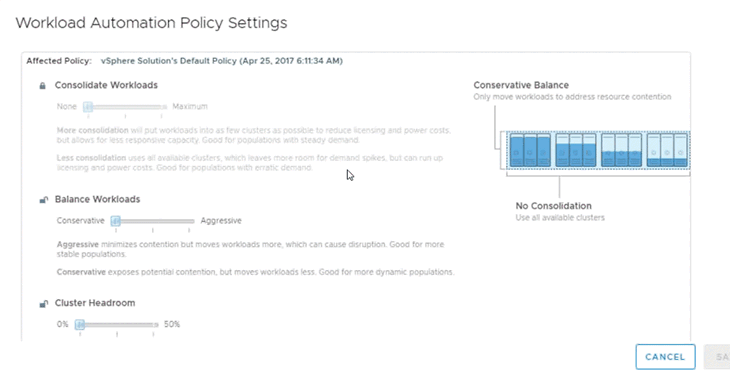 And, there is also a possibility to set the "cluster headroom", which is basically just how full is full. Is there is a limit on how much I want to fill in up things…
The rebalance operation can be initiated manually or automatically or scheduled.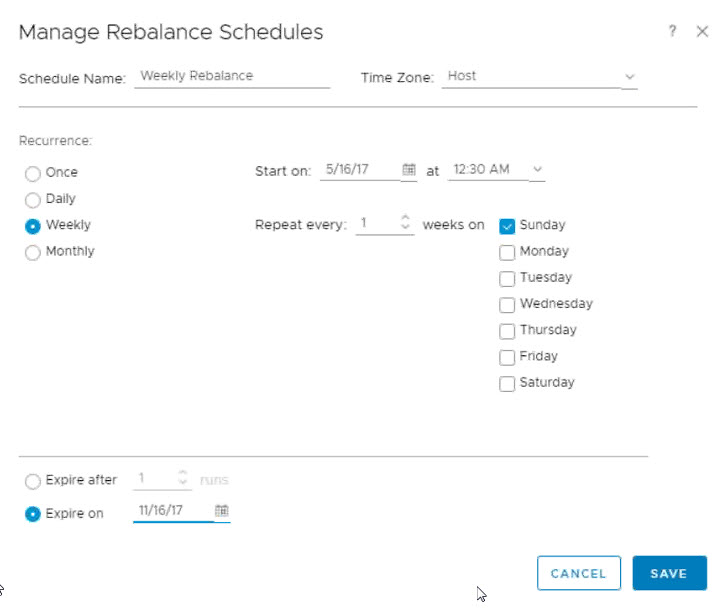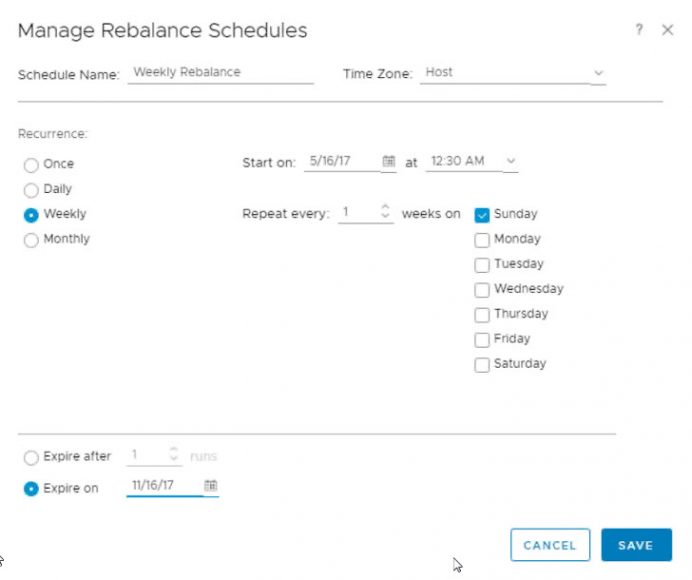 Predictive DRS
It's about avoiding contention. Before contention occurs. There are 3 different ways:
Reactive – resolve unexpected resource demand. Minimal overhead. Only moves VMs which must be moved. Starts when contention starts.
Balance – DRS, and vROPS are balancing workloads across hosts, clusters, and datastores. It mitigates risk and tries to prevent hot spots. Not guaranteed.
Predictive DRS (NEW) – Predicts future demand, minimal overhead, only moves VMs which must be moved. Starts before contention starts.
Predictive DRS has 10 different algorithms. Has hourly, daily, monthly patterns. Many workloads are predictive based on historical data. We know which VM will be busy usually. What is each VM going to do today?
DRS based on those historical data is able to predict spikes and rebalance the workload before the contention occurs.
DRS configuration Set – you can ensure the settings to drive a better balance.
Avoiding contention – Predictive DRS is taking action before the contention occurs.
Initial placements – using operations analytics to optimize placement of workloads through vRA.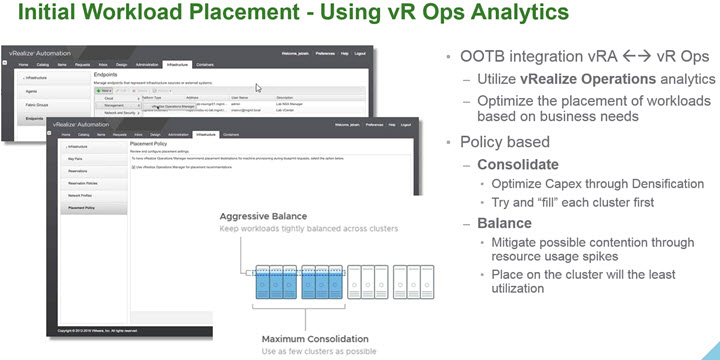 More from ESX Virtualization
VMware vRealize Operations 6.6 Announced – (This post)
Stay tuned through RSS, and social media channels (Twitter, FB, YouTube)