The way to reset VMware vCenter Server Appliance (VCSA) password has changed every time that VMware changed the underlying Operating system (OS). Previous releases of VCSA has used CentOS or SLES, but since VCSA 6.5, the Operating system is PhotonOS. A VMware's Own OS. This is an occasion to put down a post which might be useful not only for me when I lose root password of my VCSA, but especially for you, the ESX Virtualization readers. That's why this post – How to reset root password in vCenter Server Appliance 6.5.
Grub Bootloader is part of the pre-booting environment of PhotonOS within VMware VCSA. GRUB is a short for GNU GRand Unified Bootloader allows a choice to boot one of multiple operating systems or select a specific kernel configuration available on the OS's partitions.
You have the option to enter the GRUB's boot menu to enter some commands which allow you to reset the VCSA root password. Note that we will have to reboot the appliance in order to access the GRUB bootloader's menu options.
The steps below will show you how to Reset root password in vCenter Server appliance (VCSA) 6.5, but some precautions shall always be taken. I assume that the environment has a backup software configured so I'd highly recommend to backup the VCSA appliance first, or at least take a snapshot.
Tips:
How to reset root password in vCenter Server Appliance 6.5 – The steps:
Step 1: Gracefully shut down the VCSA appliance > Take a snapshot (or backup) > Start the VCSA appliance and when the VM starts to boot (You'll see the PhtonOS splash screen), hit the letter  "e" on your keyboard to access the GRUB boot menu and append the following sentence to the first line which ends with …. "consoleblank=0"
rw init=/bin/bash
It should look like this.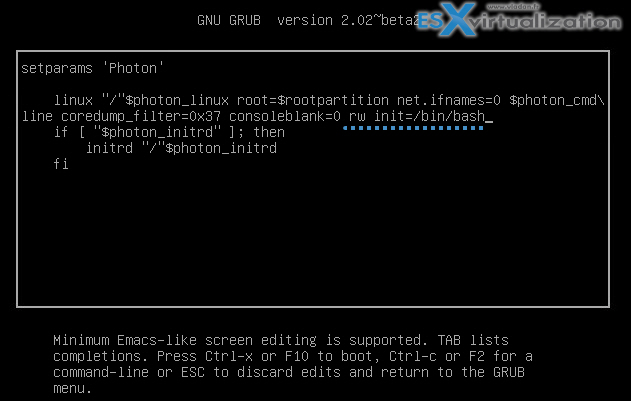 Step 2: Press F10 to continue the boot. After few seconds, you'll be presented with a red "root" prompt. Just type:
passwd
and enter your new password. You'll be asked to confirm this new password by typing it a second time. Note that by default there is usually English US keyboard, so type the password accordingly or before typing the "passwd" command, just try to type the new password so you can actually see how it looks like with your keyboard.

Too many times when working with different keyboard languages in different countries I had to re-think a strategy on password typing and it seems that this one is finally a universal one. Once done, write the password down somewhere only you can find it and associate it with the current environment. (Not if it's just a lab environment, of course).
Step 3: Now we'll have to unmount the filesystem. Don't worry, it's just a simple command to enter.
Unmount the filesystem by running this command:
umount /
Step 4: You have successfully done all the necessary steps, reconfigured your new password, so we can reboot the VCSA appliance. You can do it via Web client, Host client or Old windows client (in case you're connected to an individual host). You can also enter a simple command while you are within the VCSA console:
reboot -f
That's all folks. Congratulations on resetting VMware VCSA 6.5 root password.
I have also recorded a very quick video detailing the steps. Please watch in Full Screen (HD). It's a 1080p video.
Check This Source KB from VMware – KB article 2147144
Check more articles from ESX Virtualization:
Stay tuned through RSS, and social media channels (Twitter, FB, YouTube)