A new release of VMware vRealize Operations 6.7 (vROPs) has been announced. As usual, we do not have the exact release date, but we have the details concerning what's new in this release and how that will help VMware admins to manage vSphere environments.
The product will provide troubleshooting details for the whole VMware SDDC stack. (vSphere, vSAN, vRA, host, clusters, VMs). The performance optimization shall be greatly enhanced so basically the workload optimization shall be in a state to assure that VMs are getting what they need as resources (CPU, RAM etc).
The product has new UI, with new Quick Start Screen where you'll be able to choose from Optimize Performance, Optimize Capacity, Troubleshoot or Manage Configuration. The Optimize performance has a wizard called Workload Optimization. Within the same section, you can also see recommendations or optimization history.
Screenshot from the presentation.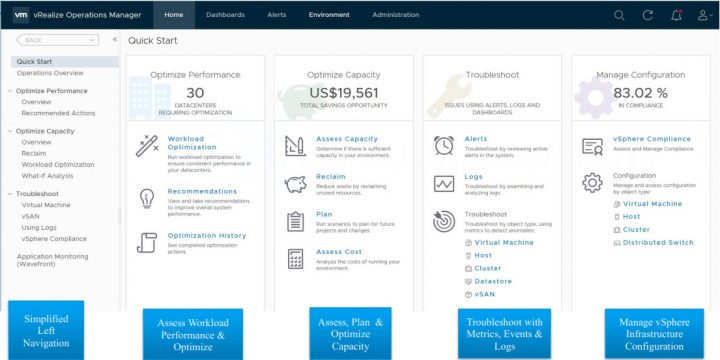 When you have over (or under) allocated VMs, the system will automatically allow downsizing (upsize) the particular VM. You'll see adding an additional CPU resource, automatically. From the cluster perspective, the system will check whether the cluster is able to assure the level of performance
Workload optimization screen.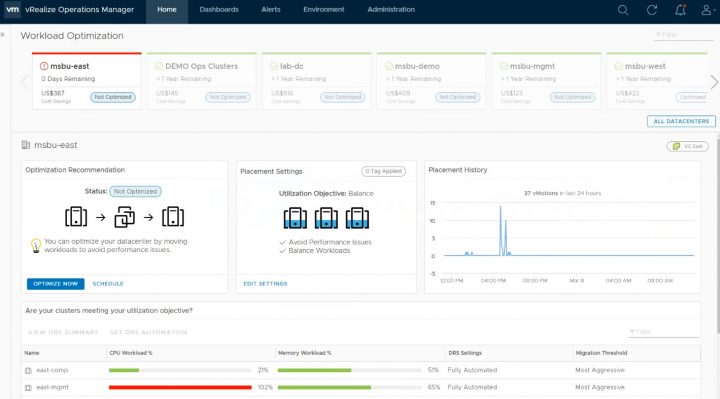 As you can see, the optimization can also be scheduled.
When you click a datacenter, it shows you clusters available within this datacenter, and it also shows you the workloads. Above image shows two clusters where one of them is very high on CPU.
You have few options here concerning the optimization:
Business Intent – Lower cost as much as possible. Example. you want to maximize utilization of first cluster before filling up second cluster.
Balance or Consolidate? You can spread out to reduce risk or consolidate where your workloads are placed to maximize utilization.
Compliance – licensing constraints, SLAs etc. TAGs are used (VMs are tagged) so they will be kept together, when moved to the same host, because of licensing Oracle. For example.
Workload automation policy settings window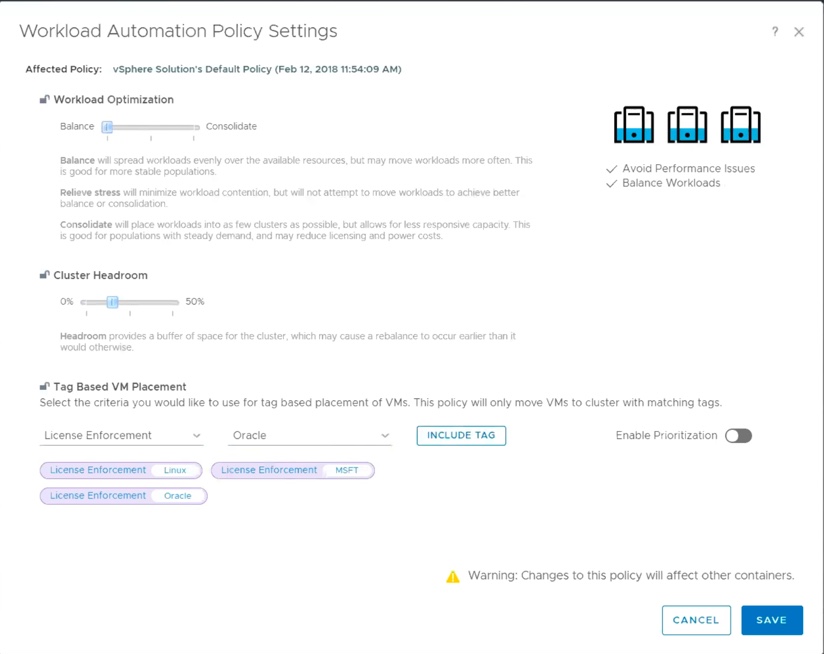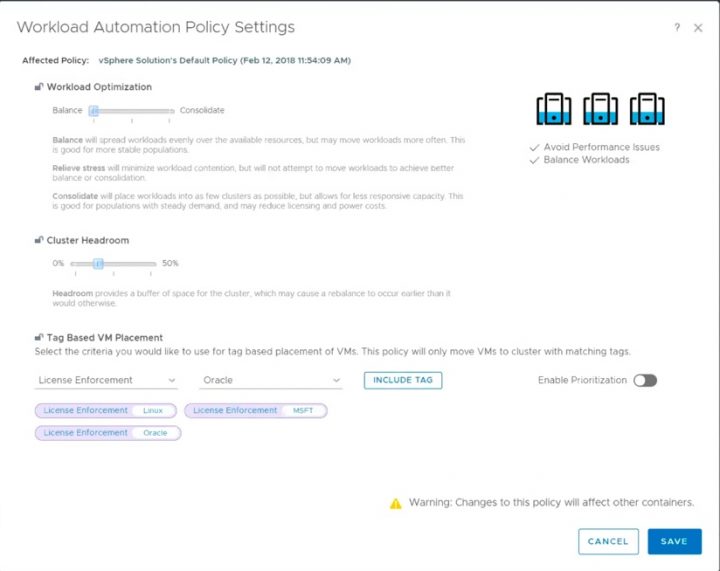 So in this particular case, we have the Oracle VMs gathered together when vROPs runs this optimization, together with the same cluster.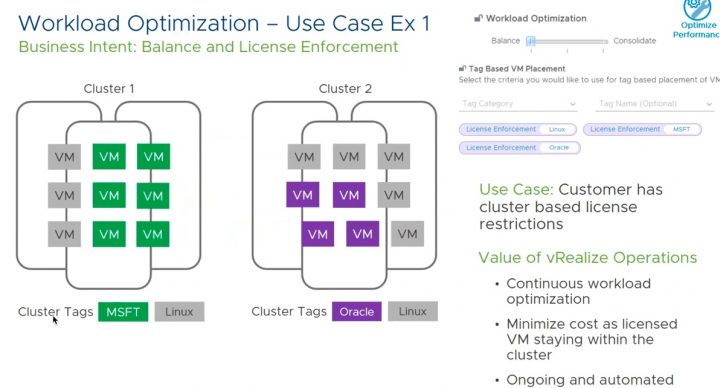 Or, you have a Gold and Silver tags on VMs where gold needs the maximum performance in any case. But what happens when you have a spike? In this case, the system will re-balance and frees up the cluster where the "Gold" VMs runs. So the Gold tagged VMs stays in place and some of the Silver tagged VMs will move out of the cluster.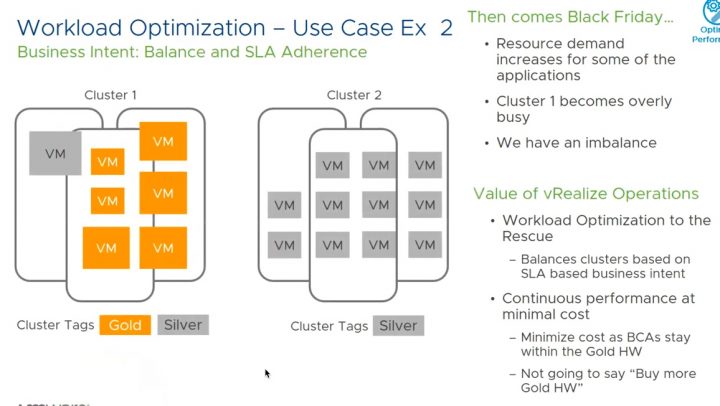 A third use case can be for doing a consolidation. In this case, it will fill up first the first cluster, then the second cluster…
The overview would look like this: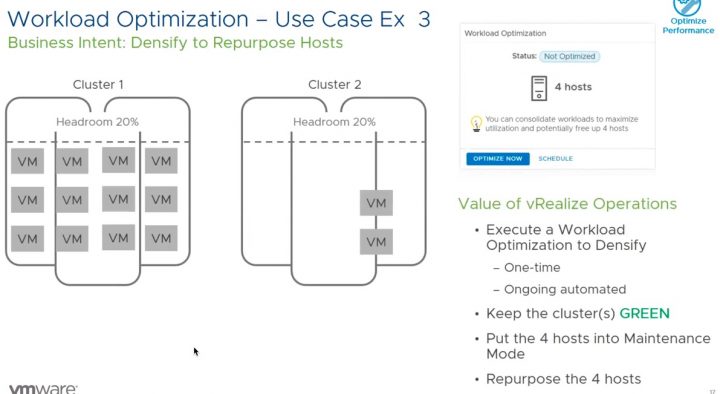 How to initiate the Optimization?
3 ways of doing it:
Optimize now button – manual way
Schedule it – the optimization runs during a maintenance window, at night.
Automate on Alert – when you have a cluster which is high on CPU or RAM, it runs the optimization.
The workload wizard will show you before and after optimization. The system looks 2 hours ahead so it won't move workload if it knows that within 2 hours this periodic spike will be back to normal.

Once the optimization done, the main icon changes into an Optimized status.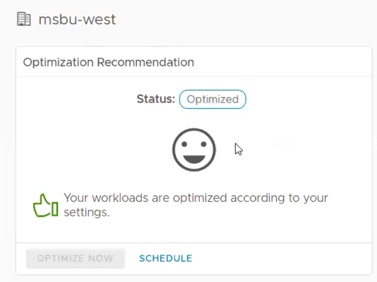 Quote from the PR:
New Capacity Analytics Engine: VMware vRealize Operations 6.7 will introduce a new capacity analytics engine to provide customers with real-time visibility into capacity usage and demand to predict and improve capacity utilization. The new capacity analytics engine will feature ARIMA techniques and layer on periodicity, trend, and spike detection, along with a simplified user experience to help manage capacity as well as plan and forecast more accurately and faster than before. The new capacity management capabilities, which include cost analytics, will enable customers to more efficiently identify savings via automated reclamation of idle resources as well as right-sizing of environments; run "what-if" scenarios to plan for future projects; and plan capacity based on demand across clouds including VMware vSphere-based private clouds, Amazon Web Services (AWS) and VMware Cloud on AWS and their associated costs. The new capacity analytics engine will set the stage for the introduction of machine learning capabilities over time.

New Performance Automation based on Business and Operational Intent: This new release is designed to provide customers with continuous performance optimization of vSphere-based private clouds today, and VMware Cloud on AWS in the future, to meet application performance needs based on business intent (e.g., workload balancing to reduce software license costs by enabling license enforcement and separation or to meet performance SLAs) or operational intent (e.g., leaving headroom for business critical apps or to densify clusters). The software uses predictive analytics and enhanced automated workload balancing to drive the continuous optimization. Deep integration between vRealize Operations 6.7 and vRealize Automation 7.4 will deliver enhanced initial workload placement capabilities based on intent to provide customers with a closed loop operations experience. Customers will be able to turn on self-driving operations to continuously and automatically optimize workloads.

New Wavefront by VMware Integration: vRealize Operations 6.7 will feature a new out-of-the-box integration with Wavefront by VMware to empower IT and application owners to triage and resolve issues faster. This integration will help to rapidly on-board Wavefront through the automatic discovery of applications and the installation and management of the required agents. Additionally, this will enable IT to provide app monitoring capabilities to their DevOps teams for apps such as Cassandra, Kafka, and Redis, along with traditional apps.
New User Interface: This new release will be even simpler to use featuring a persona-based 'Quick Start' dashboard to help customers quickly perform operational tasks. It will also include updated workflows for enterprise-wide troubleshooting with metrics and logs.
We showed only a fraction of what has been demoed, especially the capacity analytics engine which has been updated. The metrics are getting updated every 5 min and are self-learning. The cost and capacity saving are available in the Optimize Capacity module.
We do not have the exact release date but as usually with VMware, this isn't disclosed during an announced as it was the case a few years back. We will have to wait few days/weeks I believe before the product will be available for download.
UPDATE: From the PR:
VMware vRealize Automation 7.4, VMware vRealize Business for Cloud 7.4, VMware vRealize Log Insight 4.6, VMware vRealize Operations 6.7, vRealize Orchestrator 7.4, VMware vRealize Suite Lifecycle Manager 1.2 are all expected to become available by the end of VMware's Q1 FY19 (May 4, 2018).
The demo was pretty cool to watch and we can see many of the actions live. The product is much simpler to use than it was just a few releases back, so VMware really makes sure that it fits for any environment. Small or really big.
Stay tuned for update and links.
Here is the PR link.
More from ESX Virtualization:
Stay tuned through RSS, and social media channels (Twitter, FB, YouTube)