vSphere Distributed Switch 5.1 can be backed up, or restored.
Not only the vDS and Port groups configuration can be backed up and restored in case of vCenter DB corruption, but we can imagine scenarios of deployment of network configurations on remote labs, or isolated environments. The network config backup is exported into a ZIP file. Note that you must specify the ZIP extension.
Network Backup and Restore capabilities were introduced in VMware vSphere 5.1, to simplify management and rollout of the vSphere Distributed Switch. The import/export functions are accessible through the new vSphere 5.1 web client only. But through the vSphere web client you're able to import older versions of vDS as well.
Select the vDS > Right Click > Export Configuration. There as you can see, you have two options. You can export VDS and all Port Groups config OR you can export vDS config only.
The Import Export functions can be also used for DR scenarios where you want to reproduce the exact network configuration in DR site. When importing the configuration, you have the option to preserve original distributed switch and port group identifiers. You'll see it in the video.
See the options when backing up the vDS configuration.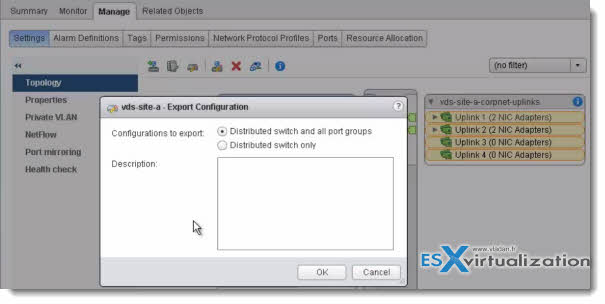 Note that restoring a distributed switch overwrites the current settings of the distributed switch and its port groups. It does not delete existing port groups that are not part of the configuration file.
The video about the VMware vSphere 5.1 Networking Backup and Restore comes from VMware TV and I can only highly recommend to watch it ( in HD in full screen).

In my case, actually, I'm using Firefox extension to download this video to my local hard drive as an MP4 video file. The extention is called Download Helper and I'm sure many of you are already using it.
Hint: Sometimes I play the video with slower speed (through VLC player), because sometimes those american accent's guys just speak too fast… -:). But it's not very often.
Here is the video from VMware TV.
Source: VMware TV