VMware vSphere 5.1 Video presenting the user interface and different components. This is my first video since long time, showing the newly released VMware vSphere 5.1 Cloud Suite. Not all the elements of the cloud suite are installed, but most (if not all) of the components which can be found in the vSphere Essentials Plus package are there.
The vSphere Essentials Plus package has been greatly enhanced, so companies willing to virtualize their workflows, can benefit not only from all the enhancements which were introduced by the Virtual Hardware version 9 (vmx-09), but also completely new products. One of them is vSphere Data protection or vSphere Replication.
vSphere Data Protection (VDP) – new backup product based on EMC's Avamar code, which I detailed here.
vSphere web client – new faster web client, which shows where VMware is heading (old legacy client won't get further developpement). Read here.
vSphere Replication (VR) – replication of VMs with possibility of quiescing by Microsoft's VSS, local or remote replication possibility. Read my detailed post about VR and SRM here.
VMware vSphere 5.1 Video – In this video you'll see some basic look and feel after the connection to the vCenter through the vSphere Web client. In my lab I've installed all the vCenter components (vCenter, SSO, Web Clienton a VM, and the local SQL db) onto that VM. It's a W2008R2SP1 VM with 8Gb of RAM.
I'll show you the new vSphere Replication product capability which is very easy to setup.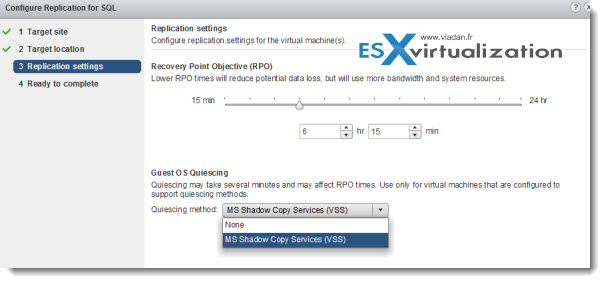 As concerning the VDP, the root passwod for the new VDP appliance is: changeme 
I've runned in an issue (RTFM…) when trying to register the VDP appliance to vCenter (Windows based), through the wizard. Strange errors asking me to change the network configuration or message saying that:
Specified user either is not a dedicated VDP user or does not have sufficient vCenter privileges to administer VDP.  Please update your user role and try again. NOTE: User must not inherit roles from a group
But then, on a p.14 of the Administrator's guide you'll find the how-to. For those of you who don't want to lose their time here is the how-to.  Also make sure that you use the user's name format as FQDN.
Before the vCenter user account can be used with vSphere Data Protection, or before the SSO admin user can be used with vSphere Data Protection, these users should be specifically added as administrator on the vCenter root node. The following steps are used to configure the vSphere Data Protection user or SSO admin user using the vSphere Client.

1. Login to the vSphere Web Client and select vCenter > Hosts and Clusters.
2. On the left pane, click on the vCenter Server.
3. Click the Manage tab and then the Permissions sub-tab.
4. Click the Add permission icon.
5. Click Add.
6. From the Domain drop-down select domain, server, or SYSTEM-DOMAIN.
7. Select the user that will administer vSphere Data Protection or be the SSO admin user and then click Add.
8. Click OK
9. From the Assigned Role drop down select Administrator.
10. Confirm that the Propagate to child objects box is checked.
11. Click OK.

To Verify that user is listed under Administrators, go to Home > Administration > Role Manager and click the Administrator role. The user you just added should be listed to the right of that role. IMPORTANT If the vSphere Data Protection backup user using the VDP-configure UI belongs to a domain account then it should be used in the format "SYSTEM-DOMAIN\admin" format in VDP-configure. If the user name is entered in the format "admin@SYSTEM-DOMAIN" format then tasks related to backup job may
not show up on the Recent Running tasks.
VMware vSphere 5.1 Video
Here is the video from my lab.
I've recently tested and documented installation of vCenter Server and it's components on Windows Server 2012, where I've done a SQL setup with three separate databases (Single Sign On Db, vCenter Db and VUM Db) on SQL Server 2012. Here are both step by step articles:
Enjoy..