Yes, the news came in yesterday, with the release of Altaro VM Backup 7.1 the company which continues to develop the product has brought in a certain number of new features and enhancements only a few months after a major  7.0 release. Today's topic – VMware vSphere 6.5 supported by Altaro VM Backup 7.1.
Altaro is another vendor which we should count on when in comes to support VMware and Microsoft latest hypervisors, even though the company was late to the game by supporting only Microsoft Hyper-V during their first few releases. But during that time they proved that they can adapt easily and bring support for other hypervisors as well.
We have covered the 7.0 release in details in our post here. One of the features was a feature called Augmented Inline Deduplication, which improves backup and restore speed as well as produces a smaller size of backups. Inline deduplication is a process when data are deduplicated before written to disk.
What's new in Altaro VM Backup 7.1?
Support for vSphere 6.5 – latest hypervisor from VMware now fully supported.
Concurrency – much faster backups by allowing more VMs to be backed up at the same. You can run up to 4 concurrent backups per hypervisor.
Backup Health Monitor – runs in the background and detects any integrity issues with your backup data due to disk issues. If issues are found the Monitor will attempt to resolve the issues automatically by backing up the affected data again during the next backup. Any issues detected which weren't automatically resolved are reported in the Altaro VM Backup Management Console showing which Virtual Machine Backup Versions cannot be restored.
Integration with Labtech (For Partners & MSPs).
Altaro VM backup does not have all the bells and whistles just yet. It's a continuous process of improving and developing a backup product. Today's administrators do not only want to have a backup product which does the job within the backup window, but they want a product which has fast and granular restore possibilities for AD, SQL, Exchange and at the same time, to have low RTO and RPOs.
Today, the RTO and RPO times has to be as low as possible with an option to have an off-site storage option for your backups. For the moment, Altaro offers replication to the remote WAN location by using a built-in WAN accelerator or by enabling drive swap rotation on selected drives. But a cloud backup option is in the development too. Altaro is a young company, which catches up the big guys which have started earlier.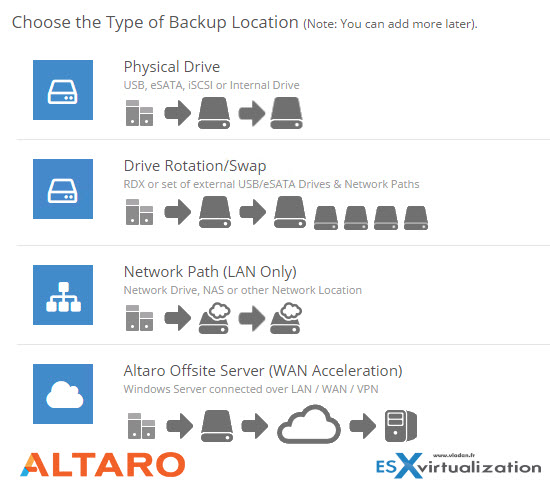 You can test Altaro VM backup during 30 days or pick the free version which is limited to backup 2 VMs only. Altaro VM Backup – Protect your VMware & Hyper-V VMs for FREE with Altaro VM Backup. 2 VMs for free, forever. Grab your copy now!
What is Replication for?
I had this simple question a few weeks back. Replication is an identical copy of your running VM at a remote location. There, the VM is stopped, waiting to be powered ON. It is already registered within VMware vCenter Server (or Microsoft Hyper-V) and when you have a problem at the primary site it's just matter of minutes to start the critical VMs you're replicating to the remote site. It's a very easy and affordable disaster recovery plan.
Altaro simply replicates VM backups to an offsite location. If you want to go with this scenario, you'll need to install Altaro Offsite Server. You will need to install the Altaro Offsite Server on the machine that will store the offsite backups in there. You can even check the possible cost as Altaro blog has a post about that. It can be any Windows box with at least i5 CPU. You can also install Altaro Offsite Server in Microsoft Azure and have your backups stored there.
More posts from ESX Virtualization:
Stay tuned through RSS, and social media channels (Twitter, FB, YouTube)