I stumbled through this on Altaro website when searching through a documentation, and I found an Interesting fact about Altaro software, which you may do not know. It is a fact that Altaro Backup Can be deployed on Server Core/Hyper-V Core. You can use Server Core/Hyper-V Server, WS2008 R2, WS2012 and WS2012 R2.
The Windows server core does not have a UI so it is a little bit more "lightweight" than a full blown Windows server system. The installation process is pretty much the same as on the normal version of Windows. It is just that the installer is launched through the CLI console at the server core.
Then for the management, you simply install a console on a separate Windows management machine (the console is separate installer). It is not a web-based console but an executable which needs to be installed, and which then provides the management/monitoring UI to work with. I have detailed this already in my post here if you need to get further details and requirements.
Altaro has this offer where you can backup two VMs per hypervisor for free. Check the Altaro website for additional licensing cost details. I'd also invited you to read the Quick Start Guide and visit their Support page to check the full product manuals.
Altaro required firewall ports:
35100 : Communication from Altaro Offsite Server UI to Altaro Offsite Server
35101 : Communication from v4, v5 and v6 Clients with the Altaro Offsite Server
35102 – 35105 : Communication from v4 Clients with the Altaro Offsite Server
35109 – 35111 : Communication from v5 and v6 Clients with the Altaro Offsite Server
35107 : Communication between Management Console UI and Altaro VM Backup
35108 : Communication from Altaro VM Backup to Altaro Hyper-V Host Agents
Altaro has quite low hardware specifications requirements. Judge by yourself:
Altaro VM Backup:
1 GB RAM
1 GB Hard Disk Space (for Altaro VM Backup Program and Settings) + 5 GB (for temporary files created during backup operations)
Altaro Hyper-V Host Agent:
Altaro Offsite Server:
Minimum of i5 (or equivalent) processor
75 MB RAM + an additional 75MB for each concurrent backup/restore.
For example if running 3 concurrent backups then minimum requirement is 75MB (base) + 75MB + 75MB + 75MB = Total 300 MB RAM
Altaro needs a Windows machine to get the console up and running. For VMware vSphere you can imagine a separate (dedicated) backup server, but it can also be a Windows VM where you install Altaro backup. This might have some drawback as I usually suggest to separate the backup infrastructure from a virtualization infrastructure, but each client has its own constraints and requirements where the budget is usually the N°1 to pay attention.
We have seen a virtualization change the way we do IT. Virtualization was a great catalyzer in the way to consolidate existing physical infrastructure which were inefficient, generated heat and needed air conditioning. Virtualization changed all that. Now we need to make sure that the data backup of the workflows that are executed on those virtual infrastructures is reliable, simple to use and fast. The admin's role is not firefighting unreliable backup software but to concentrate his/her's efforts on day-to-day IT management.
When I setup an altaro offsite server in my other article, I did no talk about the possibility to pre-seed the backup files and place them on removable drive (or smal NAS). Well, it's perhaps obvious for some, but not for others.
This is usefull in a situation where you have lots of data to "ship" to the other side and you don't want to wait 2 days untill its there….
here is a quick screenshot from Altaro detailing this….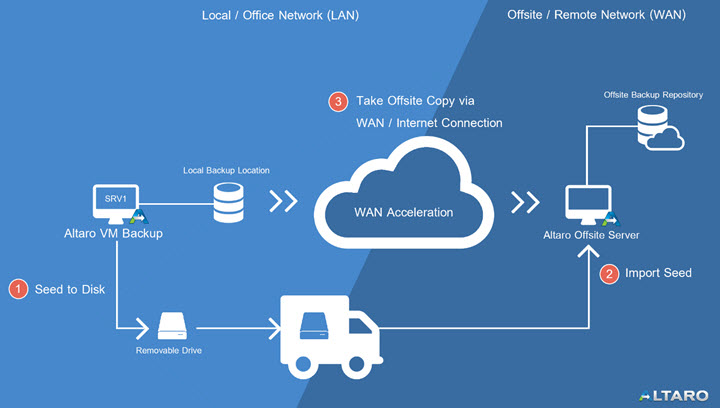 You might want to check other articles about Altaro Backup 6:
Altaro Backup Can be deployed on Server Core/Hyper-V Core – (This post)