A public beta of VMware Converter Standalone 5 is available for download.
One of the features which is interesting is the optimization of disk alignment of systems. I think that it's quite evident that the full product will support vSphere 5. One can clearly see it in the release notes.
The product supports more OS and some other new functionalities are present as well:
– Preserving the LVM configuration on the source machine during Linux conversions.
– Enhanced synchronization including options for scheduling synchronization tasks and performing multiple synchronization
tasks in a conversion job.
– Optimized disk and partition alignment and cluster size change.
– Conversion data is encrypted between the source and the server.
A quick quote:
Converter Standalone 5.0 beta supports the following sources.

VMware vCenter virtual machines

vSphere 5.0 Beta
vSphere 4.1
vSphere 4.0
ESX 3.0
ESXi 3.5 Installable and Embedded
ESX Server 2.5.x (if VirtualCenter 2.5 or later manages ESX Server)
vCenter Server 2.5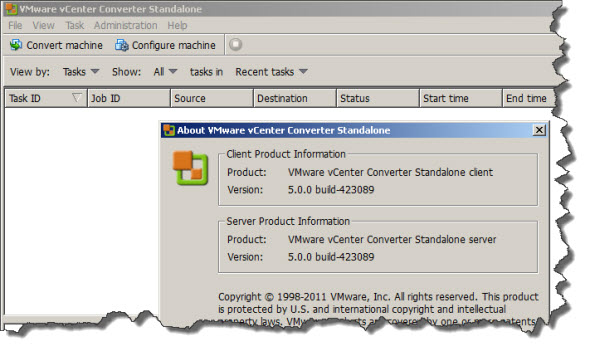 The installation of the product is possible to systems running anything from Windows XP Professional (32-bit and 64-bit) up to Windows Server 2008 R2 so as you can see very large number of Windows platforms is supported.
For converting linux boxes, you must install the product on windows box and then launch the conversion process via the local network. It's not possible to reconfigure linux distributions. There are 3 major linux distributions supported: Redhat 4.x – 6.x , SUSE 8-11 and Ubuntu 8.x – 10.x
A quick quote from VMware communities forums here:
Well, briefly when performing volume-based cloning (this is P2V of Windows/Linux sources or V2V of Windows sources with selected volume-based cloning) we are partitioning the target disk based on the source volume sizes and then copy the content of each volume on the target. When optimized disk aligment is selected (it is on by default) the partitions on the target disk are aligned on 1 MB boundary for Windows guest OS, and on 64 KB boundary for Linux P2V.
I went and checked the Online help file which is nicely made. For example the part which talks about the Sysprep files shows nice a table with the locations and OS types….
A quick quote:
To customize the guest operating system of a virtual machine that runs Windows Server 2003 or Windows XP, you must save the Sysprep files to the specified locations on the machine where Converter Standalone server runs.

You must download the Sysprep files that correspond to the operating system of the source machine.
Procedure

–  Save the Sysprep files that correspond to the source operating system to the specified location on the machine where Converter Standalone server runs.

Update:
To succesfully align a partition on your VM you can do a V2V conversion.
During the selection process > Select "Advanced" and choose the "Destination" layout.
You must check the checkbox for the partition to be aligned.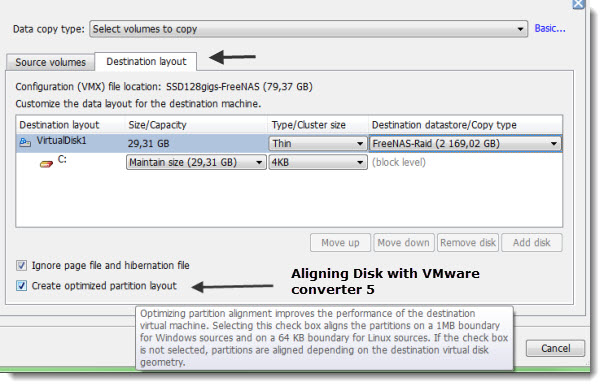 Links: Download User Guide
See the Release Notes of VMware vSphere Converter 5 Beta
Source: VMware Communities