VMware Workstation 12.5 and Fusion 8.5 are available for download. The products were announced during VMworld as a free upgrade for existing Workstation 12 or Fusion 8 users.
The products were updated to support the latest version of Windows 10 and also Windows Server 2016.
VMware Workstation 12 Pro version 12.5 is a free upgrade for all VMware Workstation 12 Pro users, it adds support for the following operating systems:
Windows 10 Anniversary Update
Windows Server 2016
VMware Workstation 12 Pro Version 12.5 also contains bug fixing, security updates, and performance improvements.
Great news as during 2 days there is a 15% off the price. Follow this link.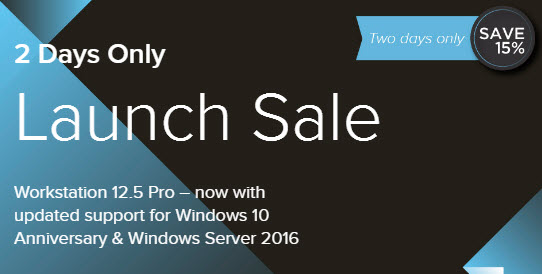 The same for VMware Fusion 8.5. You can benefit from 15% discount. Follow this link.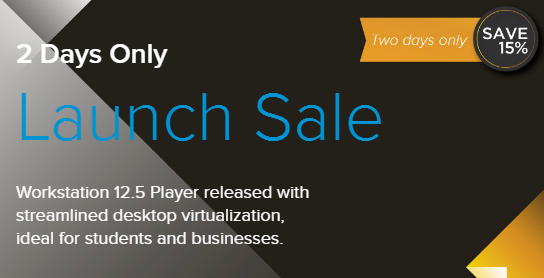 Quote:
This year we are delivering Fusion 8.5 and Fusion 8.5 Pro, and the big surprise is this: It's a free upgrade for all current-version customers. So, if you're on Fusion 8.1.1, you're going to be able to upgrade to the latest Fusion with full support for macOS Sierra and Windows 10 Anniversary edition, for free. We'll also be addingWindows Server 2016 support when it comes available.
VMware Workstation 12 Features
that VMware Workstation 12 Pro now supportsDirectX 10 and OpenGL 3.3. Workstation also supports 4k displays (3840 x 2160), but also allows to have multiple displays each one with different resolutions.
Monster VMs can be created. Imagine a VM with 16 vCPUs, 8 TB virtual disks, and 64 GB of memory running inside VMware Workstation 12. You can also allocate up to 2Gb of video memory to VMs…. Pretty awesome. Concerning multimedia and audio, a HD audio with 7.1 surround sound is supported.
Also USB 3.0, and Bluetooth devices allows to connect to your VM the latest hardware like webcam, headset, or printer. USB 3.0 is supported also in  Windows 7 besides Windows 8.
Run Windows 10 as a virtual machine
Run Windows 10 as a host operating system
Windows 10 Auto Detect and Easy Install
Unity support for Windows 10
Migrate Windows 10 PC to a virtual machine
Automatically suspend virtual machines upon host shutdown
Support 4K monitors with high resolution UI
Support for multiple monitors with different DPI settings
Echo cancellation for voice and video calls with Microsoft Lync and Skype
Added USB 3.0 support to Windows 7 virtual machines (with the latest Intel USB driver)
Improved standard installer
Added NAT network configuration in Virtual Network Editor on Linux hosts
Respect left-handed mouse setting on Windows host