New Update of VMware Workstation has been released – it's the version 7.1.4 and it adds W7 SP1 and Ubuntu 10.10 support.
The new VMware Workstation 7.1.4 is available.  This is a maintenance release only that fix known issues.
The new features and fixes:
– Windows 7 SP1 and Ubuntu 10.10 support for guest and host operating systems
– Support for capture video files bigger than 1 GB
– VMware Workstation now is able to show all USB devices in the Removable Devices menu as long as they are connected to the first identified 16 USB controllers.
– New – a traceroute command works from inside VM using NAT virtual networking on Windows host
– Easy Install functionality now support Red Hat 6 and Fedora 14 guest
– Converter does not support virtual disk size that exceeds 950GB.  Workaround: Change the disk size value to 950GB
You can read the full release notes for VMware Workstation 7.1.4 here.
At the same time the Free VMware Player 3.1 has been also updated to the version 3.1.4.
The added functionalities and/or bug-fixes are more or less the same as concerning the VMware Workstation 7.1.4.
You can read the release notes for VMware Player 3.1.4 here.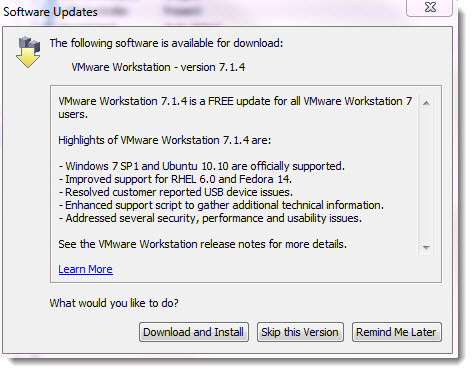 You can also check out the latest promo for VMware Workstation 7 at my blogpost here.