This is not a major update to VMware Workstation, but there are many bugfixes and minor updates in this VMware Workstation 9.0.2 release. Workstation 9 released several months back brought many useful new features and people who nests ESXi with Workstation should experience more smooth operation since release 9, because of the enhancements and improvements done on the virtual Intel VT-x/EPT or AMD-V/RVI extensions.
March Madness deals– 15% Off Workstation and Upgrade, 10% OffFusion, 20% Off Fusion Upgrade, 30% Off Fusion Pro! Click Here
VMware Workstation 9 and Workstation 9 Upgrade- Save 15%. 
Another useful feature on which I also reported in my detailed article about Workstation 9 is the Better management of disk space from within VMware Workstation 9. You can reclaim disk space that has been allocated to the VM but is no longer used by the guest OS. This is something that was always painful, especially if you're running nested ESXi labs, which consume a lot of diskspace on a SSD drive.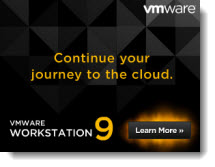 Another function introduced in the release 9 is the possibility is to restrict the changes made to configuration of VMs, which might be particulary useful for students and classes. Additional protection for sensible VMs can be the encryption feature.
Workstation enables to use single powerful PC to work on many different OS, create VMs for testing and sharing for coworkers. The latest release of VMware Workstation 9.0.2 is a free update for Workstation 9 users. Worth to mention some of the fixes made in this release.
What's improved or fixed in VMware Workstation 9.0.2?
It's now possible create a linked clone from a read-only template virtual machine (was grayed out previously, so you had to take a snapshot first)

OVF Tool has been updated to version 3.0.2
Fixed Autostart on Windows 8 and Microsoft Server 2012
Memory leak which impacted Windows hosts has been fixed
Full copy clones from a snapshot of Windows XP mode VM are now possible (I haven't used that myself)
Disk cleanup for encrypted virtual machines has been disabled (apparently encrypted reports has been damaged)
Fedora 18 supported as a guest OS
Windows 8 host permissions issues fixed (When editing Workstation preferences on Windows hosts, occasionally a permissions error would be displayed)
VMware Tools updated to be able to support the latest Linux kernels
Also the general host resource management has been improved
More fixes on graphics, sounds, or copy paste images in some OS. There are more fixes in this release, which you can read in the full release notes here.