Free E-book: How to setup nested VMware vSphere lab on a PC or laptop? Ever wanted to test the latest vSphere Suite without having enough hardware? Features like vMotion, Fault Tolerance, DRS (distributed ressource scheduler) or HA (High Availability) can be tested in nested environment by using VMware Workstation.
Note that the latest vSphere 6 would need a PC or laptop with at least 16 Gb of RAM.
In VMware Workstation you can directly choose to install ESXi host, as a virtual machine. The whole process of setting up vSphere Lab on a PC or laptop can be challenging.
Especially for new people coming to learn something new about virtualization. You have to save every Gb of space, because the solution must obviously run on a SSD drive…
That's why I started this little project of a Free E-book that I'm giving away. In this e-book you'll be able to find the exact step-by-step instructions with screenshots on how to setup the nested lab. I'm not saying that this is the ONLY way it can be done…. -:)

What's inside of the E-book?
– What you'll need to get started (hardware, software..)
– The network design of  vSphere lab in VMware Workstation
– Preparation of Windows templates used to save disk space (linked clones)
– Installation of nested ESXi hosts
– Instalation of vCenter
– Choosing shared storage in order to implement HA, vMotion and FT
– Network design of nested ESXi hosts
The E-book is free, if you sign up to our weekly newsletter. You'll receive weekly e-mail with the latest articles from the blog. ESX Virtualization website has the latest news from virtualization, news and how-to articles and videos.
Actually, why would one want to run nested vSphere lab? What would be the reasons to push people to run nested ESXi hosts? For several reasons nested lab is the only way that some of us. Here are some of those reasons:
Financial – usually to build a physical lab cost some real money. You'll need at least 2 whiteboxes (Three boxes if you want to run VSAN), shared storage, management station, switches…. People who don't have the money to build a decent lab at home to learn stuff can use the possibility to run nested hypervisors in order to test quickly the configuration. Usually, everyone has a PC or Laptop at home with Intel x64 capable CPU.
– Polyvalency – The PC or laptop where you'll install the necessary components can of course be used for other stuff, games, etc… You can do more with a PC or laptop running Linux or Windows and having your nested vSphere lab running inside of VMware Workstation.
– Ecological – You don't want to end up each month with an astronomical electricity bill, and, you do want to save the planet, right? Another reason to build a nested VMware vSphere lab !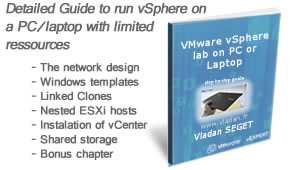 I hope that you'll enjoy it and it will be useful. While I recommend going nested for learning towards VCP exam, I went for physical lab.  I have 3 hosts and running All-Flash VSAN 6.0 with 10GbE Network.
Note: Please be aware that this e-book isn't updated to the latest release of VMware vSphere.
Here is the link:
https://www.dropbox.com/sh/zm9pmitg5l01kvu/AADA8YGhYL1i_gt-KeTYPfLIa?dl=0
You might want to check other resources from our website:
More from ESX Virtualization:
Subscribe to RSS, and social media channels (Twitter, FB, YouTube)