Why those installation errors happens when installing VMware Workstation?
There are days when everything don't work like it should. You're installing VMware Workstation on friend's system or at customer's site and you get into an error during installation process. How to fix it? From where to start your troubleshooting? First of all you should make sure that you install the product on supported system. Check  the VMware Compatibility Guide for your product.
Errors due an installation path in Windows x64 systems – if you're installing on 64bit Windows, don't change the default installation path. I know that the installation of VMware Workstation 7.1 is fairly popular on 64 bit systems since you can take advantage of large amount of RAM, but you should keep in mind that on a 64-bit Windows 7 host, Workstation 7 should be installed to: %SYSTEMDRIVE%Program Files (x86)VMwareVMware Workstation.
If you're getting an error on MSI – the installation service – you make sure that you're looged on as a local admin of the system. Another way to get rid of the error message might be to clean the TEMP installation directory (W7: start >run > "%TEMP" > and delete all files there).  You can also try to reinstall the latest version of Windows installer if you have a doubt about file corruption. Just follow this link and download the latest windows installer v. 4.5 from Microsoft: Windows Installer 4.5 Redistributable package now. (https://go.microsoft.com/fwlink/?LinkId=120486);  And if you're running on Windows XP you must register the package by going to: start > run > "MSIExec /unregister"  and "MSIExec /regserver"
Don't try to install VMware Workstation in a VM…. -:) not supported by VMware….
Use the /clean switch to clean everything –  If you're running VMware Workstation 7, you can clean everything related to Workstation 7 by: start > run > cmd > "VMware-workstation-full-7.1.2-301548.exe /clean"
For linux hosts: Cleaning up after an incomplete uninstallation on a Windows host (1308)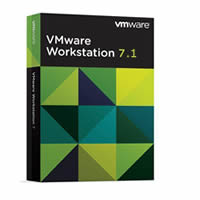 Verify that your OS is in a good shape – this can also be an issue. If the Windows system is already in trouble, you might run into difficulties also to install the VMware product.
Collect the VMware Support information. For more information, see the Running the Support Script section of the Workstation 7 User Manual
File a support request with VMware Support and quote this Knowledge Base article ID (1027805) in the problem description. For more information, see How to Submit a Support Request
Hopefully some of those issues can be resolved with above advices or links. Hope it helps.
Source: VMware KB Troubleshooting a VMware hosted product that does not install (1005027)