VMware vSphere 6 introduces vCenter Server 6 which, again, exists in two different platforms – Windows or Linux (SLES based VCSA). This time however the vCenter Server VCSA based virtual appliance offers equal functions than Windows based vCenter server. In this post we'll look at vSphere 6 Features – vCenter Server 6 Details.
Linux based VCSA has (almost) all functions than Windows based vCenter server 6. VMware want's to get out from the dependency on Microsoft's OS for vCenter server. That's why since several years we have seen the Linux based VCSA improved quite often. What's best is to show which features are (or are not) represented in each version. How each version scales up?
Configuration Maximums vCenter Server 6 on Windows or Linux based VCSA: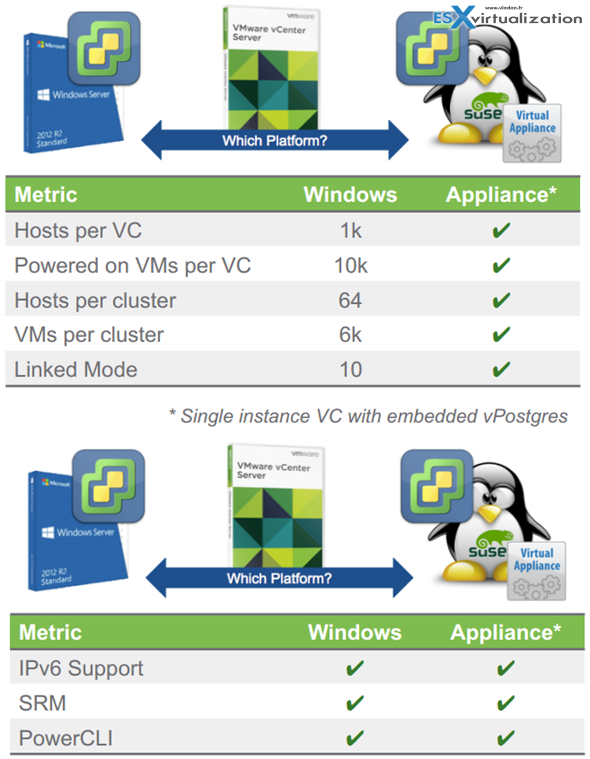 Update: VMware vSphere 6.0 supports a maximum of 8000 VMs per cluster (4600 when used with VSAN).
[source: https://www.vmware.com/files/pdf/products/vsan/VSAN_Design_and_Sizing_Guide.pdf  and https://www.vmware.com/pdf/vsphere6/r60/vsphere-60-configuration-maximums.pdf]
vCenter server on Linux is on SLES SP3 (Suse Linux Enterprise Server). It's bundled with vPostres database, pre-installed.
Then on the following screenshot you'll see which features were not present in VCSA 5.5, but has made it to the VCSA 6.0. As you can see, the linked mode which wasn't supported in VCSA 5.5 is now there, as well as Microsoft ADAM support and Policies and Tags. Tags gets replicated to other vCenters once you have used them in one vCenter.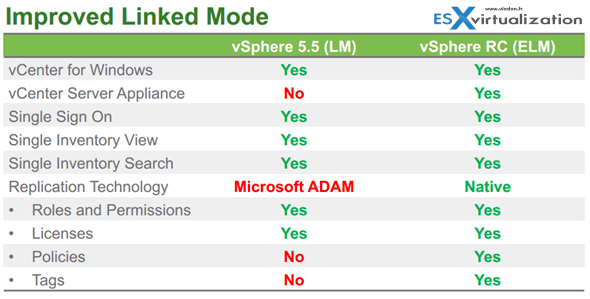 New Platform Service Controller (for both platforms):
This is completely new component which is called Platform Services Controller, which can be plugged into other PSCs for HA or replication purposes. The PSC contains all the necessary services that vCenter needs for its functions. There is a Single Sign-On (SSO) , licensing service or certificate management service.
The different type installation are allowed:
Embedded (in the same VM)
External
The embedded PSC is meant to be used for standalone sites where vCenter server will be the only SSO integrated solution. In this case a replication to another PSC is not necessary.
External PSC shall be deployed in anvironments where there is more then one SSO enabled solution (vCenter Server, vRealize Automation, etc…) OR where replication to another PSC (another site) is necessary.
Here is the screenshot from the installation process (VCSA) showing the different options and changing the options also changes the different phases of the deployment (on the left).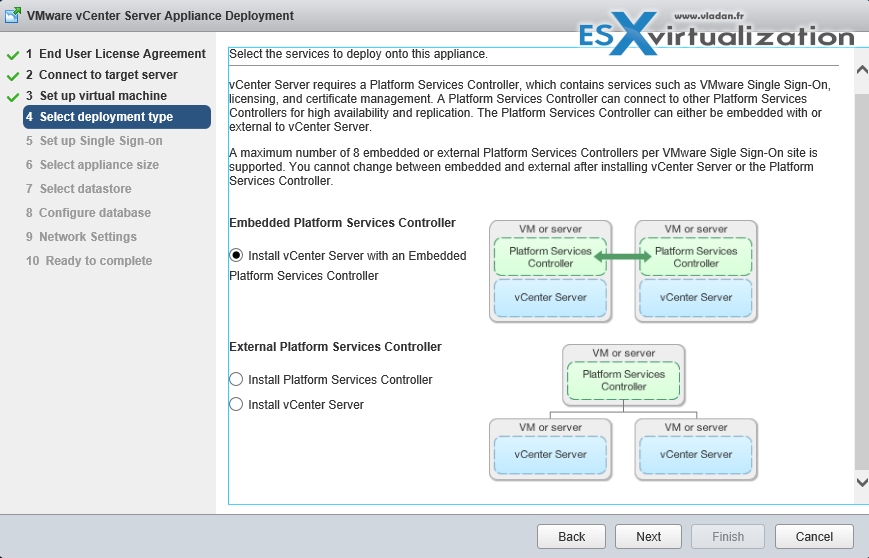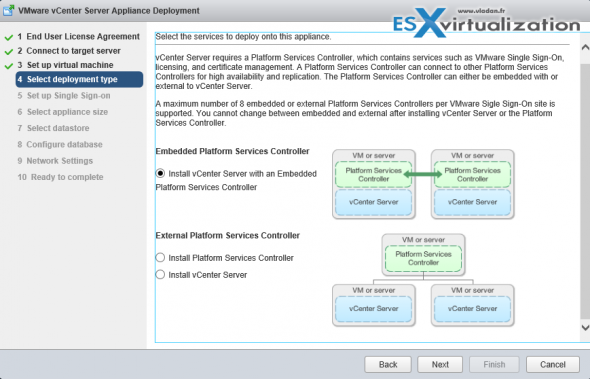 The Platform Controler Service (PSC) contains:
VMware Appliance Management Service (only in Appliance-based PSC)
VMware License Service
VMware Component Manager
VMware Identity Management Service
VMware HTTP Reverse Proxy
VMware Service Control Agent
VMware Security Token Service
VMware Common Logging Service
VMware Syslog Health Service
VMware Authentication Framework
VMware Certificate Service
VMware Directory Service
Installation and configuration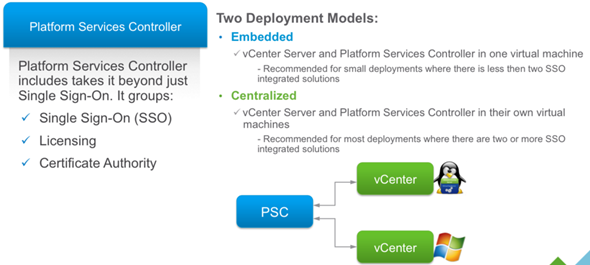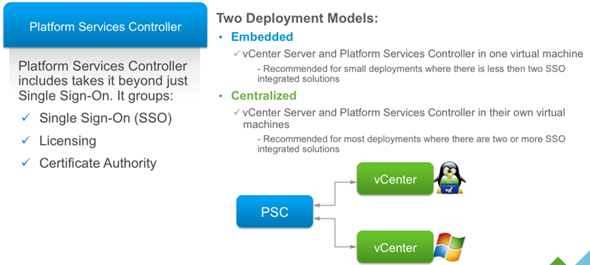 Previously VCSA could manage 100 hosts, now maximum is 1000…. Also the maximum of VMs managed by VCSA based vCenter has evolved. Now it's 10,000 VMw where previously it was "only" 3000 VMs.
Note that the minimum RAM is 8Gb and in this configuration you can run up to 20 hosts with total 400 VMs. Here is a table showing different sizes of the appliance. The size can easily be adjusted during the deployment process.

The deployment of VCSA is done by mounting an ISO! Yes. Once you mount the iso, in the root directory you'll find a html file called index.html -:). From there it's simple and straight forward. Oh wait, before that you must install VMware Client Integration Plugin which is located in the vcsa directory.
It's a simple exe file, (for Windows) but there is also a pkg if you're deploying from Linux Workstation. Note that you don't have to have any vSphere client installed to deploy the VCSA. There is also VCSA CLI Installer which is located in the second folder.
On the screenshot below you can see the start of the deployment of VCSA- rather simple. All you need to have is web browser…
Note the Upgrade button so it's obviously possible to upgrade from 5.1 or 5.5 version of VCSA… (this wasn't possible in the BETA or RC versions previously…)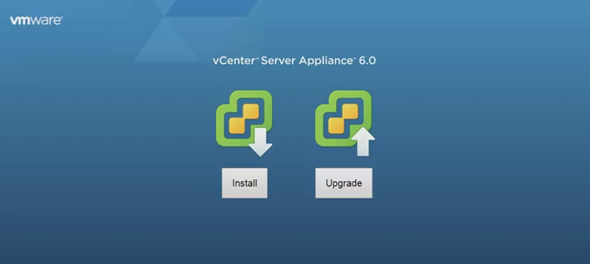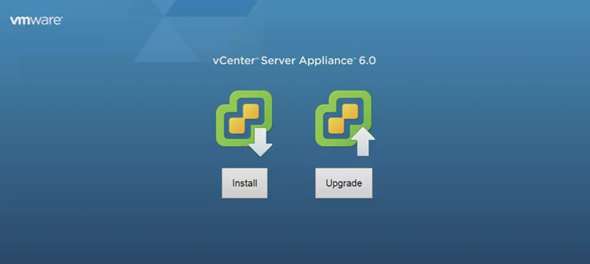 The next screen show the connection to target server.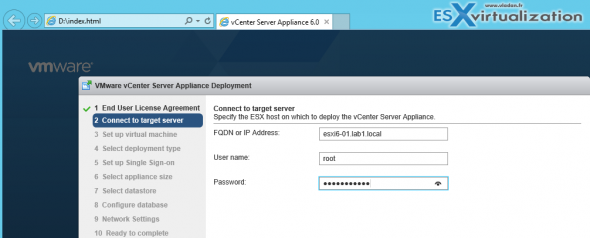 Here you can personalize the appliance name and you also need to assign a secure password. Note the correction for the password requirements or the correction of the password error… You can't make error in password or enter bad domain or site name.
It reminds me an excellent work done on EVO:RAIL user interface from Dave Shanley's team…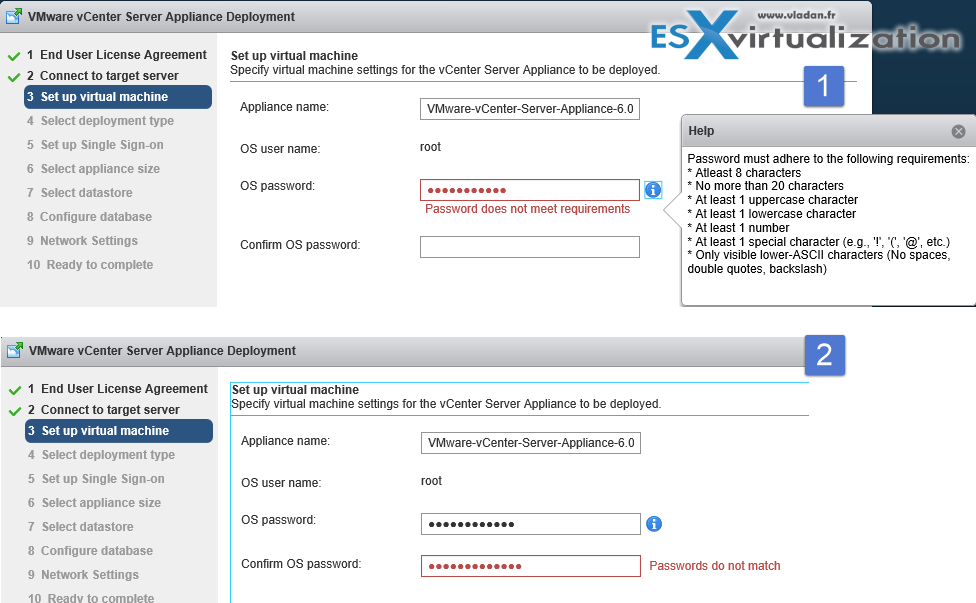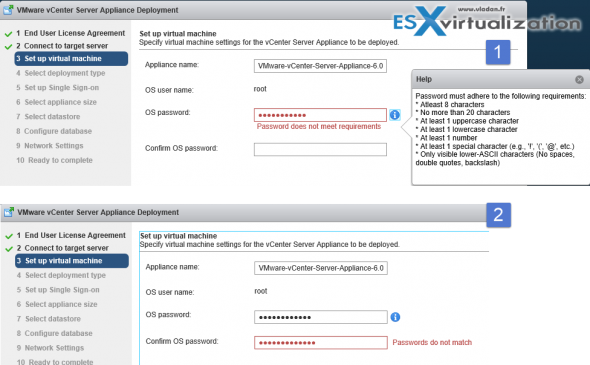 The next steps show the different deployment options. In case you're deploying large infrastructure with more than one site you'll probably chose a separate Platform service controller. I'm detailing about that option more down below.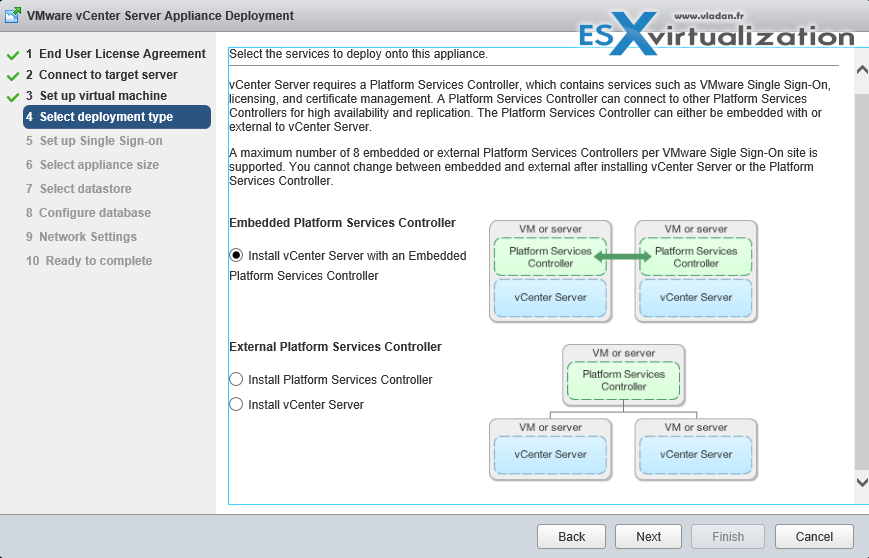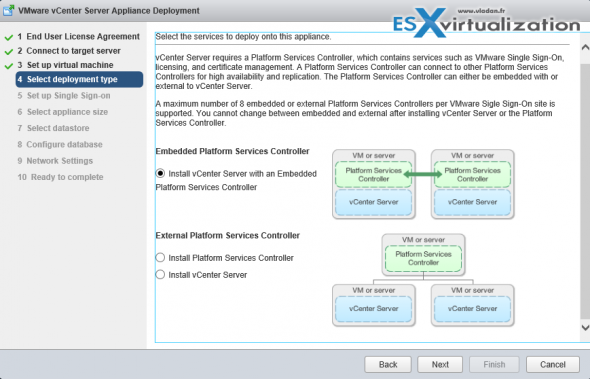 Update: The GA release has different installer. Here is a screenshot…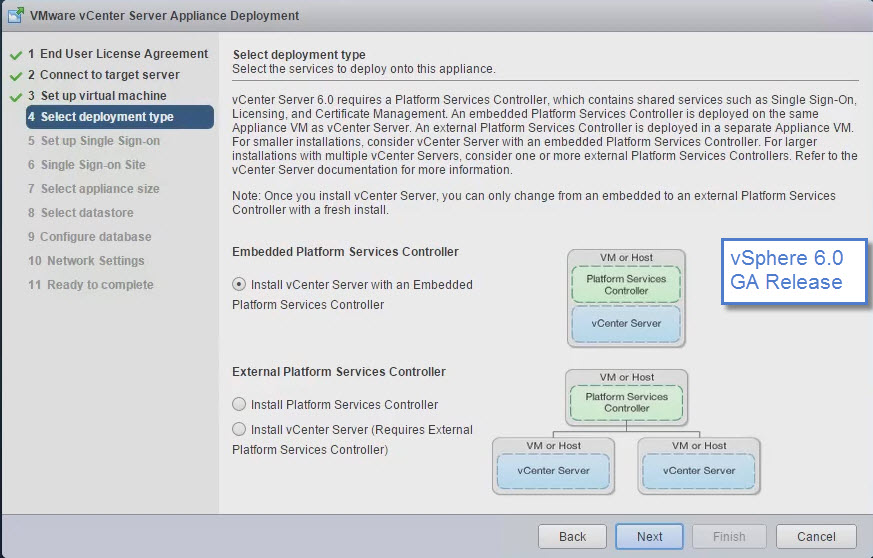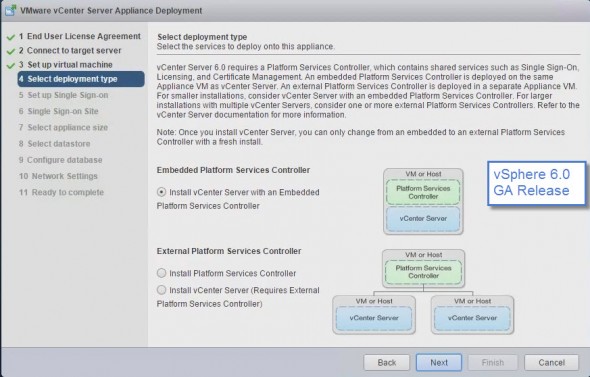 Single Sign-On password.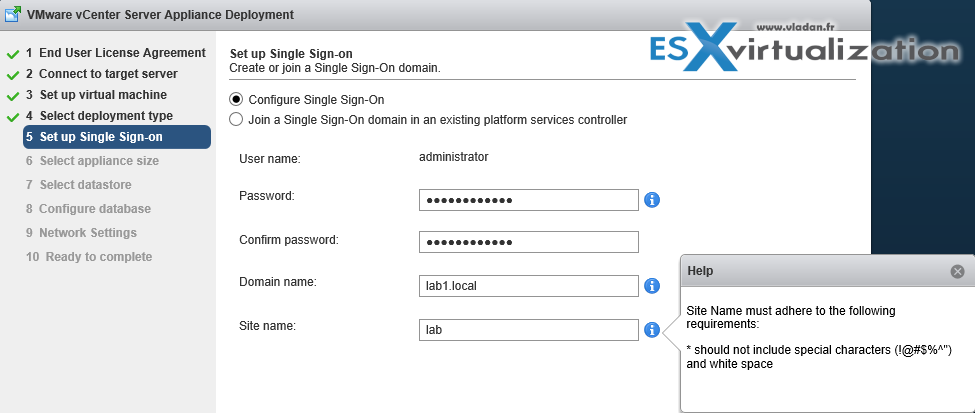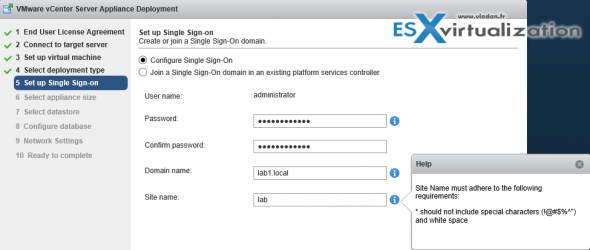 Again Update screenshot from the vSphere 6.0 GA is here.


and then there is the create or join SSO domain…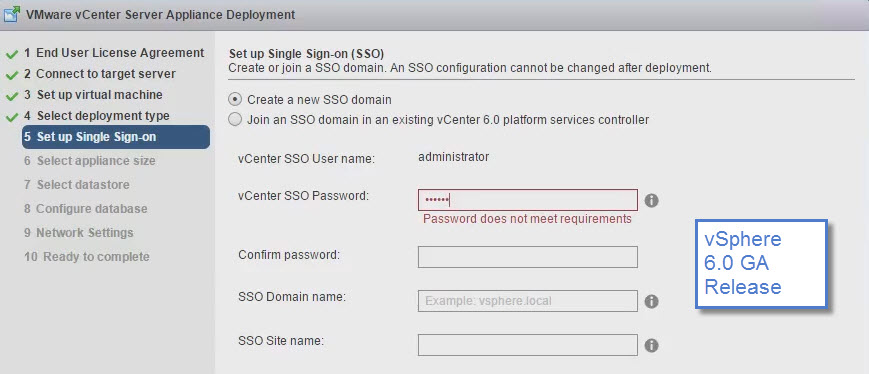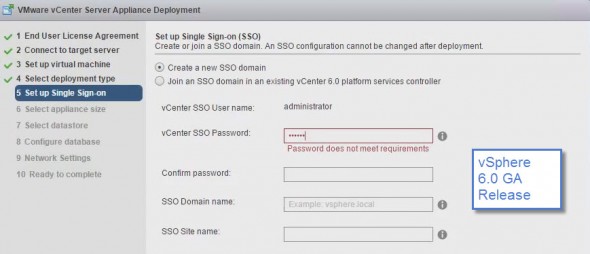 Sizing, Sizing… As you change the drop down menu to something else, the text bellow changes as well to reflect the change…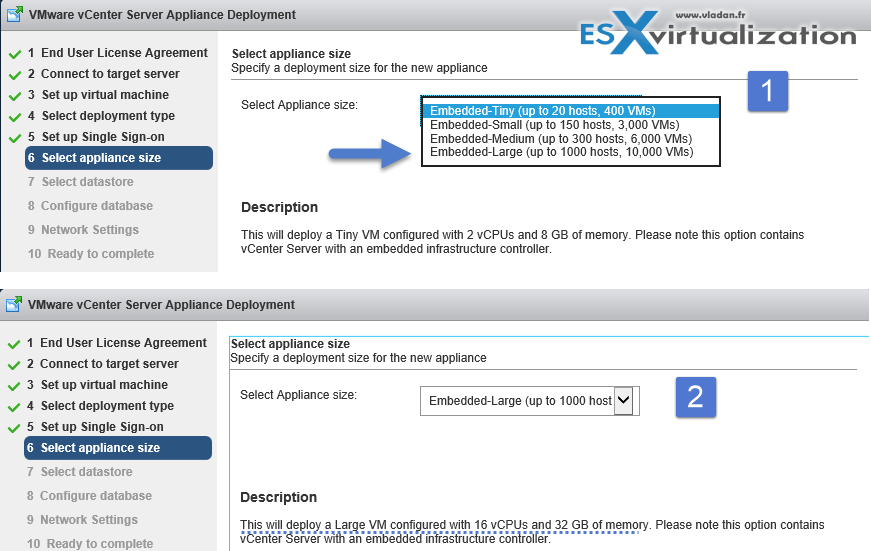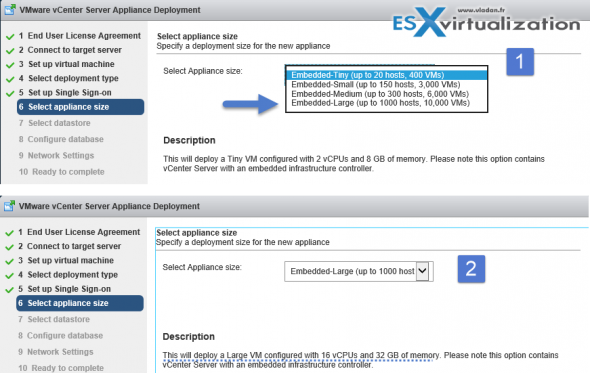 Again, compare with the GA release. The dropdown menu changes…


Datastore selection. In my case the host which I'm deploying the VCSA does not have any shared datastore, but only local default datastore. If the host is connected to a iSCSI, NFS or FC storage you would see those shared datastores in this screen.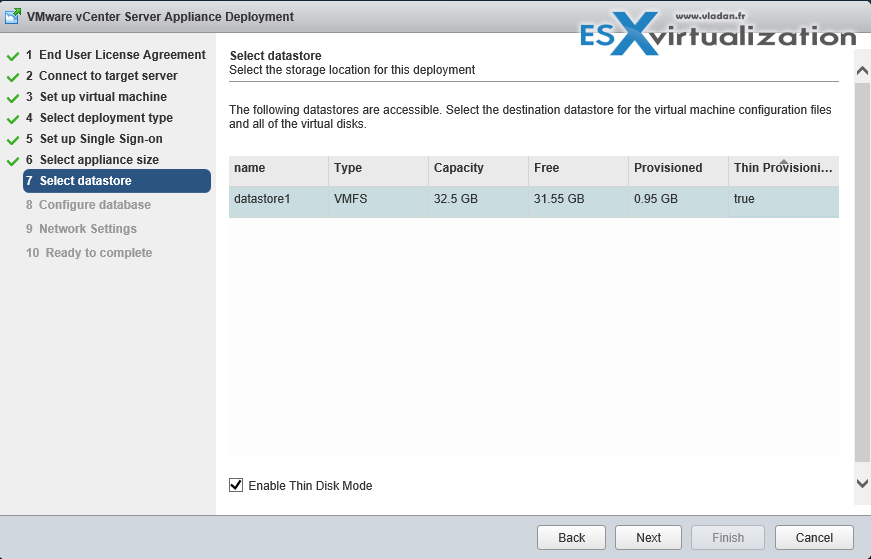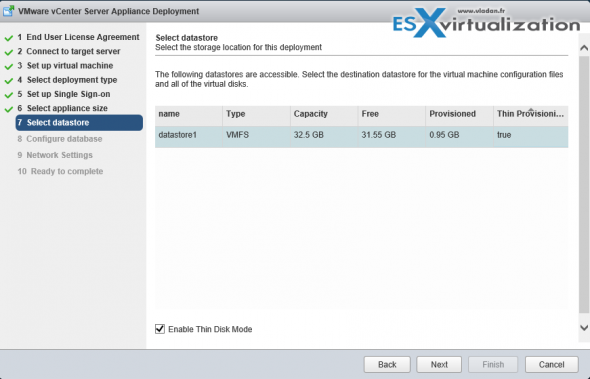 Database configuration. If you pick the embedded one, you have nothing to do… just click the next button. The only other option is Oracle. Windows based deployments do have the possibility to use Microsoft SQL. As usual…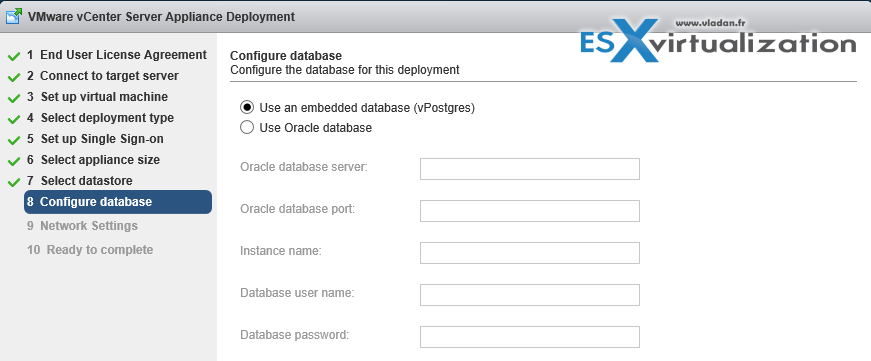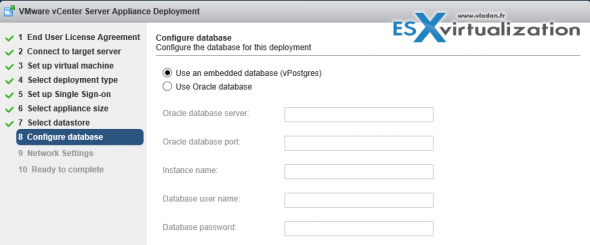 Network settings. Nothing special, just notice the option to activate SSH on the host from within the assistant. Neat.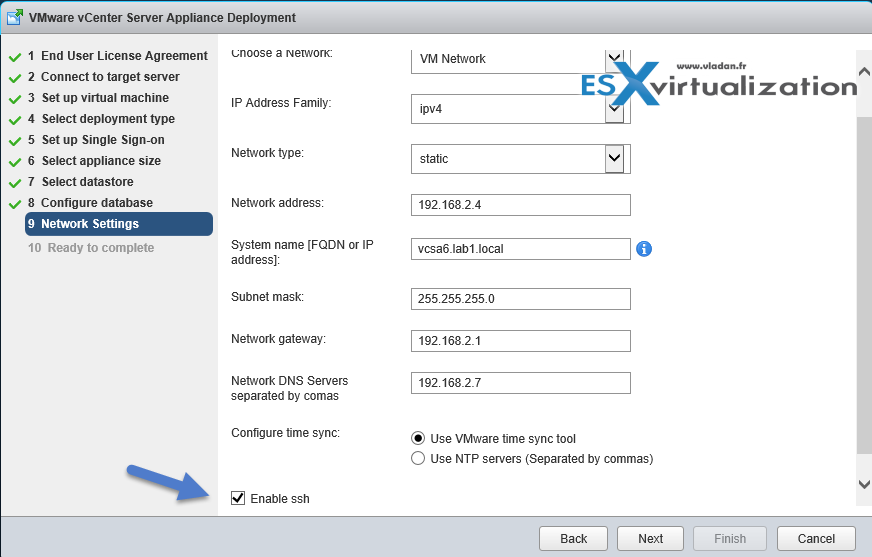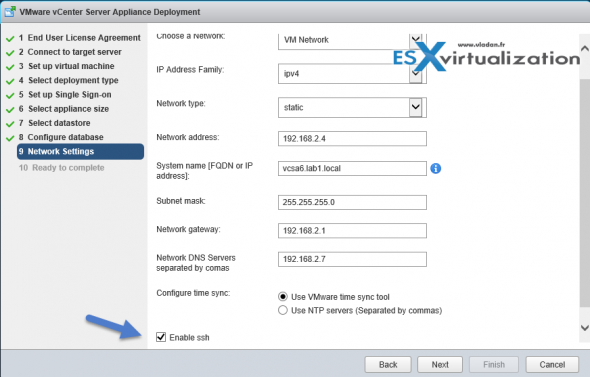 Recap page.. and off you go!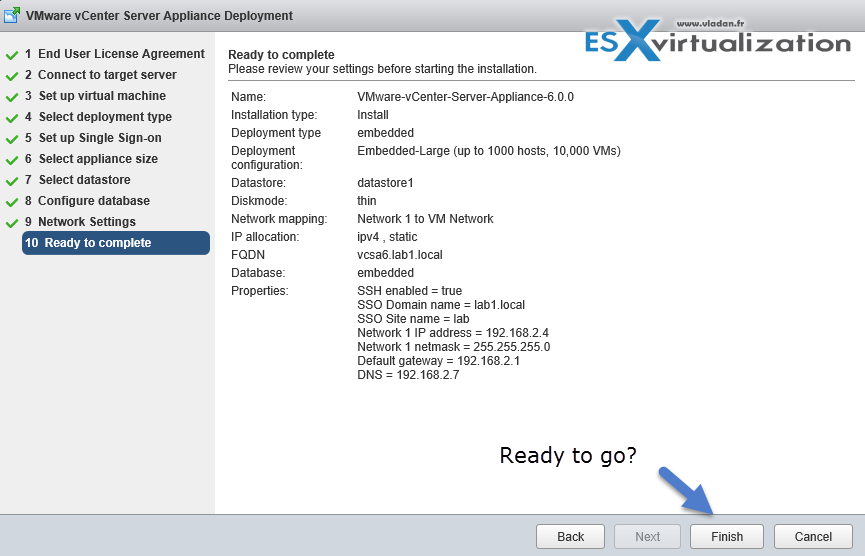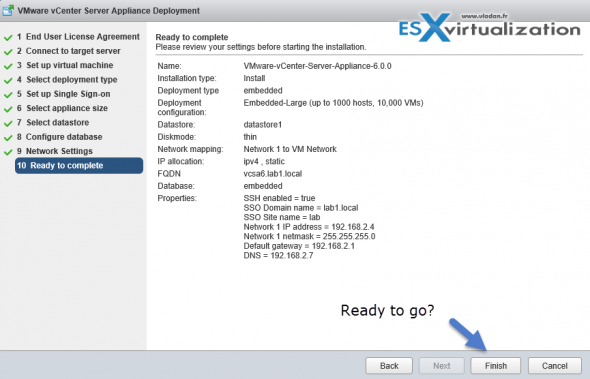 The progress bar indicating the deployment…

The PSC has a built-in VMware Postgres database which is present in both types of installations. Linux and Windows. Additionally, the DB can be external DB such as Oracle (in case of VCSA) or Microsoft SQL in the case of Windows. But we don't see the SQL express which was limited to 4Gb of size anymore, even for small deployments. Check the bellow concerning the conversion of SQL express into vPostgress!
Quote from a claryfying post from VMware:
Supported databases for the windows installation are SQL 2008 R2, 2012 and 2014, Oracle 11g and 12c as well as the option to use an embedded vPostgres database. vPostgres on windows is limited to 20 hosts and 200 virtual machines. Upgrades where SQL express was installed will be converted to vPostgres. The vCenter Server Appliance supports embedded vPostgres at full scale, 1000 host and 10,000 virtual machines and is the recommended database for the vCenter Server appliance. External Oracle 11g and 12c databases are supported as well for this release, look for these to be phased out in future releases.
PSC – Internal or External
The Platform service controller can be deployed as internal (embedded within vCenter) or it can run as an external component to vCenter. The guidelines from VMware says to use PSC as internal for up to 8 vCenter servers.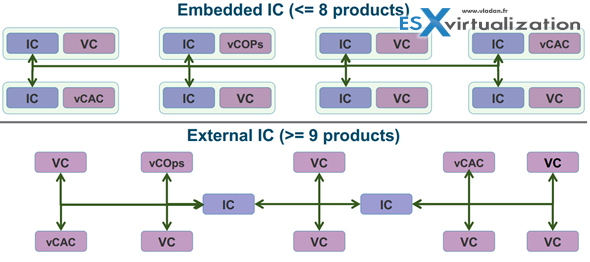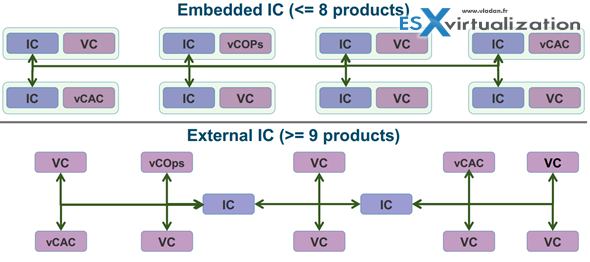 The other options would be to have PSC as an external (as a pool of PSCs) which can load-balance the the service and so many vCenter servers are connecting to that pool asking for the necessary services.
You can also plan mixed environment for PSC as it does not uses ADAM for replication so there could be some Windows PSC replicating to Linux based PSCs…
The PSC does not handle management of VMs, it's new service separated from inventory and management services.
Also, it's not only vCenter that can use the shared PSC and its services, but also other products like vCOPs, vCloud Director, vCloud Automation Center.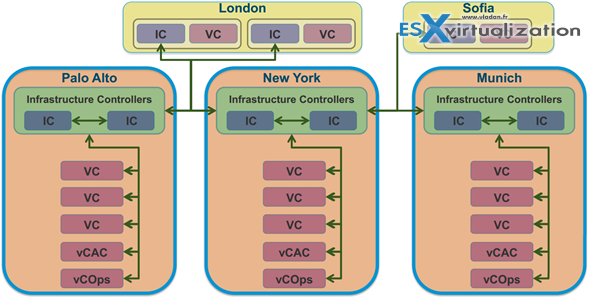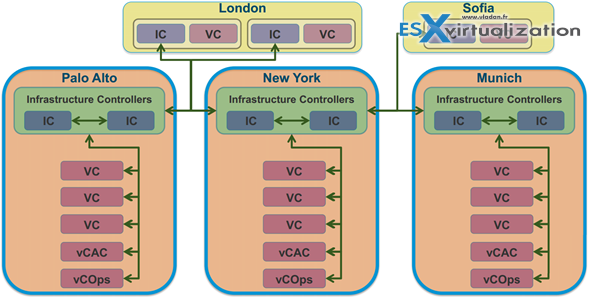 Certificate Management…
There is a new VMware Certificate Authority (VMCA). This service can be root CA which manages its own certs or it can manage certs from external CA. The VMCA issues new cert for each ESXi host. This is a signed certificate when it is added to vCenter.
There will be only 5 certificates (not a certificate for each service – 26 services now!).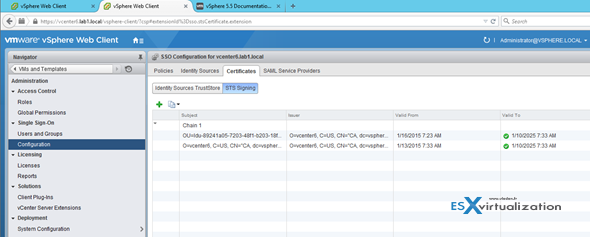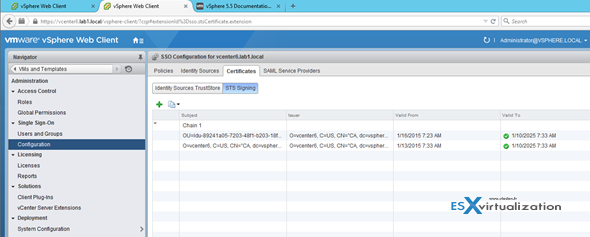 Details of the root authority and provisions.


There are two operations modes:
Root CA
Issuer CA – possibility integrate Microsoft Certification authority. In this case you'll create the CSR (request) > Go to Microsoft Cert Server and get certificate and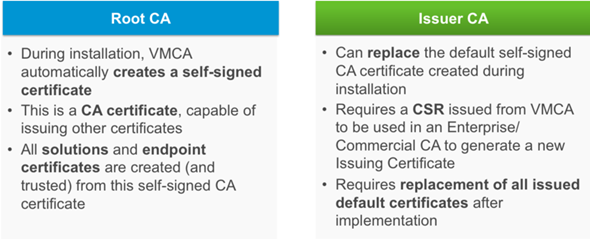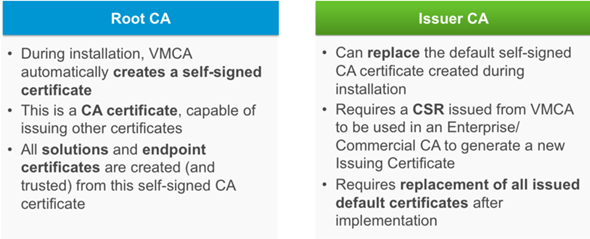 There is new command line software present which is easy to use(will check that ..) which you'll be able to use after you installed vCenter server and you want to replace the certificates.
The Certificate process looks like this, where the third option (Custom) is the most difficult (have to issue certs manually):


vCenter Server 6.0 Windows Deployment
Windows vCenter installation experience has been enhanced with additional capabilities including custom ports, custom paths, uninstall and error messaging improvements. Furthermore, all upgrade paths from Windows vCenter 5.0 and up are now supported. vCenter Server Appliance (vCSA) now has a guided installer. Separate ISOs and scripted installation for both vCenter Server for Windows and vCSA reduce the overall download time and improve automation capabilities respectively.
Again, the installation has now single installer (previously there was separate installers for SSO, Inventory service, web client and vCenter server.

The pre-check function which check for system requirements and installs those components (.NET 3.5 in our case).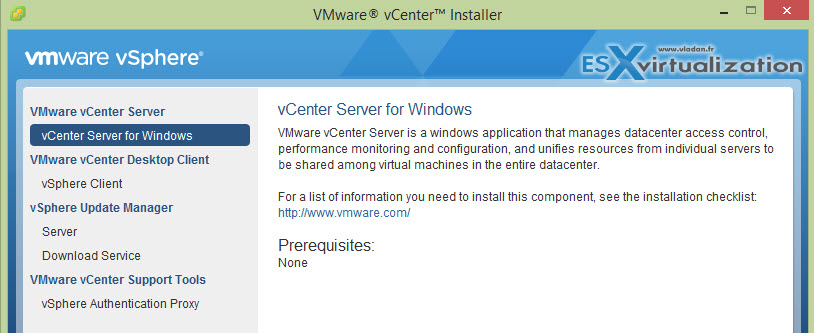 Update: The C# client CAN connect to vCenter in the final version of vSphere 6.0 (not in the RC version).
vSphere Web client (installed by default) is used for vCenter connection. The web client is as much as 6 times faster. But I'll do a separate post on all the changes in Web client in separate post.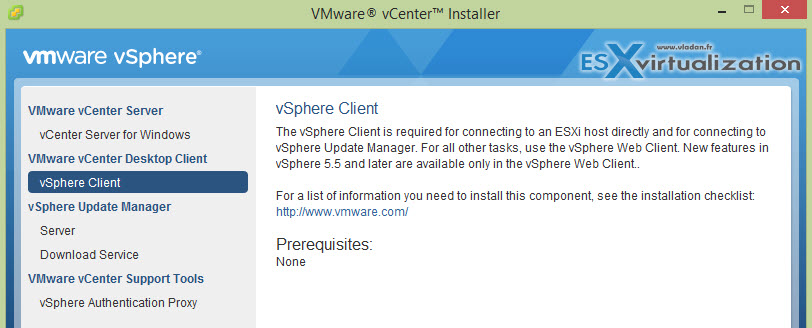 The whole installation depends, but it took me roughly 15 min. Once finished, a quick look into the Windows services shows 16 Windows Services installed.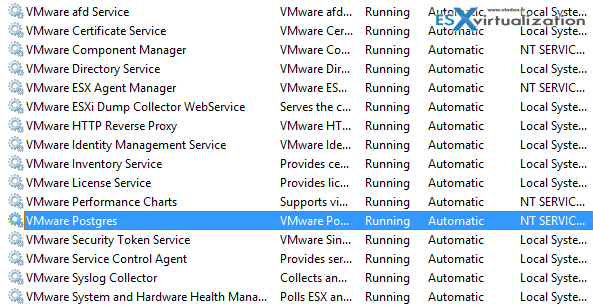 I said previously that Microsoft SQL Server express version is not used for vCenter server. This is not completely true as this option can be used by vSphere Update manager (VUM) – which must be installed on Windows. Can be used for small scale installations as it supports only 5 hosts with 50 VM… This is for VUM only, not for vPostgres.
The embedded option with vPostgres database can handle now up to 20 hosts and 200 VMs…. If y ou need more, then you must use external DB (SQL or Oracle). See this post where I'm detailing the steps – vSphere 6.0 vCenter Server 6 Windows 2012 R2 Install Guide (With External SQL Server DB)
VUM install hasn't changed from previous release and you still need C# based client to fully manage the VUM and leverage all functions. The update manager can install patches and also upgrade ESXi hosts from 5.x to 6.0.
So basically:
You manage vSphere 6 advanced features and hardware versions 11, 10, 9 ….. through vSphere Web Client
You manage vSphere Update manager through vSphere C# Client.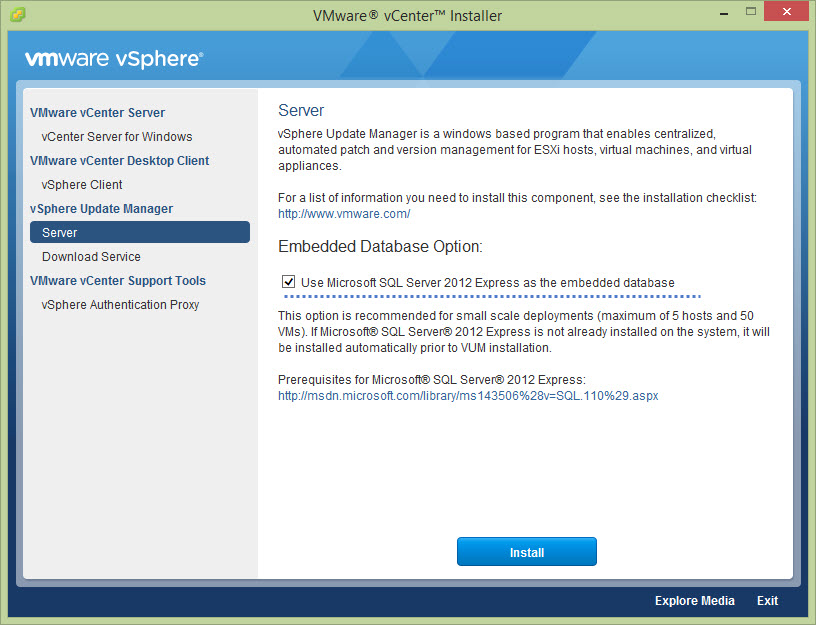 The VUM can also be installed on separate Windows based server in case you for example use the Linux based VCSA or want to separate the Windows based vCenter from VUM. The VUM has also a separate installer for Download service, which also uses (or can use) the Microsoft SQL Server Express 2012. Note that Jave gets installed during the installation of VUM… this UMDS must be installed on separate server which is placed in DMZ. The reason why deploy this UMDS service is simple – your vCenter has no internet connection due to security reasons.
Last component on the Windows installer is the Authentication proxy allowing not to use the AD for joining hosts to a domain without AD credentials. As a use case VMware tells us about the possibility for using with auto deploy where you'd otherwise needed to enter your AD credentials for joining hosts to AD.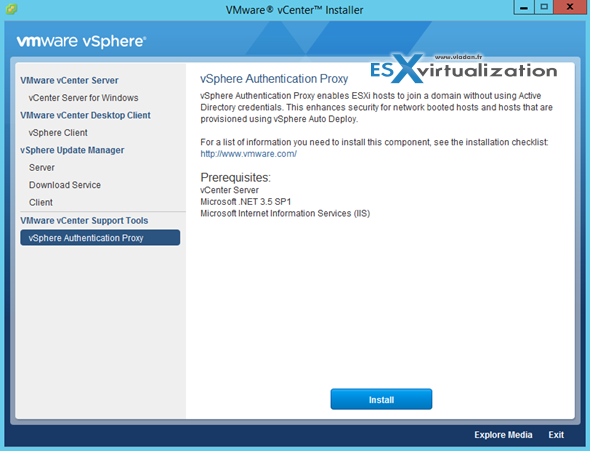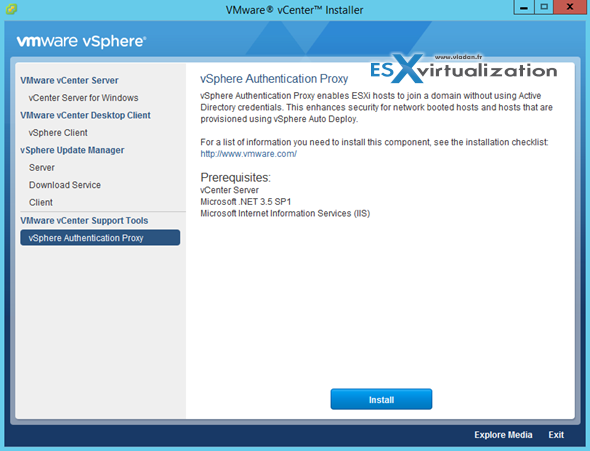 Video of Installation VMware vCenter Server 6 on Windows. (Based on the RC).
You can check this video showing the Installation of vCenter Server 6 on Windows with External SQL Server Database. Watch in HD and Full Screen…
Update: You can also check this video showing the new WAMI user interface of the VMware Platform service controller allowing you to allow SSH login or Bash Shell access, change networking details, time or do an update via URL, VMware repo or ISO image…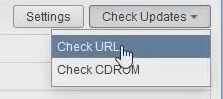 Here is the new video of vCenter server 6.0 U1
The Windows version of vCenter server still offers more options as the VUM isn't built-in the VCSA but as an external (Windows based) product. VMware has done some excellent work so far for simplifying the deployment of the new vCenter server 6 installations. We will see how the upgrade process will goes when the GA of the product will become available.
For now we have just scratched the surface on what's in as every time VMware releases a new major release there is so many changes and new features that it usually takes some time to find about all that.
During the time of writing we do not have any information about any licensing changes. We see however that clients starts to use Hyper-V as a choice for a hypervisor. Usually the SMB or vsSMB (very small SMB) sector is concerned. The cost is principal factor. We might even see products soon that will be able to replicate workloads from VMware to Hyper-V located at remote location. An  "on-the-fly" conversion from VMware workloads to Hyper-V workloads. The reason is the cost of the remote site's licenses. Remember Zerto and their Cloud fabric?
It makes me think that VMware could also do something that would perhaps make using DR sites if the licensing for DR site would be "offered" for free when for example buying the "Standard" and higher…. What do you think?
Virtual DataCenter
Update: The virtual datacenter was pulled out from the final release of vSphere 6.0
VMware vSphere 6 also brings something what's called Virtual Datacenter. The concept of virtual datacenter isn't new as already in vSphere 4 you could create a virtual datacenter, but in vSphere 6.0, a Virtual Datacenter aggregates compute clusters, storage clusters, network and policies.
Virtual datacenter will be able to:
Aggregate resources across multiple clusters within a single vCenter Server into a single large pool of capacity. (Good for VDI for example where you got multiple clusters with similar network and storage connections – can be grouped together.
Automate the VMs initial placements –  Single capacity pool will be able to receive VMs placed by virtual datacenter. The decision of where the VM shall be placed won't necessarily need to be taken by the admin as the policy based storage associated to a VM will take care on the placement. The policy for example can be set to store Oracle VMs on a group of hosts within a some cluster for particular licensing reasons. The admin is able to monitor adherence to these policies and check and automatically remediate any problems.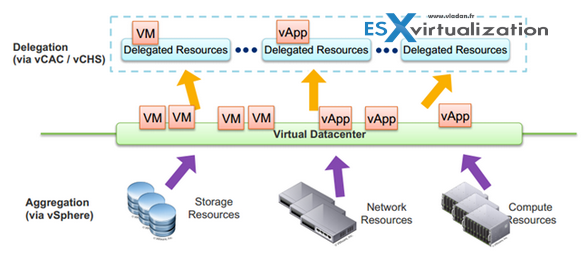 Requirements for Virtual datacenter
DRS enabled cluster – so the initial placement can be met.
to me, the virtual datacenter is another abstraction layer to the current architecture, where you might need to create multiple virtual datacenters to represent geographical locations. A simple requirements that for some legal reasons some application with that data needs to be in this particular country, then the policy driven placement would take care of the initial placement and also keep that VM "pinned" in this particular cluster located at this particular country. Good times ahead indeed.
Note: This information (especially the screenshots) are however based on the RC version released back in October 2014, so the final version might (or might not) have further evolved. Please check back to this post which will get updated with the latest info. You can also check the vSphere 6.0 page where you'll find information about all vSphere 6.0 features, how-to, videos ….
More of vSphere 6.0:
Video showing upgrade of vCenter server 5.5 to vCenter server 6.0 (Windows based with embeded SSO)
Video showing upgrade of vCenter server 5.5 to vCenter server 6.0 (Windows based with embedded SSO)
Source: VMware