vSphere Essentials does not offer vMotion functionality, only vSphere Essentials Plus and higher editions. Even if you have installed vCenter server and managing the  environment without having vmotion, you cannot move VMs from one ESXi host to another without much downtime. Here are some Veeam Free Edition Tips. Just download the Veeam trial and play with full version during 30 days. After 30 days it transforms itself into a free version…
I have seen environments just with two hosts where the vCenter for essentials hasn't been installed so the only way to do a host maintenance was to move VMs from one host to another or to stop all the VMs running on that particular host. Host maintenance with firmware updates, especially when multiple firmware updates are required can take some time, so having the possibility to quickly move VMs off the host is handy.
In case you encounter environment with vSphere Essentials or just two standalone hosts (licensed, not with free license), you can leverage Veeam Free Edition to do a quick migrate with minimal downtime. It's still better than manually stopping the VM and copying the files to another host as Veeam does quite a few of background work I'll show you.
Veeam Quick Migrate, how it works?
Quick migration function in Veeam Free edition does better job as it does not power down the VM immediately, to move the VMs files to another host. Instead it first takes a snapshot and registers a temporarily VMs on the other host to copy the VMDK base file. After the copy finishes, it powers down the VM and copies the snapshot file to the destination where its merged with the base VMDK.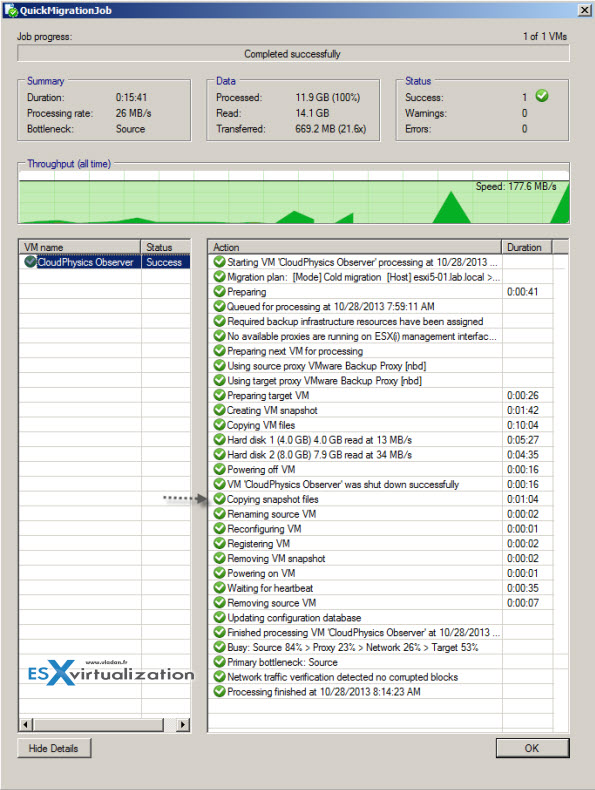 The time during which the snapshot files are moved to another ESXi host is only minimal as only the delta of what's been changed at the source is copied.
The source VMs name is changed to VMname_migrated temporarily to allow the new host to use the VMs original name. The VM is started and heartbeat checked. When ok, the VM is registered on the new host and source VM is deleted. As you can see the process is straightforward and efficient.
Veeam Free edition and the Quick Migration function can also be used to migrate VMs running on local storage, where the ESXi host is not attached to SAN or connects to NAS storage via network. The Quick migrate is working well for low latency or very slow connections.
VeeamZIP functionality – for backing up and archiving VMs and templates!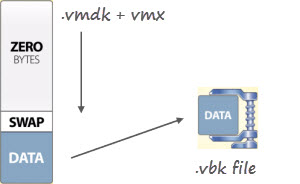 Just download the trial and play with full version during 30 days. After 30 days it transforms itself into a free version…
This function encapsulates all the VMs files into a single file with extension VBK, which is a full backup file.
Veeam Free Edition Features:
Restore Individual files from within the Guest OS (Windows and 17 different OS)
Restore VMDK disk files, if the VM has multiple disks, and for example the system gets corrupted, no need to restore the data disk.
Restore Individual e-mails (or full mailbox) from backups of Exchange server
Restore Full VMs
What's interesting is that the blocks with zero bytes as well as swap file is not present in the final VBK file, but stripped down, so the final VBK file is highly optimized compressed file which can be then archived on an external USB or other removable media. In addition, you can use this function to archive your template file as well, which is convenient as well.
Below the process of restoring Individual e-mails (you can restore other Exchange items like, calendar, contacts, notes and others too)…
How to restore individual Exchange Server e-mails and other items?
The process of restoring individual Exchange Server items starts with an assistant where you select the VBK file fist. Then select the VM and click the Restore button. This shows a drop-down menu which allows to select Guest files (Windows)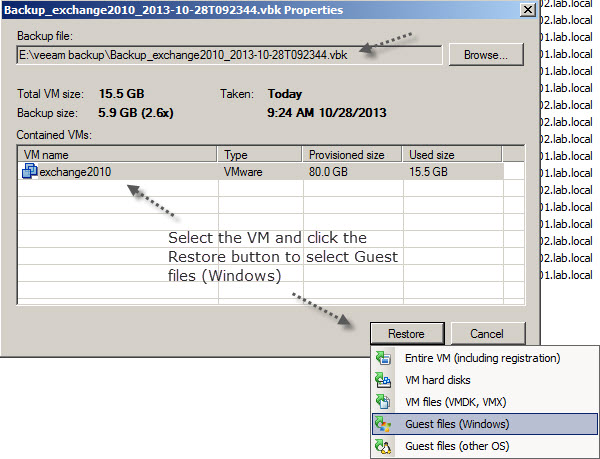 A new window called Backup Browser shows up. By clicking the Exchange Items button brings up the browsing window called Veeam Explorer for Exchange, where you browsing the actual Exchange DB and you can select individual user's emails and other individual items…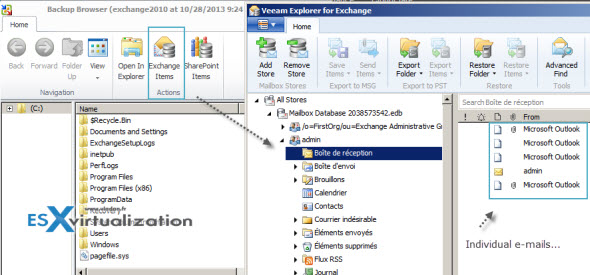 The process is also useful when architecting for Veeam replication when dealing with large VMs or slow WAN links. You can copy VMs to a removable media or small NAS device, then transport them physically to the remote site and restore there for initial seeding. That's why Veeam Free Edition is on my Free VMware Tools page. It has a good value for IT professionals, consultants and users of very small VMware environments running vSphere Essentials or standalone hosts.
Just download the trial and play with full version during 30 days. After 30 days it transforms itself into a free version…
The article was published first at ESX Virtualization website. Feel free to subscribe via RSS or by e-mail to get the latest news to be delivered via weekly newsletter.