The vSphere Replication 5.5 (VR) is part of the vCloud Suite from the Essentials Plus and higher from the license standpoint. In this VMworld Session BCO5129 Protection for All: vSphere Replication and SRM technical update  they start the presentation with the basics, what VR does, how to install the components and then the registering with vCenter. You'll learn the configuration steps, what are the options, (per VM, per VMDK) and the architecture of the solution. There are also some good use cases. The session is 1h long.
If you missed all VMworld 2013 checkout my VMworld 2013 page, plus my special report series page on the VMware vSphere 5.5 launch, where you'll find detailed informations on what's new in vSphere 5.5
If you're small customers or client, and looking for in house built in VMware solution, VR is the good way to look at. You can use VR to replicate from anywhere to anywhere. From DAS to SAN storage, from DAS to DAS storage, from NAS to DAS…. Another point is that you now can use only single vCenter for main and remote site, which makes the solution cheaper to operate.
Now, if you want to orchestrate the VR with SRM to fully automate the recovery. But it's a paid product. If you don't the manual recovery steps must be taken, VM after VM, reconnect the networks for each VM. So depending if you have 300 VMs to click on and manually recover each of those, you might needs something else to automate all that…
Quick recap of new features of VR:
Multiple Points in Time for a replica (maximum 24 replicas)
Multiple vSphere Replication Appliance per vCenter Server
No need to have vCenter at remote office
Support for Storage vMotion
The interface has moved to a property of VC
vSAN Support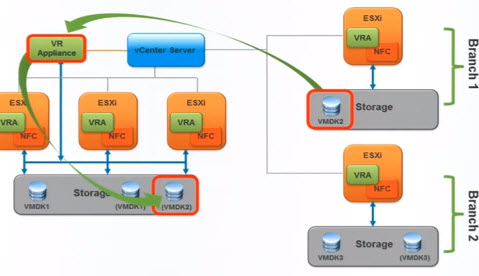 A quote from the session presented by @vmken and  @leedelworth :
Whether you have a collection of small sites managed by a single vCenter or two large sites managed by their own vCenters there is a solution for you. In this session we will explain the implementation options, how they work and how you can use them in the various combinations to achieve the level of workload protection you need. If you have any questions about how vSphere Replication works, how SRM works, what your options are with array replication, how you can protect small/medium or large sites this is the session for you.
Here is the session video:
Source: VMworld TV YouTube Channel
Enjoy…