Recently deploying another ESXi host which does shared storage for the whole lab at the same time pointed out the usual warning messages. Most of you usually know all of them, but for the new people which are trying to learn, this post might be useful.  When working in my lab, installing ESXi hosts which runs from USB flash, it is the most common experience. The host do not use local storage at all, no noise and it uses less electricity too. Usually those homelab ESXi hosts do not even have a CD-Rom drive, so the installation of VMware ESXi to the USB stick by using VMware Workstation ( or by using VMware Player) is the preferred and quickest way of deploying new hosts (for homelabing). Also, you can easily swap the USB stick and test another built as well… -:). However since the host does not have a local storage, it complains about it by issuing a warning message.
Disable non-persistent warning message
When running ESXi from USB stick you go this warning message:
System logs on host <hostname> are stored on non-persistent storage

However, after you finish installing you end up with a  a message indicating that there is no shared storage. This message saying that there is no persistent storage available for the logs.  The solution on this is to configure and create a shared folder on shared datastore, so the logs can be picked up there.
You can easily configure it when you go to:
Select your host > go to Advanced Settings (under Software) > ScratchConfig
Make sure that you create different sub folder for each of your hosts.

Disable SSH Warning message
The message is usually like this:
SSH for the host has been enabled

Another error message is warning message concerning SSH. This warning message will appear after you enable SSH.  I've outlined the steps in my post – how to disable SSH warning in ESXi, but you'll be able to find the Remote CLI way in that post as well.
Select your ESXi host > Configuration TAB  >Advanced Settings > UserVars. Change the value of  UserVars.SuppressShellWarning from 0 to 1 and click on the OK button to validate.

The host currently has no management network redundancy warning message.
This message is vCenter message. The exact message is:
The host currently has no management network redundancy.
To disable this message you have to do it at the cluster level:
From the vSphere Client, right-click on the cluster and click Edit Settings.
Select vSphere HA and click Advanced Options.
In the Options column, enter das.ignoreRedundantNetWarning
In the Value column, enter true.
Note: Steps 3 and 4 create a new option >Click OK.
Important !! – Right-click the host and click Reconfigure for vSphere HA. (This reconfigures HA)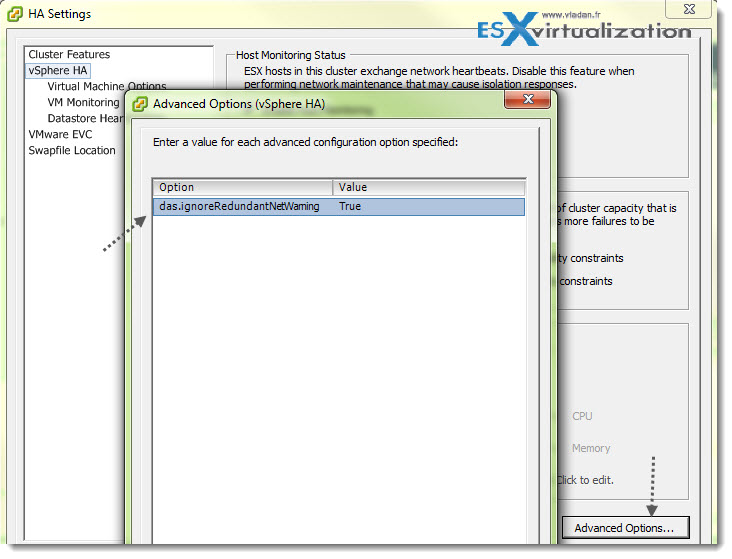 Warning Messages when deploying ESXi hosts. Any Other Messages…?
When configuring your HA cluster, you might encounter other error messages. My post – HA agent on the host failed – what means the different possible messages? –  which discusses those error messages, like:
HA agent on the host failed – Network partitioned state
Host Failed State
Network Isolated State
Agent Unreachable State
Uninitialized Error State
Initialization Error State