VMware releasing NSX-2 2.4 which is a major release of the product. VMware has NSX-V and NSX-T. Where NSX-V is tailored for environments running VMware vSphere, NSX-T is designed for multi-hypervisor environments. NSX-V is part of a software-defined data center and it needs VMware vCenter server as it's tightly integrated into.
Previous releases of NSX-T has introduced Geneve protocol to create tunnels across transport nodes, and that's where the overlay traffic flows. NSX-V on the other hands continues to use VXLAN. Moving forward, VMware recommends, especially for green fields deployments, going for NSX-T.
The new release also introduces a new set of wizards allowing you to transition from NSX-V -o NSX-T and do in place migrations.
One of the best use cases for NSX was Micro-segmentation. It allows your organization the move from a perimeter-centric security posture to a micro-segmented architecture with enhanced security and visibility.
This release is made for simplicity and ease of use.
Quote:
This release brings a number of operational enhancements that makes it easy to install, upgrade, and operate consistently, accelerating Day 0 installation to Day 1 provisioning from days to minutes, and significantly simplifying Day 2 operations for administrators.
We have published in the past, a blog post giving a possibility to learn about NSX even for complete newbies. Check our post below:
VMware NSX-T 2.4 – What's New?
Image from VMware blog post.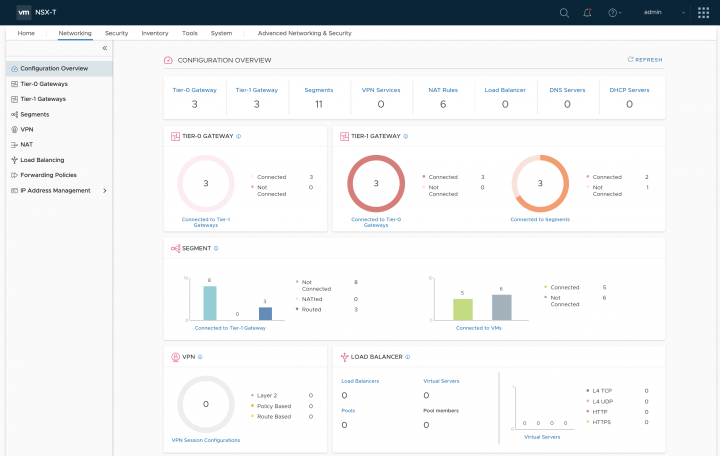 Fewer VMs for Installation – the 2.4 release has lowered the needs when it comes to number of VMs deployled by the solution. Because of the convergence of management and control plane nodes, fewer VMs are needed.
Simplified UI – simplified user interface (UI) where the product collect just minimum from the user, offering strong default values with prescriptive guidance for ease of use. Fewer clicks and page hops are required to complete configuration tasks.
Provision with single API call – NSX-T enables customers to provision new networks and services with a single API call or a few clicks in a new simplified UI
Reboot-less maintenance mode upgrades – also in place migrations, and transition from NSX-V -o NSX-T.
Good Read:
Jim Streit – "HOW TO BUILD A NESTED NSX-T 2.3 LAB"
I'm assuming that the PDF might get updated with the latest 2.4 release soon.
Sources:
VMware blog can be found here.
VirtualTassie.com here.
More posts from ESX Virtualization:
Stay tuned through RSS, and social media channels (Twitter, FB, YouTube)