I had this question the other day about What is VMware Remote Console. I thought a quick blog post would do. Yes, many users do use VMware Workstation which when installed on the same PC, replaces VMware Remote console (VRMC). However, you don't have to use Workstation and continue to use VRMC if you like its simplicity or when you don't have a Workstation license.
The utilization is fairly simple. In vSphere, select a virtual machine and navigate to the Summary page where you will choose instead of using a web-based console, the VMware Remote console instead.
You'll get a prompt asking you whether you're sure that you want to change for VRMC concerning VM management. Just validate this and you're good to go.
The VRMC application can be launched only through the URL of the individual VM, not separately.
Quote from VMware:
The VMware Remote Console (VMRC) is a standalone console application for Windows. VMware Remote Console provides console access and client device connection to VMs on a remote host. You will need to download this installer before you can launch the external VMRC application directly from a VMware vSphere or vRealize Automation web client.
How to install?
A very simple.
Navigate to the VMware Remote Console download page, and select the link for your platform.
link: www.vmware.com/go/download-vmrc
You can also do it another way, where on the vSphere Web Client virtual machine Summary page, click the gear icon in the lower right corner of the console thumbnail and select Install Remote Console.
It's a small app, only 45 Mb…

The installer screen looks like this…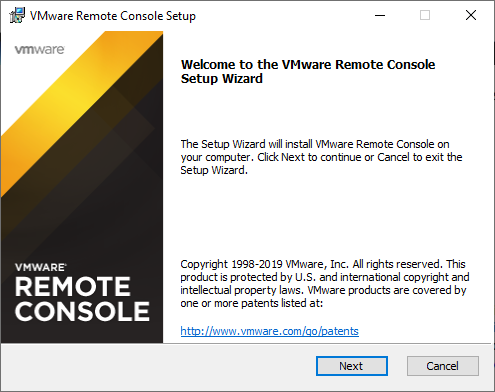 You can also launch more than one console to access several remote virtual machines at the same time.
You can do any operations and configuration changes as within the web-based console. It's basically the same, but you have a Windows application instead.
General note for working with VMs, which might be interesting for some. I'm sure that many of you know, but some were asking where to do that. Here we go.
If you upgrade the guest operating system that is installed in a virtual machine, or if you specify the wrong operating system version when you create the virtual machine, you must change the guest operating system type that is configured for the virtual machine.
When you change the operating system type, the virtual machine configuration (.vmx) file changes. The guest operating system itself does not change. To upgrade the guest operating system, obtain the appropriate software from the operating system vendor.
Select VMRC > Manage > Virtual Machine > On the Options tab, select General > Select the new operating system and version > Click OK to save your changes.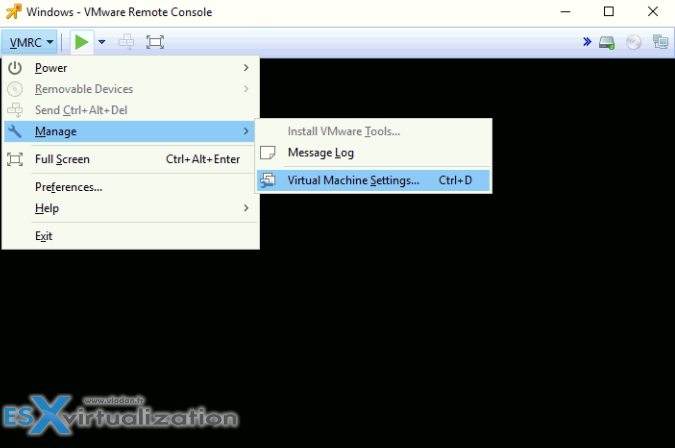 The Options TAB is here. Like this: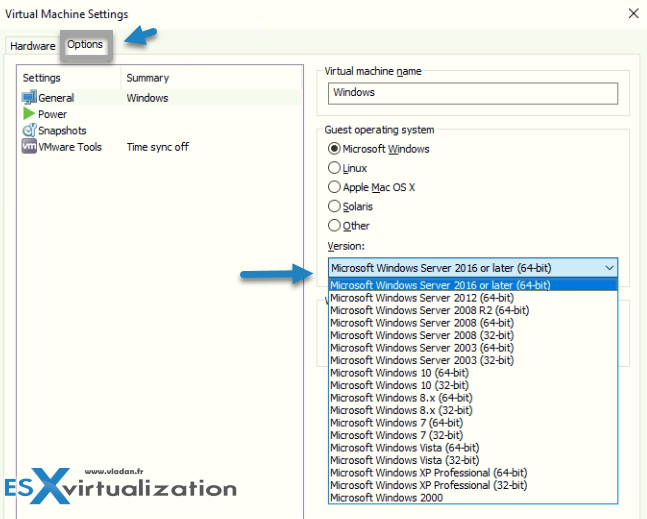 Managing VMs and its option is possible, so you can add/remove  DVD and CD-ROM drives, floppy drives, USB controllers, virtual and physical hard disks, parallel and serial ports, generic SCSI
devices, and processors. You can also modify settings for existing devices.
Final Words:
I actually prefer the simplicity of the VRMC as the web-based console is sometimes buggy for FR language version. (when at client's sites). So I quickly install the VRMC on a management workstation and use this utility for working on VMs.
More from ESX Virtualization
Stay tuned through RSS, and social media channels (Twitter, FB, YouTube)