VMware Skyline is not new, however, some readers might be interested about what's it all about. Not many people know that it's actually a free service from VMware. Let's have a look in this post called What is VMware Skyline?
VMware Skyline is a new and free capability for VMware customers. It automatically collects configuration and version data while using AI/ML to identify known issues and proactively provides health improvement recommendations.
You can benefit from Skyline if you're on support contract only. The good news is that there is no additional cost to customers who have an active Production Support or Premier Services contract. This is further differentiated whether you are Premier customer or just Production support customer.
Premier Services customers receive all of Skyline's features and benefits, including expert, consultative recommendations, and interactive discussions. Production Support customers will access alerts and recommendations via a self-service portal.
VMware Skyline – How It Works?
Do I need to install an appliance? An Agent? Let's have a look.
Yes, you need to install an appliance. A VM. It's called a VMware Skyline Collector. It is a standalone appliance that automatically and securely collects product usage data such as configuration, feature, and performance data. It then listens for changes, events, and patterns and analyzes the information using robust rules and machine learning engine.
Key Benefits
Prescriptive and predictive guidance based upon best practices.
Reduced time-to-resolution for service requests.
Identification of potential product bugs and guided resolution before problems occur.
Overall improved stability of the environment.
VMware Skyline has been already announced during VMworld 2017, but this year there are tons of sessions about this topic. If you're going to VMworld, make sure to check them out.
Reports are generated and sent to the customers on a weekly or bi-weekly basis. Sample report looks like this  (image from VMware Skyline Datasheet).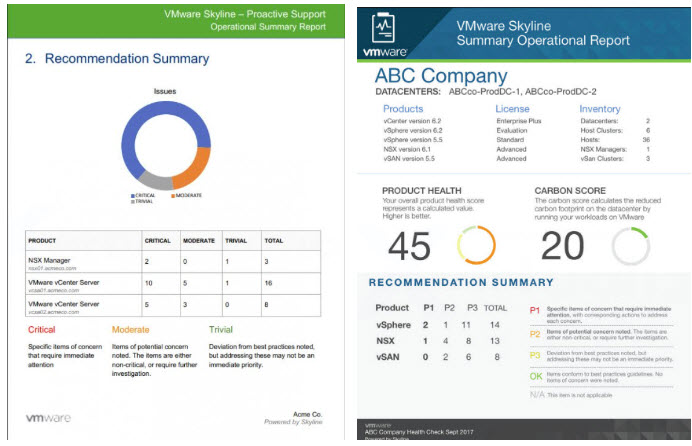 How are the data collected and protected?
The VMware Skyline Collector installation and configuration is simple and usually takes no more than 30 minutes to complete. Once complete, ongoing administration is minimal. Data is transferred to VMware over an encrypted channel and stored in secure VMware facilities.
Anybody can access Skyline now?
As for now, only the following locations are available: North America, Australia, India, New Zealand and Singapore and Production Support customers in North America only. We will be expanding availability to other geographies over the next several months.
Links:
More from ESX Virtualization
Subscribe to RSS, and social media channels (Twitter, FB, YouTube)