There is a cool utility to convert Windows 10 install.esd to an ISO image. The main purpose of the tool is however to customize Windows images, removing components from ISOs, driver integration, language packs or apps integration. Few weeks back when I downloaded the Microsoft Windows 10 to my USB stick I did it in rush and I thought that I'll download an ISO later. However today I was looking ton convert somehow the bootable USB stick to an ISO which I could use to test new VMware Workstation 12 which now supports Windows 10.  As the ISO is quite big in size and I don't want to wait to download the bits again. I found an easy solution to convert the Windows 10 Install.esd to ISO. While exploring the USB stick you'll find the install.esd which is almost 3 Gigs in size, and it's this file which contains the ISO.
Microsoft uses the ESD file format to deliver install files. ESD stands for Electronic Software Delivery. The Windows install.esd file contains the usual Windows install.wim file (WIM = Windows Imaging), encrypted and compressed. Install.wim file in its turn contains everything needed for a complete Windows installation.
But which tool to use?
I found that NTlite beta does the job! As you can see, pretty straight forward. Just Add the location where is the Windows 10 install.esd located (I added the whole USB stick – in my case D: letter) and off you go.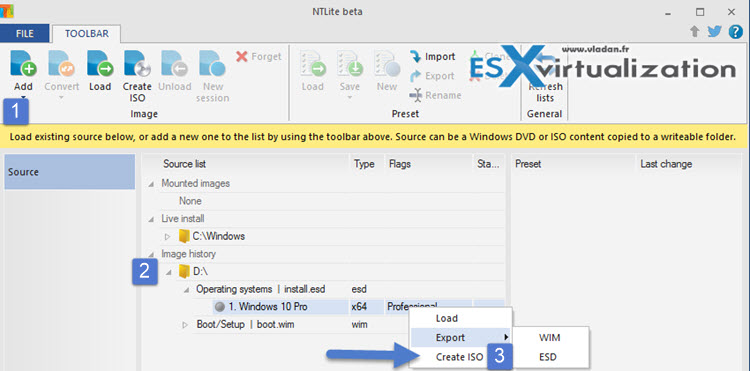 NTlite beta is free, but there are other (paid) version targeting enthusiasts and companies like system integrators. There are x32 or x64 versions and worth to note that NTlite does NOT need .NET
NTlite Features
Works on already installed Windows – NTlite can configure components on already installed windows too…
Component Removal
Driver update, language, service pack integration
Tweaks which allows to change various Windows settings on live installation or on ISO image.
Unattended setup – commonly used options to create automated setup.
Application Integration
Image management
Powerful, but easy to use. Featuring dynamic toolbar throughout the tool, image list overview, presets, and many more details which help you be more productive while maintaining your images. All standard image formats supported, including WIM, decrypted ESD (Electronic Software Download) and SWM (spanned, split images). ESD to WIM, SWM to WIM (aka image joinining), WIM to SWM (aka image splitting) conversions included.  Tool can create a bootable ISO from any of them, if the normal image folder structure is present (e.g. Boot and Sources folders). And you can edit images in all supported host combinations, for example editing Windows 10 image from a Windows 7 as a host is supported.
Check it out – ntlite.com