Windows 7 Explorer for Windows 8 is an excellent free tool which enables you to switch the Windows 8 start menu back to the Windows 7 one very clean way. Few months back you could read about classic menu for Widnows 8, which is a freeware tool too, but it adds it's own menu at the top of Windows 8. Even if it adds more functions, it's less clean that the solution I'm writing about today.
The Explorer 7 for Windows 8 uses Windows 7 Explorer original files. During the installation process it asks you for Windows 7 DVD and it's original files. In addition, it provides an easy switch back to Windows 8 Modern UI, if you want to. Completely safe. No patching of system files is actually involved.
The only (anoying) thing is that for the installation you'll need a Windows 7 DVD. If you're running Windows 8 x64 bit, you'll need Windows 7 x64…. For the x32 you'll need the x32 bit version.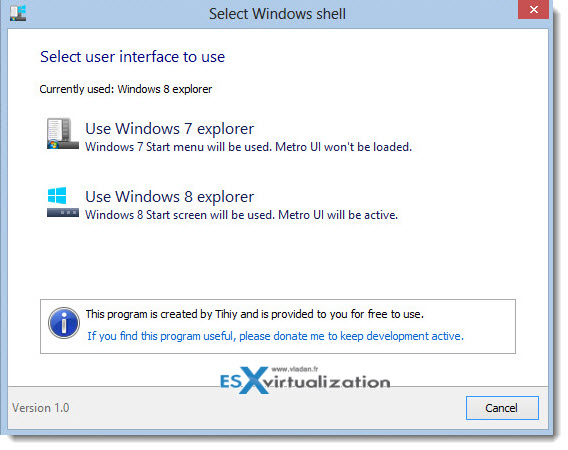 The installation takes seconds. During the installation, you're asked about the location of Windows 7 files (I just mounted the W7 ISO). After the installation, you needs to log off. You'll end up with menu of Windows 7.
As being said, there are no system files modified, it's just the "explorer.exe" from Windows 7 which is authorized to run on Windows 8 and the user is in control which UI he wants to use. At any time its possible to recover the original Modern UI.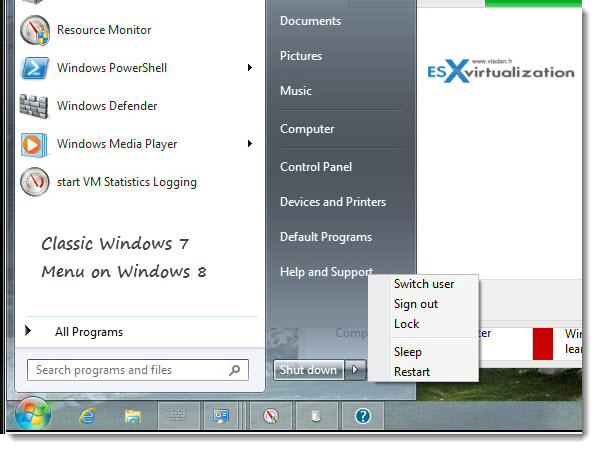 This program restores native Windows 7 start menu and desktop by bringing Windows 7 explorer.exe. Start menu retains full configurability you expect from Windows 7 start menu. This program includes sophisticated lightweight wrapper, install/uninstall/patch program. You can use it on Windows 8 or Windows Server 2012 RTM or RP versions, any edition, any language!
PRECAUTIONS:
This program does not modify system files and system protected registry entries. You can switch back to unaltered Windows 8 UI any time. Windows 7 shell is enabled only to users which switched to it. Other users can use Windows 8 shell without any problems.
LIMITATIONS:
Metro (Modern) UI is not loaded into memory. As a bonus you save dozens MB of RAM.
Metro UI screens and programs are unavailable.
Toasts (like "You have new program to handle this stuff") won't show. You need to use Default programs to change associations.
You may get more UAC prompts.
No default language input indicator. Enable language bar via Control Panel->Language->Advanced Settings->Use desktop language bar.
No multi-monitor taskbars. Maybe more multimon issues.
No immersive hotkeys (Win+X, Win+PrtScr too).
The software was built by Tihiy. Download and more info here.