Microsoft will be releasing soon their new Windows 8.x and Windows Server 2012(R2). There has been many speculations in the press if yes or no the start button will be back. Apparently no, so you'll have to find your way around that and juggle with Metro ….
I still call it metro, because it's shorter, even if Microsoft recently suggested to stop calling that interface Metro style. Microsoft has come up with new name for Metro, because Metro was meant to be used only as a developper's name for the UI. The new UI's name according to Microsoft is "Windows 8-style UI".
But today what I wanted to show you is a little freeware application which can be used in both systems (W8 and Server 2012) to bring back the start menu button together with classic start menu. It's pretty cool since you can easily bring the functionality that has been there for decades, and which Microsoft thinks that we don't need anymore…
This small application called Classic Start Menu is slowly becoming a "bestseller" since it's already been translated into 35 languages including Right-to-left support for Arabic and Hebrew.
In fact, the Classic Start Menu application was designed for Windows Vista and Windows 7 at first, but with the start button missing in W8 and Server 2012 the developers brought that in. The application does have other functions (Classic Shell, Classic Windows Explorer – for Windows 7) and so some features has been disabled for Windows 8 and Server 2012 since they simply don't work, or don't make sense.
Here is the full story:
The project started back in 2008 as a small utility to replace the copy UI for Vista. In 2009 a friend switched from XP to Vista and complained that the Up button was missing. That was the second feature that was implemented. Later in October 2009 I switched to Windows 7 and was very disappointed that the classic start menu was gone, so I went to make my own. After the start menu was done I decided to make this project public and added it to Source Forge.
Starting with version 3.5.0, Classic Shell supports Windows 8 Consumer Preview. It adds a new customizable start button and some of the features have been disabled because they are not possible on Windows 8 or no longer make sense – like the status bar enhancements, the copy dialog replacement, and the Up button.
Click on the image to enlarge.

The application has many options which can be accessed through the right click on the start button. Once in the options, you can activate the All settings radio button where you access all options, even the most advanced.
Click on the image to enlarge.


I won't talk about all possible options, but there is quite a lot to do:
– Drag and drop to let you organize your applications.
– Options to expand Control Panel, show favorites…
– Available for x32 or x64 bit systems.
– Has support for skins, including additional 3rd party skins.
– Converts the "All Programs" Button in the Windows menu into a cascading menu (Vista and 7).
– Implements a customizable start button for Windows 8 and Server 2012.
There are also settings which makes the classic start menu speed up, by entering a lower value than the default 400.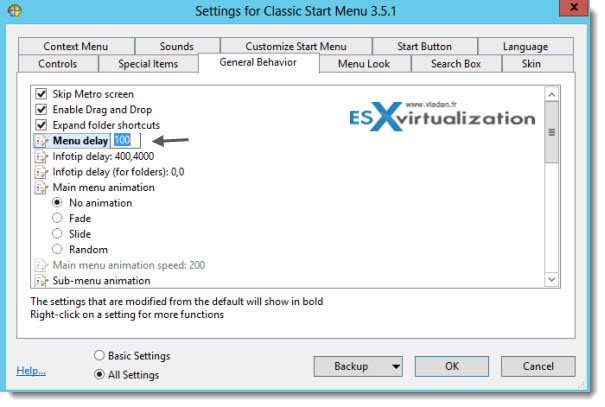 Last, but not least, you can also backup and export your settins into a XML file, or reset all the settings back to default.
The Classic Start Menu for Windows 8 and Windows Server 2012 can brings functions that many IT admins and enthusiasts needs.  Feel free to download this application, because it's been offered as a freeware.
The application consumes very little resources and is stable. It's integrates flawlessly to the start menu, bringing a start button, which does not exists anymore in Windows 8 and Windows Server 2012.
Start Button for Windows 8 and Server 2012 is one of the features that are used the most when executing applications or navigating in programs.
Below you can see the classic start menu with classic skin screenshot.

In addition, the application provides small plugin for Internet Explorer 9.
–  Adds a caption to the title bar so you can see the full title of the page
–  Shows the security zone in the status bar
–  Shows the loading progress in the status bar
You can download this application from this link