This is step by step article (with video) which shows the installation of a Windows Server 2016 Active Directory on Windows Server 2016 (the latest TP5) by using VMware ESXi (I'm running the whole vSphere 6 in my lab). Many folks learning towards Microsoft and VMware certifications usually use a free version of ESXi which is very easy to install too. And usually, the first step when building home-lab, is to install and deploy domain controller (DC). As the upcoming Windows Server 2016 (currently in TP5) should not have major changes, we'll show you what it will look like the whole install/config process, with some tips at the and as well… If you're already know your way around, in this case may not need this guide – Windows Server 2016 Active Directory Installation Guide.
The video shows the whole process but misses some parts:
Step 0: Download the Windows Server 2016 iso and upload it to a datastore accessible by the host. Step which might be obvious, but again, this post targets young admins which learns the ins-and-outs of the IT, from scratch. If you're planing to install Free VMware ESXi, you might also check those posts which further details the steps. Note that there is also my vSphere 6 page where you can find tons of how-to articles and configuration guides.
Then it's pretty standard procedure:
Step 1: Create a new VM > Select Windows Server 2016 x64 as OS type > Select amount of RAM > datastore as destination > Network > NIC type (VMXNET3) > Reboot
Step 2: Assign a local admin password. I precise local admin password for folks that never installed AD, as the local admin will become a domain admin when promoting the standalone server as domain controller. And the other way around as well. When de-commissioning a DC, the domain admin becomes a
bellow this is a local admin login configuration screen…

Step 3: Install VMware Tools and reboot again. Assign a Static IP address to the system and Rename the System (Right click on Start button > System > Advanced System Settings > Computer Name TAB). Then Start the Add Server Roles wizard via the Server Manager.
Choose Active Directory Domain Services.

This adds the different sub services, like DNS and also management tools….
Wait till the wizard finishes and then in the task details click the link Promote this server to a domain controller. 
The screen looks like this…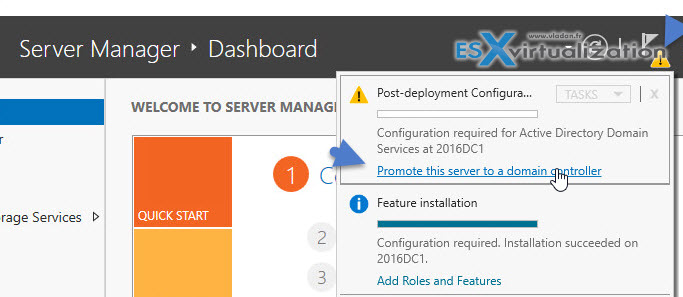 As we only create new domain (not joining existing domain/forest) we need to choose the third option – Add a New forest. So far so good I hope. If not watch the video for all details….

Step 4: One more important step is to create a Directory Services Restore Mode Password (DSRM). This password is used for example when restoring AD, and when you boot into safe mode, you're prompted for this password.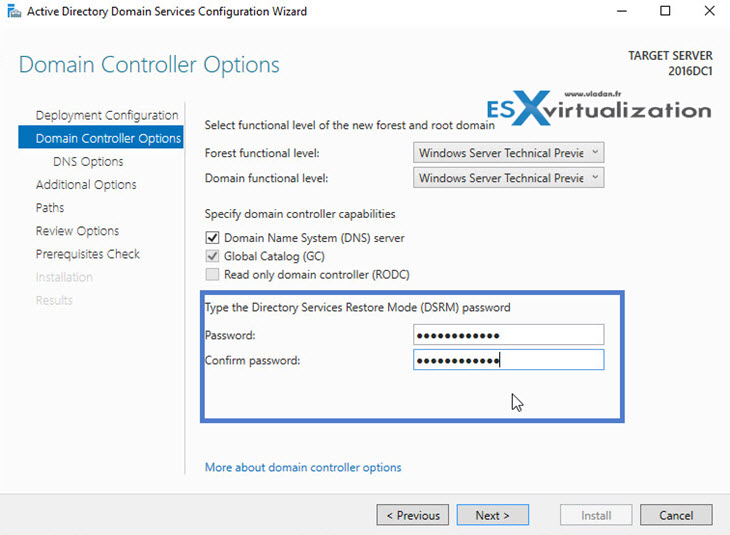 Then just follow the assistant, click on the Next button few times until you'll see a prompt saying that the server will be rebooting and you'll be signed off.  After the reboot, you'll see another login screen like this – A domain administrator login screen… The login can be in 2 different formats:
YOUR_DOMAIN\Administrator
Administrator@YOUR_DOMAIN
Where YOUR_DOMAIN can be for example lab2016.local in our case….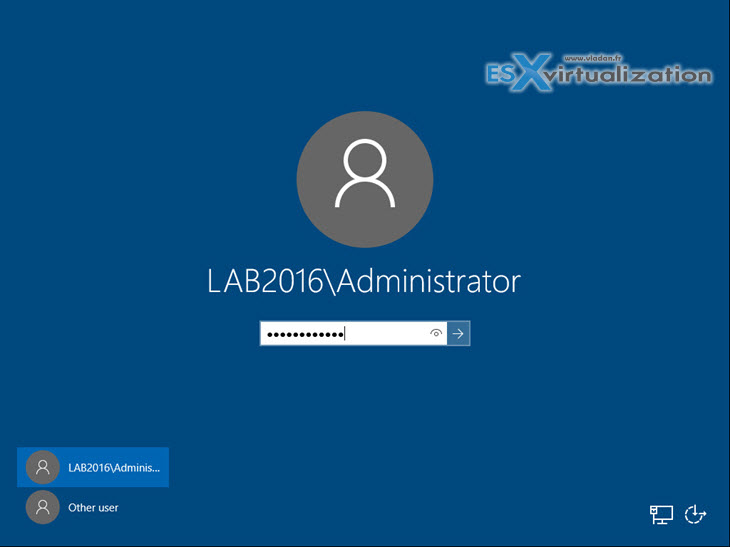 There is more steps, but I think it's best to watch the video as the number of screenshots would just be enormous. In short what's need to be done?
Create reverse zone and pointer
Re-assign DNS in the IP properties (got lost during the DC isntall/configure process)
Check errors
Then you can open Users and computers Active directory console to check that the whole AD really works.
Here is the whole video. Some parts of the video had been cut out (long reboots, and long waiting screens). Even though, this is a step-by-step video whcih you can follow if necessary to sucessfully install Widows Server 2016, Add Domain services role including all the configurations steps.
There will be a follow-up video which shows the tasks that has to be done after installation. We'll see some optimization of the VM from memory and storage perspective.
Here is the whole video. Enjoy… -:)

You may want to check other posts about Windows Server 2016:
Windows Server 2016 TP5 has been released – [ details ]
Windows Server 2016 Free E-book [Technet]
Windows Server ADMX files download – Group Policy tools use Administrative template files to populate policy settings in the user interface. This allows administrators to manage registry-based policy settings. This download includes the Administrative templates released for Windows Server 2016 Technical Preview 5. Download here >>
Evaluation ISO of System Center 2016 TP5 is at this page
Evaluation ISO o Technical Preview 5 (TP5) of Windows Server 2016 can be downloaded here
Hyper-converged solution using Storage Spaces Direct in Windows Server 2016 – here