Windows Server 2016 will come up in two releases. Standard and Datacenter. The standard edition will however not contain some features that the Datacenter will provide. This wasn't the case of the current Windows Server 2012R2 where Standard and Datacenter editions provided the same features, but the only difference was in the possibilities to virtualize two virtual OSE (Operating System Environment) on the standard and unlimited on the Datacenter edition.
At first, the Windows Server 2016 Datacenter edition will have some features that the Standard edition will not provide. But this is only one part of the fact. The features that shall be part of the Datacenter edition are:
Quote from Windows Server 2016 Licensing FAQ:
The Datacenter Edition will include new advanced software-defined datacenter capabilities designed for highly virtualized private and hybrid cloud environments. Some new features unique to Datacenter Edition include an Azure-inspired networking stack and Azure-inspired storage enhancements including Storage Spaces Direct.
The Windows Server 2016 Standard And Datacenter versions (note that other licensing options will be added later).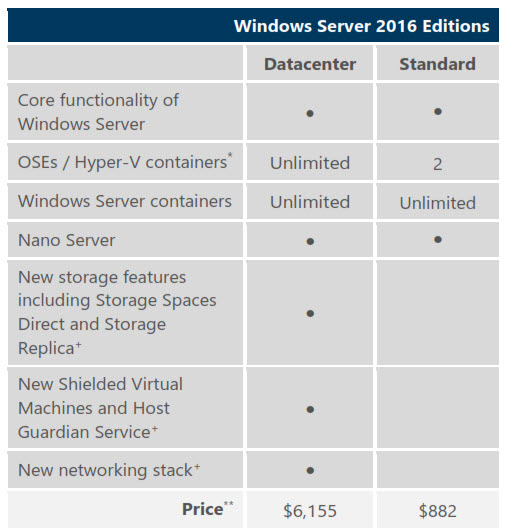 Note that the pricing remains the same as it was in 2012R2.
(Pricing for Open (NL) ERP license for 16 core licenses. Actual customer prices may vary)
Another change is the fact that the "Per-core" factor enters the game and this wasn't the case in Windows Server 2012R2….
How does it works?
If you have server with 2 pCPU (total 16 cores) then the price of the Windows Server 2016 Datacenter and Standard is the same as 2 proc license of corresponding version of Windows Server 2012R2.
How does one proceed?
License all the physical cores in the server
Minimum of 8 core licenses required for each processor
Minimum of 16 core licenses required for each server
Core licenses will be sold in packs of two*.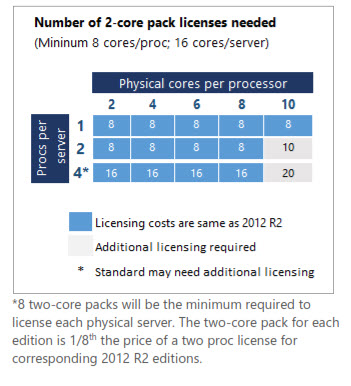 Very Small customers
So if you're buying a Windows license and not planning to virtualize (yes, very small clients don't) then if you buy very light weight server with let's say 1 pCPU with 8 cores, you'll be paying 8 cores for nothing as the minimum of 16 core licenses required for each server…  This is pretty odd…
Bigger and Very large customers
If this is confirmed then this will affect sizing of new servers running Windows Server 2016 and Hyper-V quite significantly, because one will be constrained not only from the pCPU perspective but also from the total cores perspective….
Also designing environment with let's say 6 hosts dual CPU each will most likely become significantly more expensive considering that newer Intel CPUs are carrying easily 14, 16 or more cores and each year the number of cores due to better density, grows…
Considering that the price of 2016 Datacenter is 6,155.00 then the price of 2 core license pack shall be 1/8th of that….. $6,155.00/8 = $769.37
An example of double socket server with Intel® Xeon® Processor E5-4669 v3 (45M Cache, 2.10 GHz) – Note that this is a 18 core CPU, third generation E5-Xeon.

That's over twice the price you'd pay if you'd consider staying on Windows Server 2012R2 instead… -:)
This means that if you would have 6 of those in your cluster then you would have to pay 13,848 * 6 = $83,092.00
Pretty big number.
So what's your options?
Basically it makes the on prem datacenter design more costly pushing enterprises putting more workflows in the cloud and perhaps starting to redesign their legacy Windows applications and transferring them into Open Source Apps running on Linux OSE.
But nothing is certain just yet and even if it is, things can change, because customers do have a certain pressure. Do you remember VMware vRAM? This can happens again… but to Microsoft, as many customers can simply delay their upgrade and (or ) search cheaper alternatives then Windows …
Sources:
Pricing and licensing FAQ, Windows Server 2016 and System Center 2016. Standard and Datacenter Editions.  December 2015 FAQ