Microsoft has released final TP of Windows Server 2016. It is the Windows Server 2016 Technical Preview 5. There should be no more new features announced after this release as the product will head into the RTM state, which is planned this fall. You can download evaluation ISO, see the links section below.
One of the new features added to the TP5 is rack awareness in storage spaces direct. The same manner as in VMware VSAN, Microsoft supports deployments on minimum 3 hosts and less than 4 hosts can only mirror (same as VSAN) data. Four and more hosts are necessary in order to have parity-based resiliency. Note that VSAN needs also 4 hosts for Raid 5 Erasure Coding and 6 servers for RAID 6. Once the fault domain configured, with the server membership, Storage Spaces Direct shall use this information during initial data placement, data re-balancing and data repair to make sure that the data is resilient to chassis or rack failures.
Quote from Technet.
Deployments with fewer than four servers, support only mirrored resiliency. Parity resiliency or multi-resiliency are not possible, since these resiliency types require a minimum of four servers. With 2-copy mirror the deployment is resilient to 1 node or 1 disk failure, and with 3-copy mirror the deployment is resilient to 1 node or 2 disk failures.
It seems that ReFS will be part of the Windows Server 2016 as well. ReFS is a new filesystem. Check our post about ReFS here. ReFS formatted volumes used in conjunction with Storage spaces direct, uses striping and data mirroring. ReFS has built in scanner which is used for auto-healing. This proactively running scanner called scrubber which scans the volume for errors periodically in a background and allows proactively monitor the volume for errors and corrects them.
Resilient File System (ReFS) ReFS provides the file system in which the Hyper-V VM files are stored. ReFS is a premier file system for virtualized deployments and includes optimizations for Storage Spaces such as error detection and automatic correction. In addition, ReFS provides accelerations for VHD(X) operations such as fixed VHD(X) creation, dynamic VHD(X) growth, and VHD(X) merge.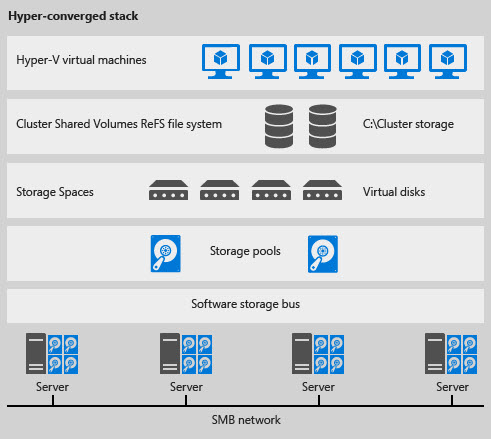 Storage spaces direct deployment is done through SCVMM. So far SCVMM is in TP5 state as well…
Quote:
Microsoft added support for controlling datacenters and managing Linux environments. Also enabled in these previews is Windows Server 2016 support, including support for Windows Server Containers and Hyper-V Containers. It's also possible to manage the Nano Server lifecycle using this System Center 2016 preview.
Screenshot from the Installer…

You should install all cumulative updates before installing or testing any roles:
"Install Cumulative Update for Windows Server 2016 Technical Preview 5 (KB3157663) before installing any server roles, features, or other products. If you install roles before installing the update, a variety of issues can occur. If this happens, reinstall the preview release and then immediately install the update."
You can read more about that update here https://support.microsoft.com/en-us/kb/3157663
Additional useful links for Windows Server TP5: