A few years back I was asked to deploy a Windows Server SBS edition. Being an experienced admin, I did not really like the experience. It was not the "traditional tools" which had to be used to configure AD, networking, and GPO, but rather those built-in web-based assistants. Quite terrible. Anyway. This post's name is Windows Server 2016 Essentials vs Standard.
Microsoft still plans to release this "crippled" edition for SMB market with Windows Server 2016 Essentials edition.
It's not that I personally do not like it, some of the very small shops (up to 25 users) might still want it. So this post is just a recap of what's known so far as the server is in TP5 state for now….
Update: The GA of Windows Server 2016 – Download
At first, I'd like to point a quote from Microsoft.
Quote:
Windows Server Essentials, offers a flexible, affordable, and easy-to-use server solution for small businesses with up to 25 users and 50 devices. An ideal first server, Windows Server Essentials can also be used as the primary server in a multi-server environment for small businesses.
So it means that your AD can have 50 devices, including the DC running Essentials edition. Twenty-five users aren't much. How about expansion? Can I Add a second DC Standard edition and grow the number of users and devices within my AD?
Can I transfer FSMO roles to the new DC or they're just "stuck" as the 1st server of the domain, as this Windows Server Essentials Edition (WSEE) has to be the 1st server deployed on a domain? Apparently (to be confirmed) it's no longer the case. You can now add 2016 Essentials to a domain managed by 2012 Essential…
But other questions might arise. Imagine you as a consultant, you have a client which would like to have an essential edition, but is currently running a standard version (2008). Obviously, this hypothetical migration might not be supported.
Memory limit? The Windows Server 2012 Essentials has a 64 Gb of RAM limit. Will this be the same for the 2016 edition?
You see, there are many questions and the answers aren't obvious just yet as the product is not in the RTM state just yet. We'll update the post with new information when they'll become available.
Screenshot from the TP5 which can be currently downloaded from this link. You can download and test it.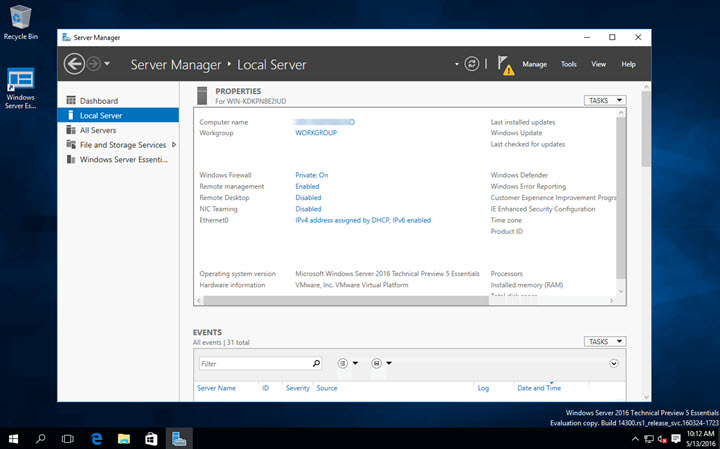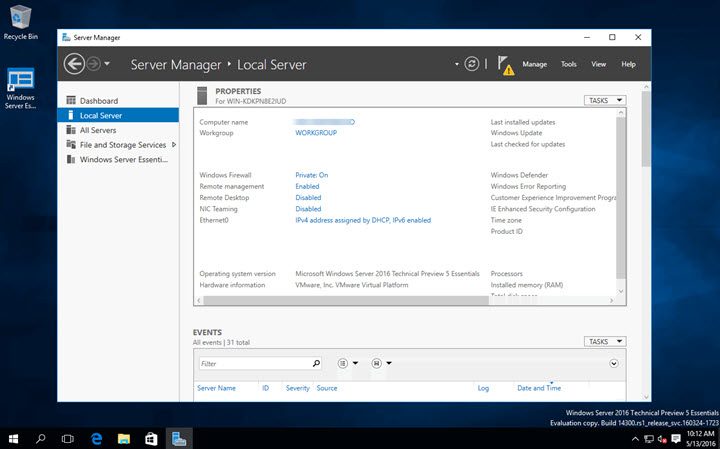 Windows Server 2016 Essentials:
25 users
50 devices in the AD
Windows Server Antimalware enabled and configurable on the server
Based on Windows 10 code
Just to recap, the upcoming Windows Server 2016 will come up in 6 editions:
Windows Server 2016 Datacenter –  for highly virtualized datacenter and cloud environments. Includes new datacenter functionality including shielded virtual machines, software-defined networking, storage spaces direct and storage replica.
Windows Server 2016 Standard –  for physical or minimally virtualized environments.
Windows Server 2016 Essentials –  for small businesses with up to 25 users and 50 devices.
Windows Server 2016 MultiPoint Premium Server –  Enables multiple users to access one computer; available only for academic licensing.*
Windows Storage Server 2016 –  For dedicated OEM storage solutions. Available in Standard and Workgroup editions through the OEM channel.
Microsoft Hyper-V Server 2016 – Free hypervisor download.
Here is a screenshot from the final licensing document detailing the Windows Server 2016 feature differentiation and core-based pricing….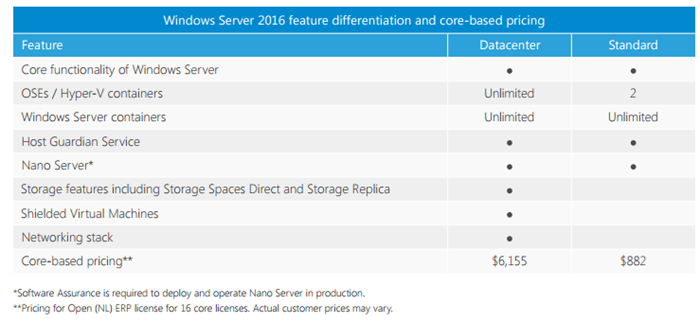 The Nano server is a separate chapter as you have no GUI, so no Apps with GUI can be installed, however, the server can be used and installed with roles and features. We'll have a look at Nano server more in details in one of our future posts as it's interesting to see how Microsoft will manage to "slim down" the server and which role and features you'll be able to install and run.
So far, the following roles and features are supported in Nano:
Hyper-V, including container and shielded VM support
Datacenter Bridging
Defender (Antivirus/anti-Malware service)
DNS Server
Desired State Configuration
Clustering
IIS
Network Performance Diagnostics Service (NPDS)
System Center Virtual Machine Manager
Secure Startup
Scale-out File Server, including Storage Replica, MPIO, iSCSI initiator, Data Deduplication
You may want to read other posts and details about Windows Server 2016:
As I mentioned, this post got updated with more information about just released Windows Server 2016. You can stay tuned through RSS, and social media channels (Twitter, FB, YouTube)