vRAM is gone, so the licensing starts to became more healthy as well. Rather sarcastic, but correct, IMHO. VMware had to react concerning the vRAM, because Microsoft Hyper-V v3.0 is at the point to be released (it's already RTM – read my article on that).
Having a licensing packages more healthy comparing to the competition, the battle can be fought on the technical (financial) field only. That's where VMware is putting their efforts right now by announcing for example some good changes for SMBs.
In fact, the vSphere Essentials Plus kit now does provide completely new backup product called vSphere Data Protection (VDP) and also vSphere Storage Appliance (VSA). Also with the new Enhanced vMotion Technology  introduced, which is able to move running VM from one server to another only by leveraging local server storage, the offer for small business has never been more attractive.
In fact, in the new vSphere licensing paper(PDF), you can also find out that the vSphere Essentials Plus kit does offer a vShield Endpoint together with vSphere Replication (VR) and Hot Add. vSphere Replication is a hypervisor based replication, where you can select VMs to be replicated to DR site. Those VMs can be located on local server storage.
As concerning to me, it isn't really clear how those products are licensed (in how many quantities). For example the VR, It's licensed per-CPU or per VM? I'd like to clarify that ASAP since the SMB market is becoming highly attractive with technical enhancements with new products added to the bundle.
Find here a screenshot from the licensing PDF document.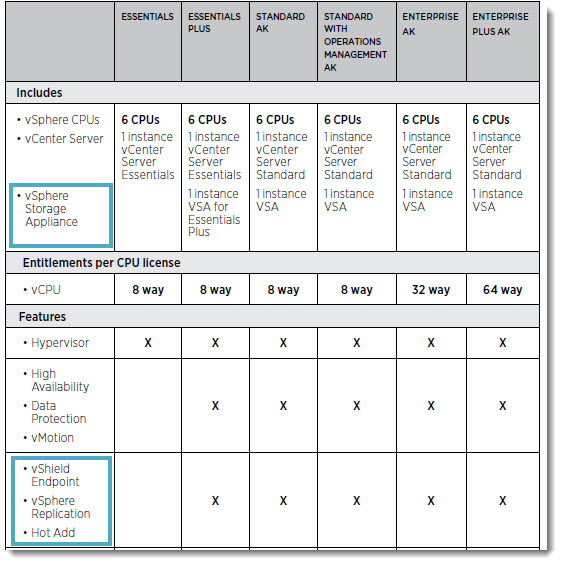 Feel free to subscribe via RSS.
vSphere 5.1 licensing – vRAM is gone – rather good news, any more? – This post