This is a quick tip and good news for Windows 7 SP1 users and also perhaps VDI admins running W7 desktops in their VDI environments. Windows Update Cleanup Plugin allows to uninstall outdated Windows patches and free some disk space on the root folder automatically, without messing up with the WinSxS folder.
The option presents itself as an add-on to the Disk Cleanup Wizard and allows to select the unneeded updates which are still laying buried in your fat Windows system folder. To be able to leverage this new add-on, you must install a Microsoft patch Windows Update Cleanup showing up on the list, you may not have the update installed on your computer yet. Go to this Microsoft KB2852386  page  to download and manually install it.
On the screenshot below you can see on the left a Windows 7 SP1 system before applying the patch, where on the right the option is appearing. The system do not have many Microsoft patches installed (its my laptop… -:), so the savings aren't outstanding. But systems with all patches applying to Windows 7 since its release can benefit some potential good disk space savings.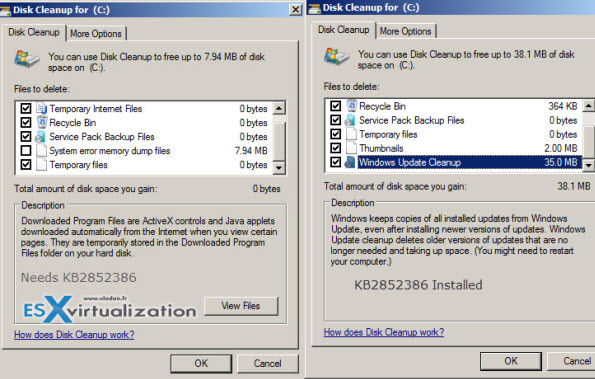 Quote from Microsoft's KB page:
The Windows Update Cleanup option is available only when the Disk Cleanup wizard detects Windows updates that you do not need on the computer.
To enable you to roll back to previous updates, updates are stored in the WinSxS store even after they are superseded by later updates. Therefore, after you run the Disk Cleanup wizard, you may be unable to roll back to a superseded update. If you want to roll back to a superseded update that the Disk Cleanup wizard deletes, you can manually install the update.
The patch applies to all versions of Windows 7 SP1:
Windows 7 Enterprise
Windows 7 Home Basic
Windows 7 Home Premium
Windows 7 Professional
Windows 7 Starter
Windows 7 Ultimate
Windows 8 and 8.1 users do have this option enabled by default, so it should appear in the cleanup wizard in case there are some old patches to remove.
You can check that by running the cleanmgr command through Start > execute. (Or rather Windows + R)…
Other Tips:
You might want to know how to disable Windows 7 librairies or if you want to know how to enable multiple RDP sessions on Windows (W2012, W2012 R2, W2008, but also trick for Windows 7 and Windows 8).
Source: Microsoft KB article 2852386