VMware Workstation 7.1 has been released yesterday together with VMware ACE 2.7
VMware Workstation 7.1 supports running over 600 operating systems….. Wow..!!! Now with 8 vCPU or processor cores… pretty impressive.
Windows 2008R2 as a host – One of the new features which captured my interest is of course support of Windows 2008R2 as a host.  Latest Microsoft's server OS. It might be interesting having a lab environment with 2008R2 as a host for testing Hyper-V and at the same time being able to have some Teams running under VMware Workstation…..(FYI, you can see my post about Teams functionality here OR my Video I've done recently.)
Autologon – another feature particularly useful if you reboot your Windows VMs often and want to save time not entering your Windows credentials every time. You're able to define Autologon in your Windows hosts. You can enable Autologon and use direct launch to open guest applications from the host.
Shorctuts for Virtualized applications – you can put a shortcut on your Windows 7 host's desktop and run your applications directly from there… So you don't have to go to that VM where the application is running.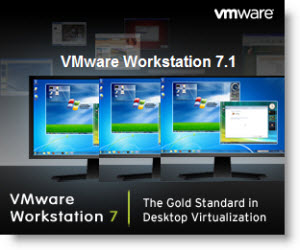 Drag guest applications from the Unity start menu directly onto the host desktop. Double-click the shortcut to open the guest application. The application runs directly on your Windows 7 desktop in unity mode…
OpenGL 2.1 support for Windows 7 and Windows Vista guests — This greatly improves the ability to run graphics-based applications and games in virtual machines.
OVF  convert Tool – The VMware OVF Tool is a command-line utility included in the VMware Workstation installer. You can use this tool along with VMware Workstation to convert VMware .vmx files to .ovf format or vice versa. With an OVF file it's easy to import a packaged VM like this into a VMware vSphere. You can see an exemple of Importing OVF file into vSphere in my post about installing and deploying VMware Data Recovery – a backup solution bundled with vSphere Essentials Plus.
Memory Management — User interface enhancements have simplified the handling of increased virtual memory capacity.
WMware Workstation 7.1 is now supported and recommended by Autodesk for AutoCAD 2011. By using the VMware SVGA 3D (Microsoft Corporation – WDDM) driver for the video.
The upgrade : As for the upgrade process it's still a bit long for an upgrade since you'll have to count for two reboots for the host and also reboot for the individual VMs, because the upgrade of VMware Tools requires the reboot of each of the individual Virtual Machine.
Jason Boche was saying on his blog that the upgrade feature in VMware Workstation did not worked for him. I checked this morning with my WS 7.0, everything worked for me. With my installation the upgrade detection went fine, It just might be the timing…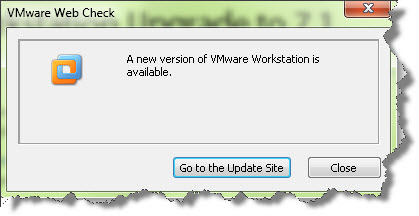 You can Upgrade to VMware Workstation 7.1 for only $99.00 – Upgrade Now!. The upgrades are for customers of Workstation 5.x and 6.x since the customers of Workstation 7.0 are eligible to free upgrade.
You can buy VMware Workstation 7 here. There are also some great deals available. For example, there are Workstation special prices for Students and teachers (— 40% off the list price of VMware Workstation). And also Volume discounts.
UPDATE: There are new coupon codes available. See PROMO section of the website !!!
Unfortunately there is no coupon codes available at the moment, but you can subscribe to my RSS Feed to stay informed about new coupon codes when they'll became available. There were some huge promos in the past (you can check my Holiday Sales post about that…) on Workstation and Fusion getting up to -30% OFF the Full price !!
You will be able to get Free Workstation Online Training Course and also 30 days of e-mail Support for your Workstation buy.
WMware Workstation stays ahead of the competition, like Virtual Box or Virtual PC which lucks the advanced features Workstation has.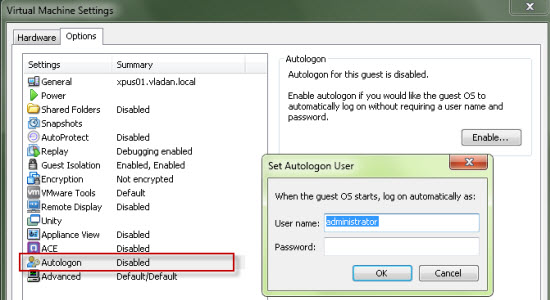 VMware ACE 2.7 has been released together with VMware Workstation 7.1
With VMware ACE you can distribute VMs created inside of VMware Workstation 7 with VMware ACE. I blogged about VMware ACE in this article here. Or you can have a look at this video about VMware ACE, which shows you about the creation process more in details. I also done a little how-to post about creation of portable USB packages here. Enjoy.
A quote from VMware Workstation team blog:
VMware Workstation 7.1's excellent Windows 7 performance and integration makes it easy to learn, test and demo new platforms and technologies like Windows 7, Microsoft Office 2010, and SharePoint 2010 –all on your own computer.