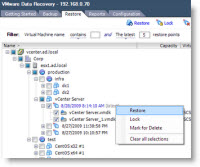 I'm trying to have a look at the new backup solution from VMware – vSphere DATA Recovery. VMware VDR It's available since vSphere came out as a part or the SMB package – VMware Essentials Plus.
At the same time as I'm learning, I'm doing some videos on it so I hope you guys that you'll like it. I suppose that you have already installed ESX 4 and vCenter. In my home lab configuration I installed vCenter inside of a VM, so I "saved" one physical machine.
I'm having one physical white box where I'm running ESX 4, and I have another physical box where I run Openfiler. If I'd have second ESX 4 server available I could protect this VM with HA (high availability).
As you will see VMware Data Recovery is a VM. It's virtual appliance (OVF package mady by VMware Studio) which is deployed inside of your virtual infrastructure.
In this first video you'll see:
– Installation of VMware DATA recovery
– Deployment of the VM appliance from the OVF package
– Basic log on and networking configuration
UPDATE: Excuse me for an error you see for the login information inside the video. The correct login informations by defaults are:
login: root
password: vmw@re and not vmw@are
Part 2 video is available now too… Click here to see the part 2
More on VMware Data Recovery:
VMware Data Recovery – install and configure video- part1 – this post