Dear readers. We still have to deal with the pandemic situation. We're still facing this horrible Covid-19, but slowly the things are starting to get better, with scientific progress and vaccination. Again this year, ZertoCON 2021 will be only an online event. (as you know, VMworld 2021, and many other IT events too). I really hope that this is the last year of online events and we resume physical events soon because I simply miss it.
In the meantime, ZertoCON 2021 has a lot to offer to learn about Zerto's data protection solution. I registered and I saw that the agenda is packed with sessions. If you're a techie guy like me, you'll most likely prefer to watch technical sessions, but there is something for everyone.
Register for free – ZertoCON 2021
Tuesday, April 20, 2021
12:00 PM EST | 5:00 PM GMT
Not all the sessions are online yet. There are still some in the works, but from what I have seen, there is quite a lot to put on your agenda. Once you register, you can add sessions you like to attend to your agenda. You can also download the agenda as a PDF.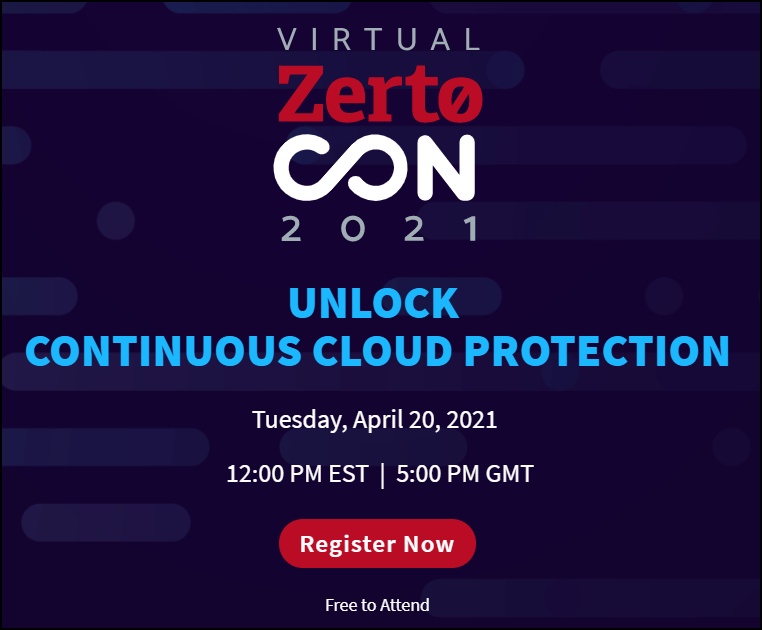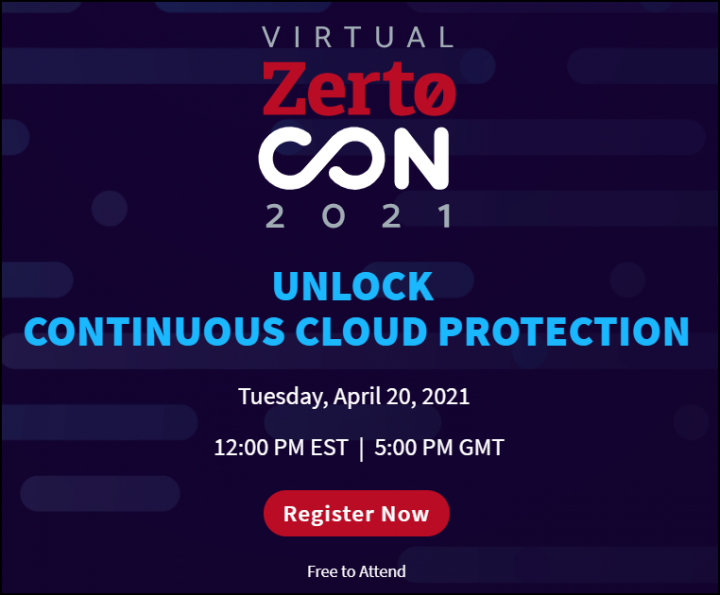 Zerto 9 is in the works -:)….  I saw one of the session's title.
Another interesting session is certainly the one entitled Zerto's Hidden DR Gem Revealed where you'll find out about top five out of the box ways to leverage Zerto's failover tests to provide daily value back to your company. You'll see exactly how to expand your usage of Zerto to capitalize on a failover test's unique ability to provide copies of production that are only seconds behind the real thing.
Example of screenshots of some sessions from the agenda, that you can find after registration…


If you're into containers, there is also a session about Zerto For Kubernetes – Join Kevin Cole, Head of Learning & Enablement, for an exclusive deepdive into how Zerto for Kubernetes will empower your DevOps and I/O teams with continuous backup, disaster recovery, and long-term retention for this new containerized world.
Currently, the Zerto 8.5 U2 is the latest version.
Zerto 8.5  have support for new data protection cloud offering, support for new platforms, and platform updates. These platforms are Google Cloud, Oracle Cloud, and the next generation Azure VMware Solutions (AVS).
There is a new cloud-native backup for Azure and AWS and other innovations from Zerto's Resilience Platform capabilities and innovation.
New Backup to Microsoft Azure – You can now use Microsoft Azure as a scalable, cost-effective long-term retention target. Backups to Azure are sourced from the on-premises journal and includes:
Cost-effective and scalable Azure Blob storage
Integration with Azure Active Directory
Choice between hot or cool storage
Encrypted communications
New Backup to AWS: As an available long-term retention target site, backup to AWS delivers a cost-effective and scalable way to retain data for extensive periods of time to achieve compliance. Backups to AWS are sourced from the on-premises journal and includes:
Cost-effective and scalable AWS S3 Storage
Integration with Identity Access Management (IAM)
Choice between S3 protocols
Encrypted communications
New Instant File & Folder Restore: Instantly recover files or folders to production within minutes with a new workflow purpose-built for backup use cases that , delivers:
RPOs of seconds
No impact to production
Simple workflow for rapid RTOs on day-to-day recovery scenarios.
Data Compression for Long-Term Retention: Data reduction technology to reduce the impact of network bandwidth and storage resources by half.
Audit Trail Logging: Achieve compliance and data governance for all file restore operations .
New Backup Roles: Use backup-specific administration roles for backup-only recovery scenarios
Register for free – ZertoCON 2021
More posts from ESX Virtualization:
Stay tuned through RSS, and social media channels (Twitter, FB, YouTube)