Interesting post found on one of our partner's site – 3CX. They tested the deployment on MiniPC system costing about $100 and the results are pretty good. I wanted to share this information with our readers so they can see The system tested was a miniPC called NextBOX.
The system is bundled with W10, 2Gb of RAM and some SSD storage, which is expandable by unscrewing just two screws at the bottom.Those systems are darn fast as they can drive 4K videos. Usually, those systems are delivered with few Gigs of RAM, preinstalled with W10, and there is no RAID. So I'd consider setting up an Image backup like Veeam Endpoint, when everything up and running.
At 3CX, they also maintain a PDF document which lists MinPCs that are recommended for 3CX, and the ones that are NOT. Not everything can be good and there are some systems to avoid. Here is a screenshot from the document which you can download from the source blog post.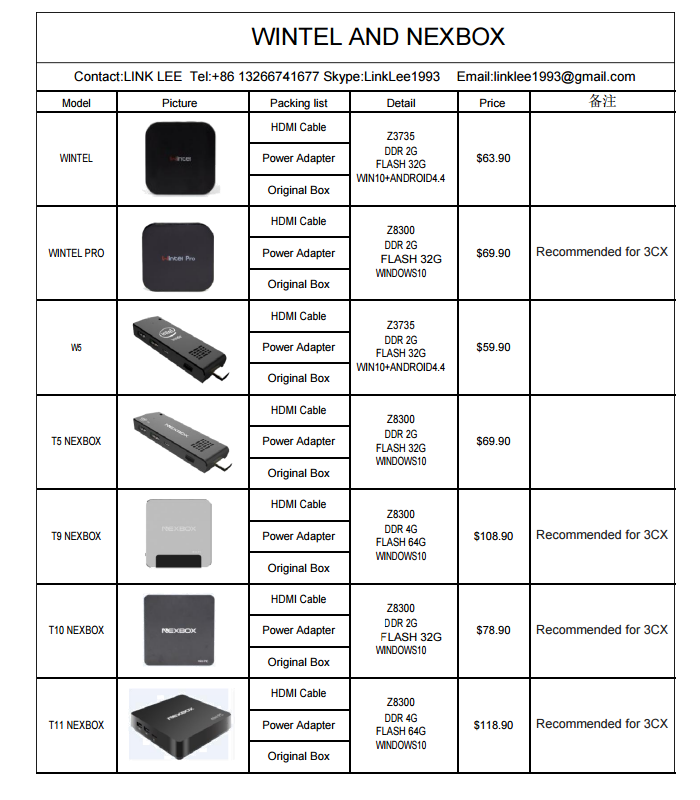 The overview of the NexBox sytem
Windows 10 OS (it might come with the "Family" version, but never mind…)

CPU:Intel Cherry Trail Z8300 quad-core up to 1.84GHz

Memory: DDR3 2GB

Storage: eMMC 32GB (expandable with a SSD slot accessible underneath)

1 High Speed USB 3.0 and 3 USB 2.0

.
They tested some boxes from Nexbox, which seems to be most adapted. But the preinstalled Windows needs to be a little bit optimized by stopping some unneeded services and disabling some shadows and animations.
Quote:
One of our favorites is the Nexbox – A little sleek black box which is the size of an Apple TV. It houses Intel's Latest 14nm Quad Core Intel Cherry Trail Z8300 Processor, 64 bit architecture and includes Windows 10 Home. 4GB Ram, and 64GB flash drive with a slot where you can insert an SSD Drive at the bottom by just unscrewing 2 little screws – ideal for expansion purposes.
They have all those tips in their post.
Source: 3CX Blog Post
Stay tuned through RSS, and social media channels (Twitter, FB, YouTube)
Check my other posts about 3CX: