Veeam has released an update for very popular Free backup software for physical systems – Veeam Endpoint Backup 1.5 Free (VEB). If you don't know the free product already, I have detailed its features including a video in my post here – Veeam Endpoint Backup released. Veeam adds several new features to the list, like e-mail reporting, ejecting USB repository after backup (CryptoLocker protection) or significant performance enhancement to file level backups. It is also possible if you missed a scheduled backup,  to starts an additional backup once the computer powers On.
The free tool can backup client's PCs, laptops even servers and create a backup image of the whole system which can be easily restored in case of a virus, corruption or ransomware. Several backup options allow backing up the whole PC or at the file level or volume level, in case the PC has more than 1 disk/partition and you do not want to backup the whole
Restoring a system can be done several ways:
Recovery USB stick – Through a USB stick that you have to prepare for the case if you have a virus, malware or cryptolocker, and you cannot boot normally.
Taskbar Icon – If you can boot or needs to recover file/folder, then you can recover by right-clicking the taskbar icon and selecting Restore > Individual Files. Via the taskbar icon you can also restore full volumes.
Start Menu – The third option is through the Windows start menu.
Backup destination can be a USB drive, another internal disk or network location. Veeam just added a possibility to actually eject the USB drive after the backup completes, so even if the USB disk stays physically connected, the malware cannot, for example, encrypt the backups (think of cryptolocker).
Veeam Endpoint Backup 1.5 Free – What's New?
Auto ejection of removable media (CryptoLocker protection for USB Storage) – this option allows backing up a system with a USB drive connected where at the end of the backup it's gets disconnected (not unplugged). This avoids spreading eventual cryptolocker to the backups, in case the cryptolocker strikes after the backup has been done…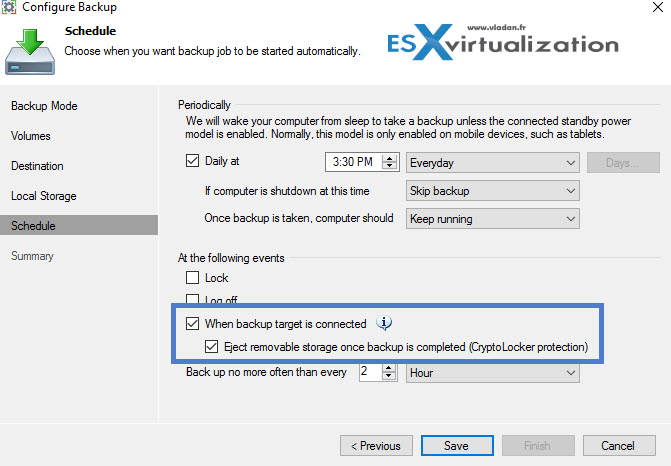 Built-in email notifications – Finally you can have reports delivered by e-mail. Very useful when you manage several systems, to stay informed, if they were backed up successfully… You can find the option on the Settings tab.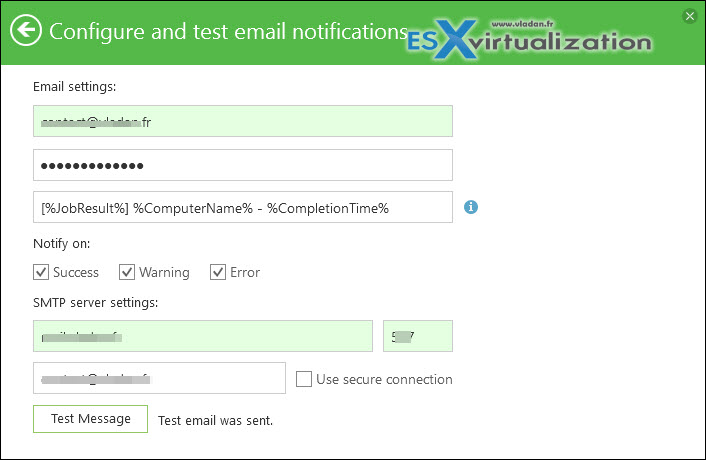 Ability to select days for daily backups – this option adds a possibility to choose days of the week when you want to backup to run. For example you can exclude the week-end, or whatever days during the week etc…..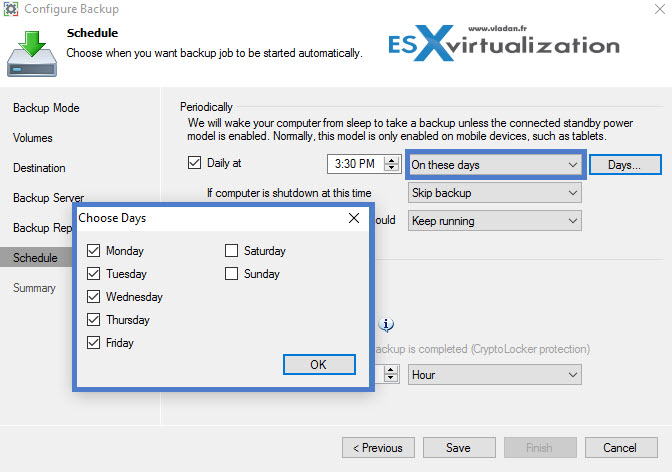 Other New Features of Veeam Endpoint Backup 1.5
Option to resume missed daily backup at first opportunity.
Ability to perform a standalone full backup to a custom location.
Enhanced file level backup performance.
Enhanced file level backup inclusion and exclusion logic for added file exclusion reliability.
Job retries are now suspended automatically when device is running off a battery.
Job progress is now displayed in the taskbar.
Backup chart can now be switched between size and duration without having to go into the settings.
Wi-Fi signal strength is now displayed in the Recovery Media boot screen.
For convenience, large volume resize can now be performed in GB, to avoid conversion mistakes from MB.
Experimental ability to skip bad blocks (via a registry value).
System Requirements
The product needs at least Windows 7 SP1 so in case you want to use it to backup some XP system you should consider upgrading. Also, Veeam Endpoint Backup installs some dependencies along with the product:
Microsoft .NET Framework 4.5.2
Microsoft SQL Server 2012 Express LocalDB Edition
Microsoft SQL Server 2012 Management Objects
Microsoft SQL Server System CLR Types
You might want to check my post detailing what's included in the USB key when you create one – check this post Veeam Enpoint Backup Recovery Goodies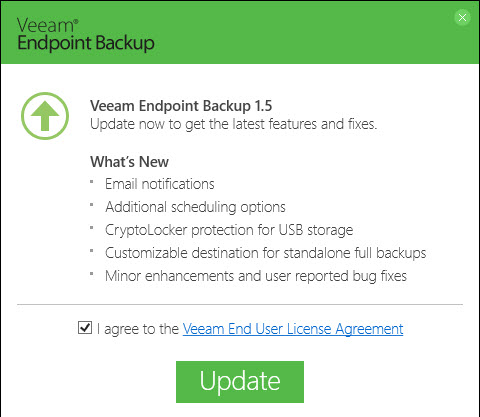 Download Veeam Endpoint Backup Free here.
Veeam continues to produce great tools for IT community. Is that why we all like Veeam? I think so. Their flagship remains Veeam Availability Suite, which was recently updated to the v9. In case you do not know Veeam, you can get free 30 days trial to test the full version of Veeam Backup and Replication v9.