3CX Phone system is a software solution allowing you to put in place a complete phone system software very quickly.  You can use hardware or deploy it in a VM. It's even possible to deploy the solution on a $100 Mini-PC. (with some cautions).
The simplified installer can deploy the solution in 15 minutes. I have already reported on the launch of v15 of the solution. You can watch the video with the new features announced, and also check the questions and answers that folks were asking during the live event. Some of them are really interesting.
3CX worked together with Letsencrypt.org to provide free renewable secure certificates for companies that do not have their own certificates. This also avoids costly renewing certificates every year.
If you're thinking of testing or deploying the solution you may be interested in following blog post at 3CX which discuss backup, restore or failover.
In fact, the PBX has a built-in backup with an assistant allowing you to select what you want to backup, where you want those backups to be sent and also how often you want those backups to happen. Pretty cool for a PBX…
Image showing the options (courtesy of 3CX)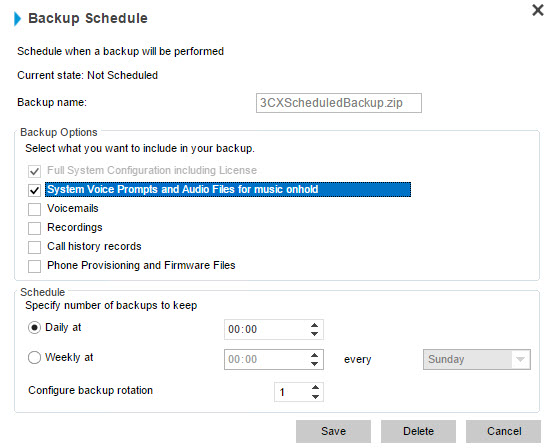 To backup your system, you will need to decide where what and when to backup your PBX.
Where: Choose between local drive or remote FTP
What: System configuration, Voice Mail, Recordings etc.
When: One-off or at scheduled intervals
Interesting note: While the backup process does not stop the 3CX services, the restore process does. Keep things in mind whether you're planning to do restore on a production system, that the 3CX services will be stopped (and started automatically after the restore is done.
The product itself can do backups which are sent to another disk (volume), FTP site. You can also use the backups for
Upgrades to newer versions of 3CX Phone System.
Moving from one machine to another.
Configure a standby server for fault tolerance.
When used in a VM you'd probably set up a standard backup schedule the same way as for your other VMs in your vSphere or Hyper-V environments.
When used on physical system you can possibly use some Image backup software for the job (Acronis, Veeam Endpoint Free or others…)
You can request your trial at the 3CX Website here.
Check other posts about 3CX:
3CX Phone System Backup Options – [ This Post ]