In my recent article I've reported about a nice free alternative to manage SQL databases, which, from the same UI can manage also MySQL databases. I thought that it might be a good idea to actually check out around the web to see if there are other, preferably free tools. And yes there are! In this post I'll show you 5 free alternatives to Microsoft SQL Management Studio.
While SQL server Management studio is built-in utility for managing SQL Express, it's tricky to install, and I've seen many users being frustrated with that. So why actually bother with that if there are alternatives available even as portable applications.
This overview is not a complete view of what's available concerning quickly managing SQL and MySQL databases. There are certainly other products.
HeidiSQL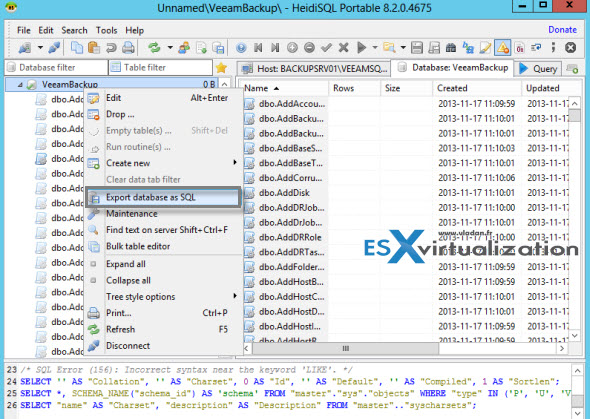 Let's start with the tool I've reported a while back – HeidiSQL. It's available as a portable version too and allows doing pretty much everything you need, from within the same UI:
Free for everyone, OpenSource.
Connect to multiple servers in one window
Connect to servers via commandline
Connect via SSH tunnel, or pass SSL settings
Create and edit tables, views, stored routines, triggers and scheduled events.
Generate nice SQL-exports, compress these afterwards, or put them on the clipboard.
Export from one server/database directly to another server/database
Manage user-privileges
Import text-files
Export table rows as CSV, HTML, XML, SQL, LaTeX, Wiki Markup and PHP Array
Browse and edit table-data using a comfortable grid
Bulk edit tables (move to db, change engine, collation etc.)
Batch-insert ascii or binary files into tables
Write queries with customizable syntax-highlighting and code-completion
Pretty reformat disordered SQL
Monitor and kill client-processes
Find specific text in all tables of all databases of one server
Optimize and repair tables in a batch manner
Toad for SQL Server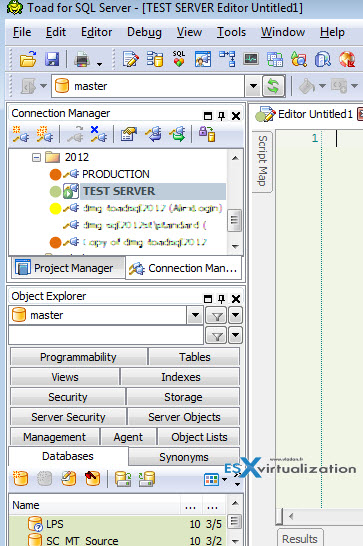 Another very popular free utility to manage and maintain SQL databases. Toad has also version for MySQL, Oracle, IBM DB2, Eclipse or Sybase. There is also MAC version. Toad is maintained by Quest (Now Dell) and has great community support. Toad has won an award in 2012 for being named best developement product.
Toad offer many common options when working with datas. Export wizard provides a single interface to select file formats when exporting tables and views. But also their dependent objects or databases. This wizard is useful if you need to export the data you are working on to a database neutral format such as SQL statements, an Excel file, or a CSV file.
The community section provides many documentations and very well maintained video section with many videos.
Check out Toad here – Download
DbForge Studio for SQL Server
This tool is not free, but has a free plugin for SQL server management studio which provides code completion and formatting capabilities.
Code completion for SELECT, INSERT, UPDATE, EXEC, and DELETE statements
Basic SQL formatting functionality
Smart filtering in the suggestion list
Parameter information for procedures and functions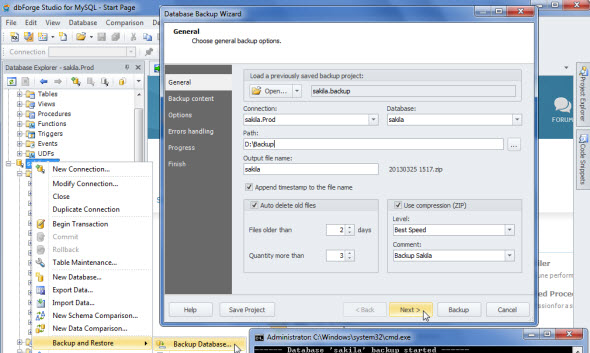 They do have a free product for MySQL databases. Its name is dbForge for MySQL – Express Edition, which provides basic functionality for working with schema objects, user accounts, SQL scripts, maintenance wizard, and queries.
Free software that provides basic functionality for working with schema objects, user accounts, SQL scripts, and queries. Unfortunately the free edition is very limited when it comes to export:
CSV format has no restrictions for data export and import, for other formats only first 50 rows are processed. User templates are not supported
Company's website – www.devart.com
EMS SQL Management Studio for SQL Server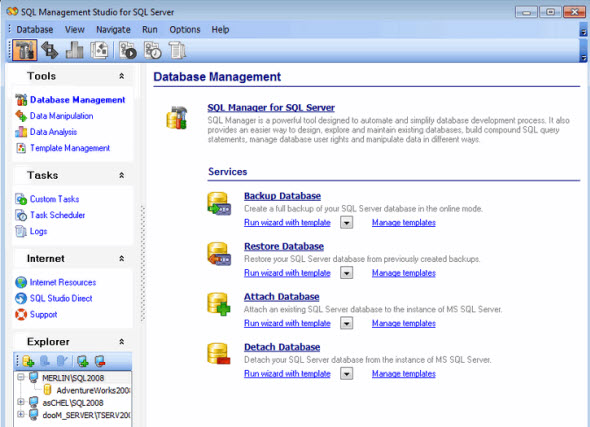 The product comes from SQL Manager.net and they provide Free and full version. The free version is limited though, but at least the export is not limited as much as the product from Devart.
The latest version supports SQL Server 2005, and I'm not quite sure whether the product is still evolving as the latest company news are from 2008… -:(. Otherwise the UI looks pretty nice.
Company's website: www.sqlmanager.net
LINQPad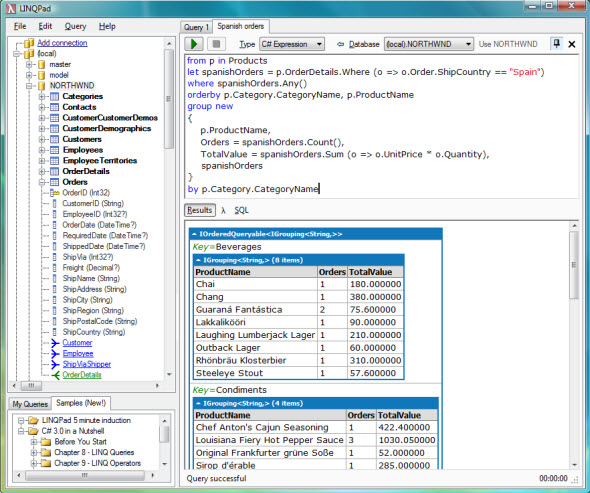 Products has two versions where the standard version is free. Apparently very lightweight product which can even run in Google Chrome. Otherwise there is a standalone version (5Mb), and as a requirements you'll need a .NET Framework 4.0/4.5 (or Framework 3.5 for LINQPad 2.x).
LINQPad lets you interactively query databases in a modern query language: LINQ
A quick quote from the product page shows some interesting facts about the querying language:
The popular answer is that LINQ is INtegrated with C# (or VB), thereby eliminating the impedance mismatch between programming languages and databases, as well as providing a single querying interface for a multitude of data sources. While that's true, it's only part of the story. More importantly: when it comes to querying databases, LINQ is in most cases a significantly more productive querying language than SQL.

Compared to SQL, LINQ is simpler, tidier, and higher-level. It's rather like comparing C# to C++. Sure, there are times when it's still best to use C++ (as is the case with SQL), but in most situations, working in a modern tidy language and not having to worry about lower-level details is a big win.
The full version of LINQPad has more features including autocompletion, code snippets, code outlining, cross-database querying, NuGet integration, and the ability to directly edit SQL data!
You can download from linqpad.net here.
Update: You might want to check this post helping out to reset sa password for SQL Express…. https://www.vladan.fr/how-to-reset-lost-sa-password-in-sql-express/
Update2: There is another free (with paid option) software which I recently wrote about. It's called SQL Database Studio – Read my post Another Alternative to Microsoft's SQL Management Studio.