VMware Data Protection – the annual report by Vanson Bourne.
The report is written by Vanson Bourne. It's an independent market research organization. The survey was conducted in August 2010 and about 500 CIOs from organizations from US, UK, France and Germany did participated. The report contains 19 pages.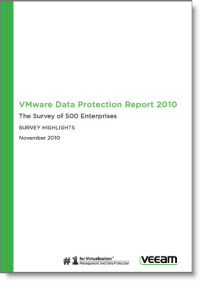 The report in pDF format can be downloaded from the Veeam's Website here.
According to 500 CIO's:
– It takes 5 hours to recover a virtual machine.
– 59% of organizations still use tools designed for physical servers.
– 63% experience problems every month when attempting to recover a server.
The top benefit of virtualization?
– The consolidation of old servers (71%)
– Improved Disaster Recovery (54%)
– Data protection (51%)
A quick quote from the rapport:
Part of the virtual machine backup issue can be associated with current approaches to backup and recovery. Virtualization is clearly a fundamentally different platform than physical infrastructure, yet nearly two-thirds (63 percent) of enterprises today use a single product to back up both physical and virtual estates. With this approach they are still treating virtual machines as physical servers and thereby limiting their ability to use the technology to its full potential. Consequently, enterprises do not have the optimum level of protection needed for virtualized mission-critical workloads
Chris Wolf
Research Vice President from Gartner:
"Data protection and recovery are in the midst of major change. We now expect archived data to be accessible and just as dynamic as our virtual infrastructures… This includes instant image recovery, file and object recovery, user self-service recovery and rich verification capabilities."
My words on that.
I think it's quite normal. Already the expenses when you start with virtualization in your company are quite enormous. I'm talking here as for the SMB market and especially for small shops, since SMB in Europe is not the same as an SMB in US…..and SMB at the Reunion Island is 25-40 employees….-:)
If you want to implement HA and vMotion (the basics), you'll go for vSphere Essentials Plus KIT, which does cost some money. You can also start with the vSphere Essentials KIT without having a backup tool provided and without HA or vMotion. Just the basics.
Than you'll need a shared storage and at least 2 physical servers (in case you want the HA functionality), which costs much more than if you were just buying a single server for physical workload. You must get lot's of RAM, double CPU, double power supply etc etc… so the initial costs of virtualization are high. No wonder that in a head of many IT administrators the question is – what backup tool could I re-use in my new virtual infrastructure to save some money?
Most of the time they try to recycle their old backup tools (or they go with an upgrade of their existing backup tool) and continue to use this backup tool as if they were still having physical servers. They might not virtualize the whole infrastructure at first by fear too, since they just started learning about virtualization. So at first they might continue to backup data without backing up the whole VMs.
With virtualization the IT administrators sure do introduce a completely new technology running on new hardware but they might still trying to do stuffs by keeping the old habits. While they  install completely new installation of vSphere and do P2V of old servers, inside of those servers there are still use those old backup agents and helpers to do the backup job for data.
Source: Veeam