Altaro VM backup is easy to implement, manage, and maintain. You can back up and replicate your VMware and Hyper-V VMs locally, across WAN, or to one of the cloud provider's storage accounts supported (AWS, Azure, or Wasabi). The backups are very efficient as only changed data gets sent to your backup repository from where they are taken.
If you're using Microsoft 365 within your environment, you might be interested in Altaro/HornetSecurity Total Protection for M365 which we reviewed a few months back. It is a very powerful solution that allows you to not only protect your user's data (Mailboxes, Teams, OneDrive, SharePoint) via backing up and archiving engine but also eliminate cybersecurity threads via built-in Advanced Threat Protection (ATP).
Altaro has also a solution for physical servers that can be managed from a single, Cloud Management Console (CMC) side by side with your virtual infrastructure. The CMC console is hosted in the cloud so you can connect there remotely and within the same console, you can set up multiple backup environments (if you have multiple branch offices for example) together with your physical server backups. Access to multiple backup environments is also called Multi-Tenancy. Very useful for service providers to manage backups stored on their cloud servers for their clients. In fact, multi-tenancy can be used by Service providers or larger organizations to manage several remote offices.
But let's get started with Altaro VM Backup and Replication for VMware and Hyper-V. Altaro VM Backup for VMware and Hyper-V can protect your virtual workloads within your organization with a very efficient inline deduplication engine that kicks in before the data hit the wire. It's quite important as this will eliminate the need to transfer blocks of data that are double. Many other competitors proceed with deduplication at the destination (once the data landed on the destination backup repository).
Supported environments
Altaro can protect VMware vSphere from ESXi 5.0 up all the way to 7.0. Hyper-V support is from Windows Server 2008 R2 SPI all the way up to Windows Hyper-V Server 2022. You can check the latest supported OS and hypervisor platforms here.
You can't back up the free version of ESXi as there are some limitations by VMware that is not exposing certain APIs, or as a read-only. As long as you have the lowest cost paid edition of VMware, you can use Altaro to backup your VMs, but this is not something unique to Altaro. It's rather a technical problem for all the backup vendors out there.
Supported environments
Altaro can protect VMware vSphere from ESXi 5.0 up all the way to 7.0. Hyper-V support is from Windows Server 2008 R2 SPI all the way up to Windows Hyper-V Server 2022. You can check the latest supported OS and hypervisor platforms here.
You can't back up the free version of ESXi as there are some limitations by VMware that is not exposing certain APIs, or as a read-only. As long as you have the lowest cost paid edition of VMware, you can use Altaro to backup your VMs, but this is not something unique to Altaro. It's rather a technical problem for all the backup vendors out there.
Easy and Fast Installation
The installation of Altaro VM Backup software takes like 5 min. You can download and install Altaro backup on those supported OS and environments. Yes, Altaro needs Windows to run. Linux or other platforms are not supported:
Azure Stack HCI
Windows Server 2022
Windows Server 2019
Windows Server 2016
Windows Server 2012
Windows Server 2012 R2
After installation, you need to add the hypervisor you're using (VMware, Hyper-V or individual ESXi hosts not managed by vCenter) to the Altaro console. As you can see, a single console can manage heterogeneous environments.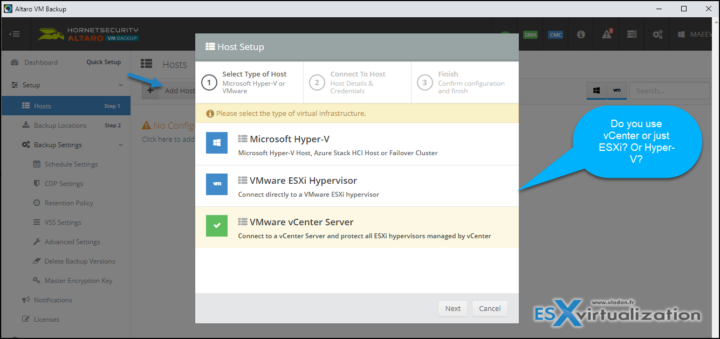 It's important to test the connection before hitting the next button. It saves you some minutes in case you put in the wrong credentials.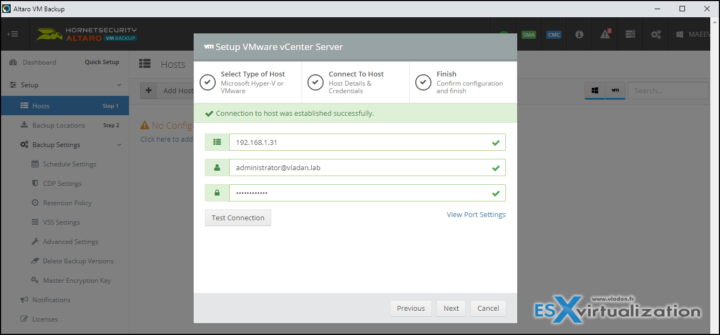 Once you added the vCenters/hosts from your environment you are good to go for more configuration. We'll need to configure some backup repositories (space where our backups will be stored). Those repositories can be on-site or off-site. But before we do that, let's talk a bit about Altaro's efficiency as a product.
Augmented Inline Deduplication technology
This technology is able to dedupe data across all your backed-up workloads. With the Augmented Inline Deduplication feature, Altaro is storing backups in a central repository and using a hash database to keep track of the deduped blocks.
As there are similar files and data within the operating system of each server, you'll need to store one copy of each block only. Let's say that you have 10 Windows Server 2019 VMs, you'll only have to backup 1 copy of the similar OS-related files for all the protected VMs. That's some huge savings indeed.
This deduplication process is happening inline (not post process job).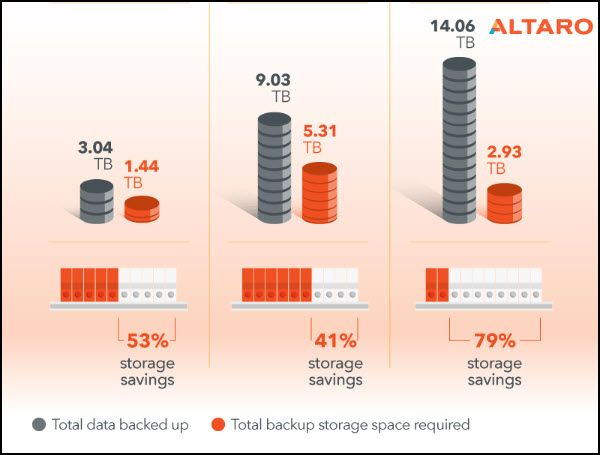 Post-Process or Inline, what's the difference?
Post-Process Deduplication – All data is backed up and sent to the backup repository. Then after the job is complete there is a new back-end deduplication job that looks at the data in the backup repository and removes identical blocks to reduce the size of the backup file.
Inline Deduplication – Data is analyzed before the backup job starts, and compared with the data that exists already within the backup repository. The blocks that are not in the backup repository are sent there from the source. But only those blocks.  Altaro calls this Augmented Inline Deduplication technology.
Backup Destinations and Offsite Locations
With Altaro VM Backup, you can configure local backup locations (local disk or network file share) and offsite backup locations. You should however think about performance if you want to use the Boot from Backup feature. The most performance you can get is probably by using a physical server with some locally attached SSDs assembled into a RAID volume. That's for the primary backup that shall be used for fast recovery.
For the secondary backup location, or for the backup-copy job it would make sense to install a copy of the Altaro Offsite Backup server to a remote location and set some replication jobs. If you want to keep things simple, you can just set up a file share on your network to keep your backups there.
You can also set an offsite location in the cloud and send the data to Azure, Amazon or Wasabi cloud (budget friendly). The possibility to have multiple offsite locations only helps with being more resilient in the end.
For Offsite copies, you can choose from 3 different cloud storage possibilities (Azure, AWS, or Wasabi), rotating drives setup, Altaro Offsite WAN acceleration possibility or again, network path, or a separate physical volume.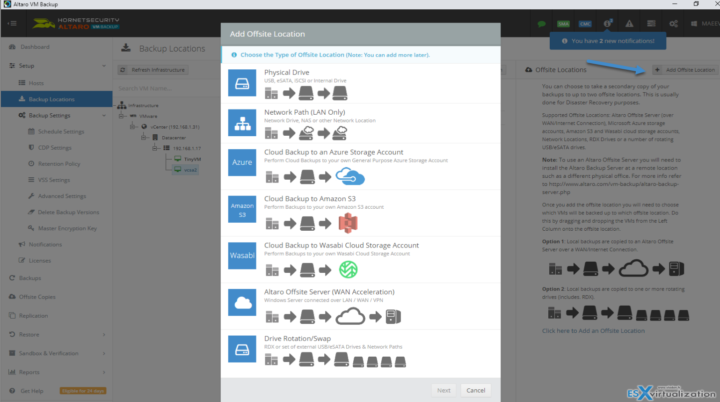 Backup repositories support:
USB External Drives
eSata External Drives
USB Flash Drives
File Server and/or Network Shares (NAS devices) using UNC Paths
Internal Hard Drives (Direct attached storage – DAS), RAID volumes
RDX Cartridges
Altaro Offsite Server (incl. Replication)
Azure Cloud Storage Account
Amazon S3
Wasabi Cloud StoNTFS/ReFS formatted
Network Paths and accessible by SMB3.0
Adding Wasabi for example as cloud storage is really easy as well. All you have to do to create an account with Wasabi online, and then confirm the verification e-mail they sent you, create a bucket (a space for your backups).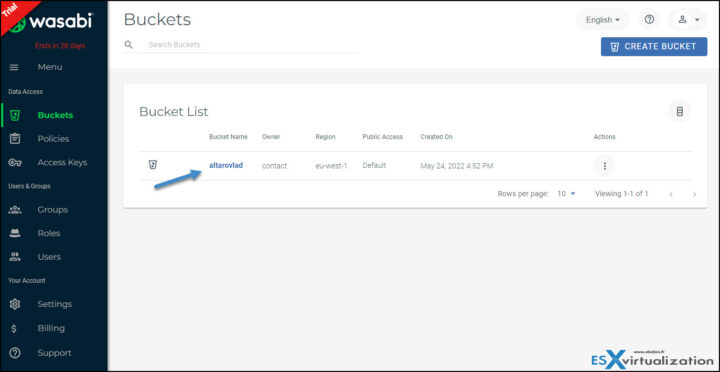 Add Offsite Location
As you can see, you only need to do at cloud storage (in our case Wasabi site) is to create a bucket (storage container) which name you'll enter, along with the access key and secret, to the connection wizard. And there is the nice Test Connection button to make it easy too. Wonderful.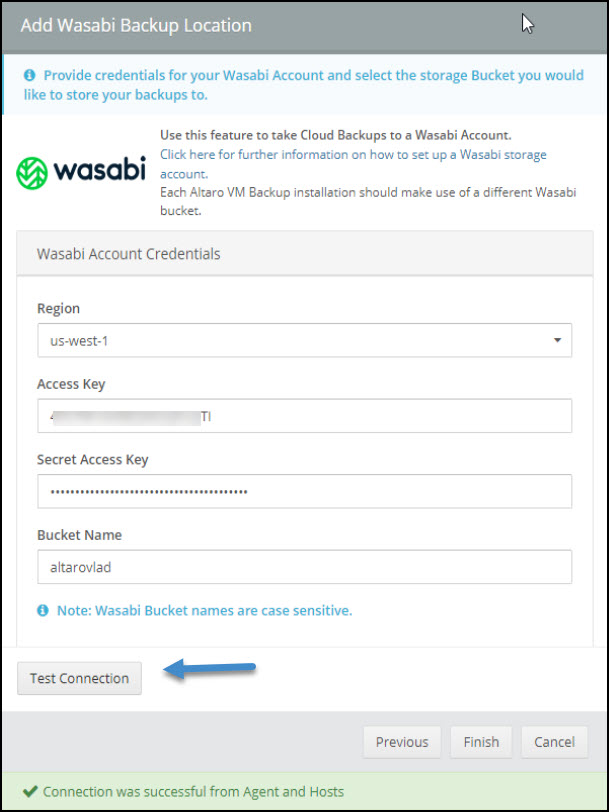 Once done, the backup location tab should look like this. I have one local repository and two remote repositories (1 at Wasabi and 1 at one of my "remote lab" servers ). Backup is sent to the local repository and the copy to the Wasabi cloud and my remote lab server (UNC path).

Wan optimized Replication
If you want some disaster recovery (DR) protection, you can replicate your VMs to an off-site location in case your main site has problems. Like this, your replicas (which we call those VMs in "Stand-by" mode) can be started in case your main site is hit by a flood,  a fire, or even by ransomware.
You would need to install a separate component called Altaro Offsite Backup Server which can be downloaded for free from Altaro's website here. This Altaro Offsite backup server has to be installed in a remote location on Windows server VM running on ESXi or Hyper-V.
The architecture looks like this.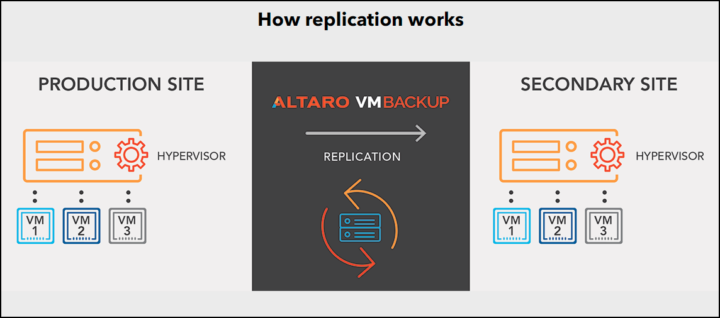 We won't go into this setup with details in this review, but know that it is possible and Altaro has that replication feature built-in.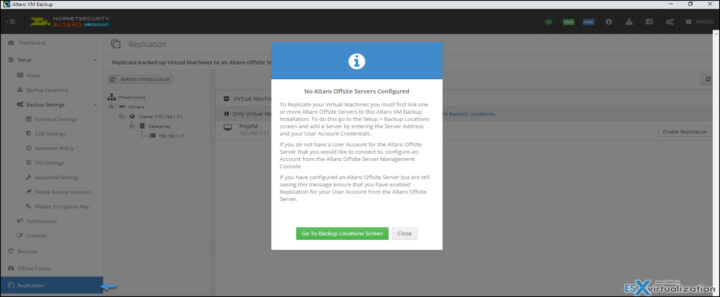 Note: Additionally, In order to use replication, you'll need Unlimited Plus License. So, the replication feature is available for larger companies, IT consultants, and value-added resellers (VARs) in Altaro VM Backup Unlimited Plus License. The Unlimited plus license will also enable you to use Altaro Cloud Management Console (CMC) that we briefly introduced in the beginning.
I know many customers do not use replication because they don't have spare resources laying around. They don't have spare ESXi sitting at the remote location and doing nothing. That's why I always recommend having 3 backup performance tiers that can save you in case you are hit by some disaster (flooding, ransomware, fire….)
It's important to have resiliency and strategy. A good and resilient backup strategy for 3 different backup locations would be:
On-prem – To have the best performing backup server machine with the fastest SSD storage holding the backups on-site, to be able to recover as quickly as possible.
Remote Office – As a second site, I'd choose a remote office. (If my company does not have a second site, I'd pick 2 different cloud storage accounts).
Public Cloud – Third, the offsite location for the second copy of my backups, would be cloud storage.
Backup Schedule
Altaro supports drag-and-drop so if the two default schedules are fine for you to get started, simply drag the VMs there. Then when you select the VM, the scheduled preview shows up on the right-hand side. If you drag the whole host (or cluster) it picks every VM that is part of the cluster. I imagine that if you create a new VM within this cluster, that VM will get added to the schedule automatically.
I assume that if you want to structure groups of VMs within the cluster and have different backup schedules, the best is probably to do drag-and-drop for those groups of VMs manually.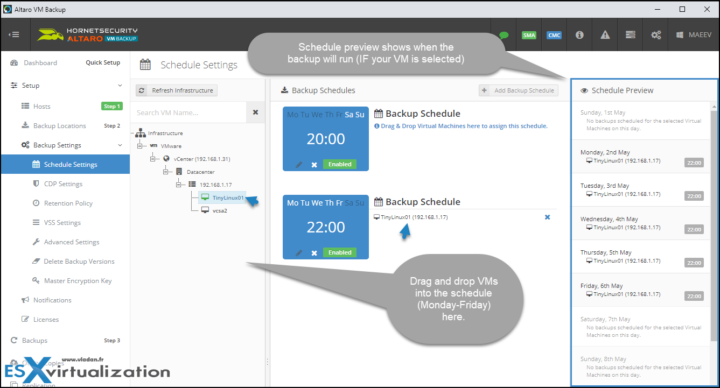 If you need more scheduling options, you can add an additional schedule. What's interesting is the fact that the schedule, as you can see, can be chained and follow-up with an Offsite copy. Like this, you can construct a group of VMs needing cloud protection as an additional layer of security.
So your backup jobs will execute a backup copy where the backup copy data will land at your cloud location. And this what I did. As you can see on the screenshot below, the schedule has little bit different icon there is the "18:00 + Cloud" to differentiate it as a combined location for two different destinations.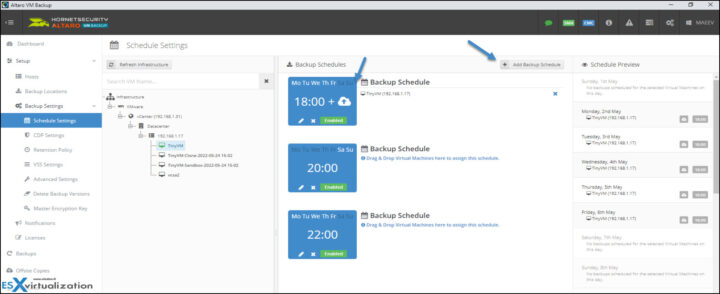 You can personalize the time and frequency on the next screen…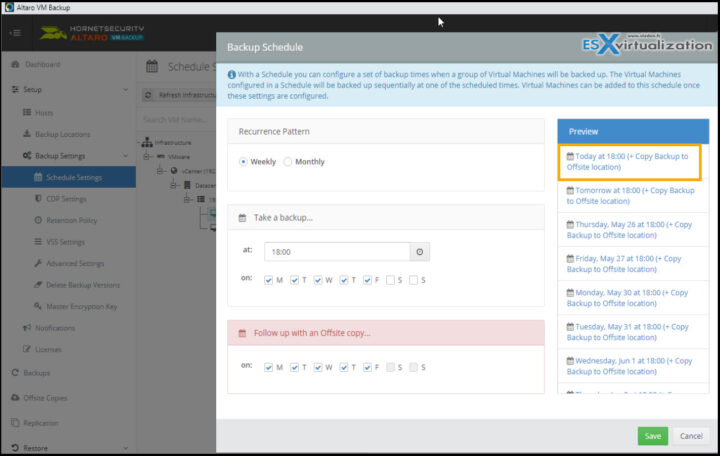 Once you have the backup schedules, the backup destinations, and the VMs which need to be backed, and scheduled, you're good to go. Day after day you can monitor your backups.
Monitoring your backups
You can monitor your backups by clicking the Backups menu on the left. In my case, I'm only backing up a single VM (small lab) but you have all the information necessary there. When  you click the + sign, all the details show up. By hovering your mouse you can see when the next backup will take place.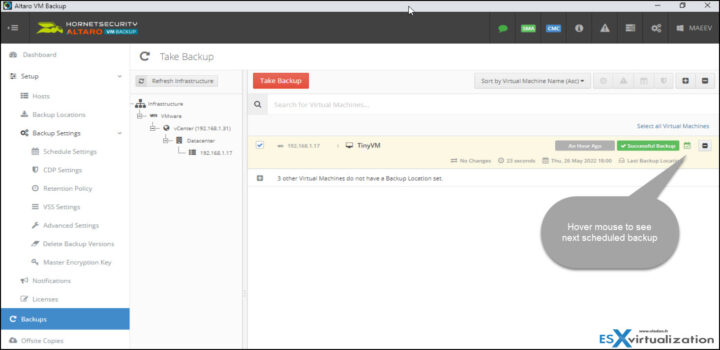 All the jobs and history can be found in the Operational History menu. My lab setup for this review is pretty new so don't expect a large amount of data on next screenshot.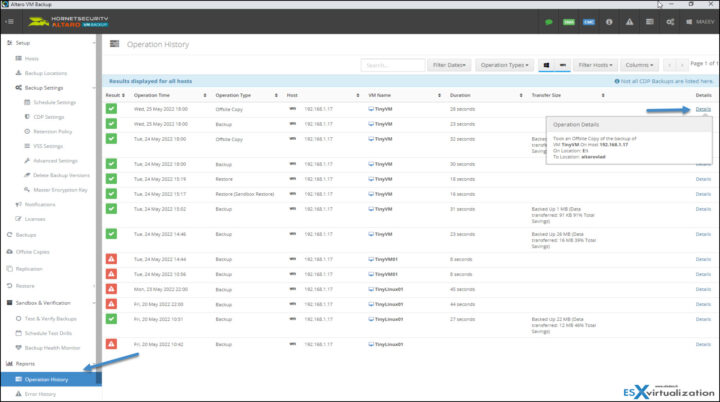 You can set up some filters by dates, operation types (only show backups, restore, offsite restore, verification, boot from backup…..) I think its pretty good and useful. Here is the detail

The tab just below called Error History only shows errors. I guess this is the most important place for the admin to check and solve problems related to backups.
Boot from backup in seconds
Altaro has this feature called Boot from Backup. It allows you to boot your VM directly from backup (instead of restoring to your production storage and waiting for the copy to be done). It saves a lot of time if you're restoring large VMs and your network throughput is limited.
What it does is will create an iSCSI target and mount it on the destination host as a datastore so there will be a few prerequisites that you must do in case you will use this feature:
open TCP ports 35200-35220 on the ESXi host. Altaro can provide a vib (vsphere installation bundle) which after installation, does the config for you. Check details here.
Make sure that your ESXi host has an iSCSI Storage Adapter is added, enabled, and configured to the host.
The performance, however, will most likely depend on the underlying storage. What I do recommend to my clients is to build a backup server relying only on SSDs and NVMe-based SSD storage. It's really worth it when you seek a quick restore from the performance tier.
Boot from backup has two modes:
Verification Mode – VM boots up, gets pinged, validated and shut down.
Recovery Mode – The recovery mode allows your DR plans scenarios like booting VM directly into production as fast as possible. Once booted, a full restore operation takes place in the background.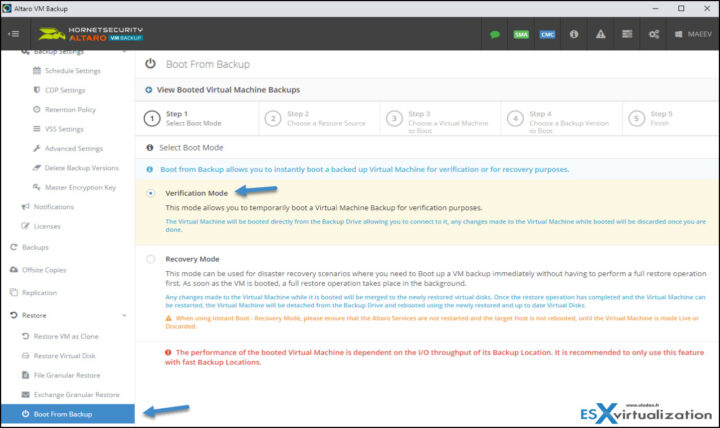 Just follow the assistant. Depending on which option you chose, the recovery mode has this small pop-up warning window.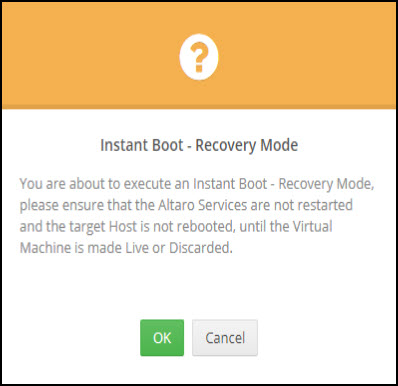 Altaro for Physical servers
A quick world on Altaro backup for physical servers. If your organization runs Windows servers installed on bare metal,  Altaro can back them up as well and be able to restore as a VM. In fact, Altaro has also another software called Altaro Physical Server Backup. Altaro Physical Server Backup is a free windows server backup software that back up your Windows physical servers to image that can be powered-on as a VM in minutes so you can keep up working even if your hardware fails. This expects the backup repository to have fast underlying storage based on SSDs.
The Management through Altaro Cloud Management Console (CMC) is also possible through a Subscription Fee. You can manage backups of virtual machines, physical machines and Office 365 Organisations, from the same cloud based web console.
Sandbox and Verification – be sure to be able to restore
Having backups is good. But when you have backups and some kind of verification, it's even better. Restoring VMs from corrupted repository isn't fun. That's why Altaro baked in a verification and health monitor that runs in a background. By verifying you make sure that the backup files of the VMs are consistent and the integrity of the files is not compromised.
Backup health monitor can detect integrity issues that might strike when you have disk issues. If minor problems are found, the monitor try to fix them automatically backing up the affected data again during the next backup. The backups are monitored every day by default but the schedule can be changed to fit your environment.
Altaro Multi-Tenancy
As I highlighted at the beginning of the post, the multi-tenant version of Altaro can manage several different environments in a single, Cloud Management Console (CMC). Altaro can be installed a way that the administrator can configure, monitor, and backup many different backup environments spread through a city, area, country, or the whole planet.
Like this, larger enterprises, Service providers, and IT resellers can use Altaro to manage backups for their clients or their branch offices via the CMC. Another advantage for service providers is to get a recurring revenue by selling Altaro as a service based on a per-VM structure. You can manage and monitor all your customers' VM and physical server backups and replications through Altaro's CMC.
Pricing structure
Curiously enough, Altaro's licensing doesn't take note of the Sockets/CPUs the Host has, which means that you can have a beefed, 4CPU monster server and still pay only a single license for that ESXi/Hyper-V host. You can host an unlimited number of VMs per host. That's advantageous for those willing to consolidate a lot of workloads on just a few hosts.
Altaro has a few different editions, starting with the Free, then Standard, Unlimited, or Unlimited Plus. If you're serious about backups, you'll need to pick the Unlimited Plus as this is the one that has all the perks (Cloud backups, WAN-optimized replication, CMC etc).
There is also a possibility to have subscription pricing, priced per VM. You can run you VMs wherever you want, and it's based on the Unlimited Plus edition. A multi-year subscriptions which gives you a discount are also available.
Final Words
Companies and Organizations that look for a solid backup solution for their virtual and physical systems might want to have a closer look after reading our post. An easy to use and intuitive product to work with has many, if not all, features that have much bigger backup vendors. If one of your priorities is efficiency, with Altaro inline deduplication savings are one of the highest in the field.
Small to medium size businesses will appreciate to simply setup-and forget it backups for their VMs. The best way to fight ransomware attacks is to have multiple copy of your data spread across different environments, but with the fastest tier on-site so you can restore as fast as possible.
We haven't talked about restoring files or folders, or MS Exchange items. Yes, Altaro VM backup can do it too. Even if, nowadays, everyone is moving their Exchange Servers to M365 environment and leverages the Microsoft's Azure Public cloud structure. However, Microsoft is not able to restore your Mailboxes, Teams, OneDrive, SharePoint objects. You must setup your own backup solution to have a possibility of granular restore. That's why I mentioned Altaro/HornetSecurity Total Protection for M365 as one of such a backup and protection solution.
Get your Altaro VM Backup Free Trial Here.