Altaro Backup for Office 365 was recently released, allowing you to backup Office 365 Mailboxes and items. The Software as a service product (SaaS) is a subscription-based service includes backups, storage, 24/7 support and access to a central management console where you manage your backup and restore operations. You don't need to install anything locally as everything is managed from a central console online.
All major backup and data protection vendors integrating Office 365 backup into their offering as more and more enterprises moving their Email applications to the cloud.
As Microsoft does not offer any kind of backup of the content you generating at Azure, having your own backup strategy is a must. Altaro can help you with that.
Altaro Backup for Office 365 is able to back up the mailbox and offers granular restore capabilities including individual e-mail restore. Office 365 mailbox backups are automatically saved to Altaro's secure cloud backup location hosted on Microsoft Azure Infrastructure. The backups run several times per day. (Max 4 times per day).
The cost for storage of backups is included in the offer, so you can't use your own storage if you already have a storage account at Microsoft, Google or Amazon. But as this is an all-in offer, it's perfect for a company which externalized their email system to Azure but needs to have a recovery solution.
Try it free for 30 days: Free Trial of Altaro Office 365 Backup.
Let's have a look at the features in more details.
Altaro Backup for Office 365 – The Features
E-mail backup – Backup of Office 365 E-mails, attachments, contacts and calendars.
Restore anything – Restore of all mailbox or individual items possible. There is no cost for restore operations.
Unlimited retention period – the backups are retained during the lifetime of the mailbox and the data are kept forever. If you stop the subscription, the data are deleted.
Encryption – backup data is protected by AES 256-bit encryption at rest. The authentication user interaction (login, setting changes, subscription management and accessing backed up data) works over TLS encrypted channel.
Pricing per mailbox – You can have a case where you have a single mailbox used by multiple users. In this case, you pay just a single mailbox.
Simply sign up and connect an Office 365 account. Backups are taken automatically and saved to Altaro's Azure infrastructure.
Screenshot from Altaro. the Altaro Office 365 Backup console. A Web-based console.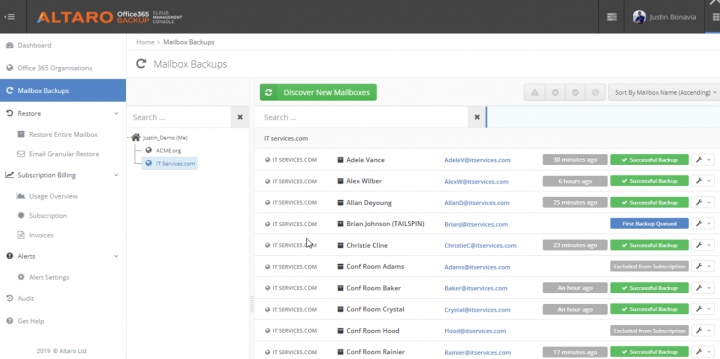 Questions you might be asking
Number or mailboxes?
The product can scale out if necessary, to backup hundreds, thousands of mailboxes. There is no actual limit. Any number of mailboxes can be backed up. There's a minimum of 10 mailboxes per year, with the entry plan.  The 30-day trial, however, has a  maximum of 10 mailboxes. If you need more during the trial, just ask  [email protected].
Keep backup if I delete a mailbox?
Yes, this is possible. You have an option to stop mailbox backups and keep the data. As long as the subscription is active, the content will be retained.
Where are the data hosted?
Altaro's Office 365 Backup data is stored at rest in Microsoft Azure West Europe (Netherlands).
What does pricing include?
Pricing is per mailbox. It is a single annual or multi-year subscription that includes:
Mailbox backup
Storage of backed up data
Access to a central management console
Round-the-clock technical support
There's a minimum subscription of 10 mailboxes per year. You can scale up to tens of thousands of mailboxes. If you want to add more mailboxes to your current subscription because your company might grow in size, it is easily possible. Simply you will purchase Add On mailboxes which are sold in batches of 10.
What's backed up?
Office 365 emails
Attachments
Contacts
Calendars
Wrap Up
Altaro Backup for Office 365 is a new SaaS product accessible via an online console. It is a subscription-based service allowing you to backup your Office 365 mailboxes as Microsoft does not provide a native backup solution for your data. If one of your users needs to recover his deleted e-mail or another item, you can do that from anywhere.
The solution can be purchased as a subscription, from 1 year to 3 years where the latter one is cheaper. A two-year subscription will give you a 10% discount on the one-year price and a three-year subscription, you benefit from a 15% discount. Also, as the number of mailboxes rises, the pricing decreases as well.
Links:
More posts from ESX Virtualization:
Stay tuned through RSS, and social media channels (Twitter, FB, YouTube)