Managed desktops, running on a public cloud infrastructure are a reliable and secure solution for organizations of any size and come with low upfront costs and do not need cloud experts in their IT teams.
Today managed desktop solution providers or  Desktop-as-a-Service (DaaS) providers have evolved to a point where IT can completely rely on service provider expertise as design and consulting services, onboarding and implementations, including support, are the part of the whole package.
Anunta DesktopReady is one such offering. DesktopReady lets you transition or expand the existing infrastructure you might have on-premises, to the cloud, without buying more hardware.
As users are more and more mobile, or employees increasingly work from home, cloud-managed desktops offer the most flexible and secure option.
The Architecture
Let us have a look at what the overall architecture looks like and the components necessary to make things works.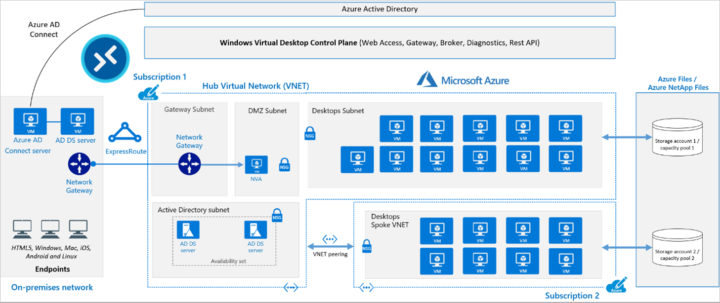 On the left side of the representation, we have the local on-premises network with all the endpoints, the PCs, the servers that are used locally on the site. There is your local Microsoft Active Directory (AD), your file servers, and your client's endpoints.
We have connectivity to Azure which is usually done via Azure ExpressRoute which lets you extend the on-premises network into the Microsoft cloud over a private connection. ExpressRoute connections do not go over the public Internet, but rather through a connectivity provider's network.
Connectivity can be from an any-to-any (IP VPN) network, a point-to-point Ethernet network, or a virtual cross-connection through a connectivity provider at a co-location facility.
Microsoft Azure supports many different solutions. Most of them are certified firewall devices. However, for networking requirements Anunta recommends using VPN S2S with Azure supported firewall device at client infrastructure.
On the right side, you can see some subnets where the remote desktops are running. There is also Microsoft Active Directory Domain Services (AD DS) servers which are connected to your AD DS on-premises. The AD is "stretched" from on-premises to the cloud.
To be more precise, Anunta has a simplified architecture blueprint image as well. You can see on the right side some Active directory VM and File Server VMs.
For file servers, an Azure Server OS VM is used. This VM is domain-joined machine. Shares are created and a shared network drive is mapped via GPO and FS Logix application for user profile roaming.
Different type of desktops can be created. You can choose either Pooled (multi-session) desktops or Personal (dedicated) desktops.
Both can be adjusted and configured with different vCPU number, Memory or Storage, to fit your needs.


Which parts of the infrastructure are managed by myself and which parts are provided by service providers?
That's a good question. Parts of the infrastructure are maintained by the client itself, and part of the infrastructure is maintained by Anunta. The diagram below lays this out simply. In fact, customers, are responsible only for the devices that your employees are using to connect to the virtual desktops. Anunta has the technical responsibility to ensure that the solution works as expected.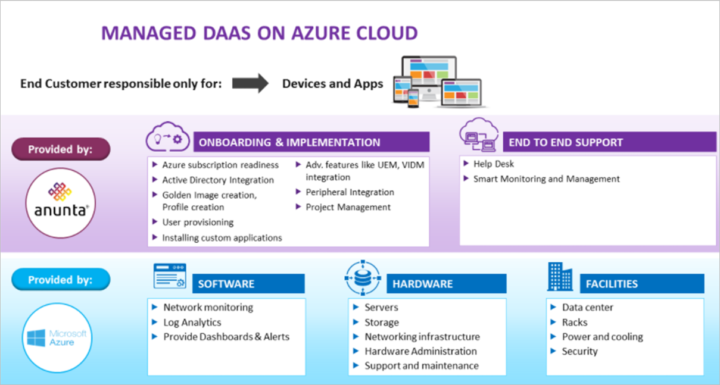 And to give you even more insight into the architecture and licensing, we'll dive in with the next screenshot. As you can see the end users are accessing via https through request broker and are identified by Azure AD.
Anunta is using Automation APIs for billing, provisioning, analytics, reporting and support. User profiles are managed through FS Logix application software.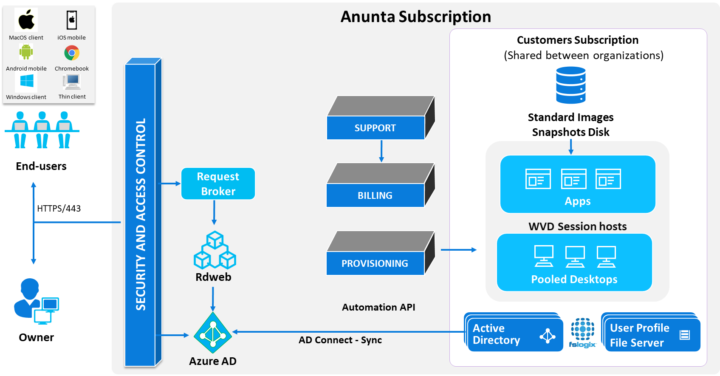 Licensing
In most cases, customers have pre-existing Office 365 licenses. Those can be easily transferred and used in cloud desktops.
Alternately, DesktopReady comes with Windows 10 Operating System license. You have the option to add Microsoft 365 Apps when you do your purchase, however you can also, as mentioned above, bring your own license (BYOL).
Is a Test Run possible?
Yes, Anunta provides this option, as a 7-day trial. During the trial customers can test if the speed, latency, or the choice of desktops is as desired.
In Conclusion
The overall architecture of cloud desktops is standardized with Anunta and Microsoft. The Azure components are configured and chosen from predefined services on Azure cloud to create network connectivity, choose the desktop size with the amount of RAM, vCPU, and disk that is necessary for each worker. I have walked you through the desktop configuration wizard in my previous post here.
There is a flexible choice between light, medium and heavy user's desktop for multi-session. Or you can go with Power and Multimedia desktops for individual users. Microsoft Windows Defender is used for basic virus and malware protection, but customers can request via support, an additional protection.
VMware vSphere 7.0 coverage on ESX Virtualization
You might want to check our Free Tools page where you can find VMware utilities, but also utilities for Microsoft systems or other "Swiss Knife" software there.