I think that first, we should answer a simple question "What are managed desktops?". In today's parlance, Managed desktops are necessarily managed virtual desktops running within a public/private cloud datacenter, such as Microsoft Azure or any other cloud. The monitoring, maintenance, management, and service desk is ensured by a service provider or by the in-house IT teams. The goal is to simplify the management for administrators. To give the end-users a possibility to work from a remote location and provide them with Desktop as a service (DaaS).
Remote tools are evolving over time, however, the Microsoft standard in Windows applications and desktops, make the use of Windows desktops, a standard.
Anunta, an India headquartered company with a global presence offers Managed Windows virtual desktops (WVD), a Windows 10 based virtual desktop on Azure, Managed Horizon Desktops via Horizon View platform on VMware Cloud on AWS, Horizon Cloud on Azure/SoftLayer or Managed Citrix Desktops. In each case, the desktop image is personalized, pre-installed with your apps, and prepared for use within the cloud datacenter. The whole process is conducted by Anunta, from design to implementation and subsequent management of the virtualized environment.
It is worth noting that Anunta is a Partner Credit Transfer (PCT) Certified Partner of VMware which means that VMware customers can use PSO credits to purchase Managed Horizon Desktops via Anunta offer.
A few days ago, I happen to speak to technical experts at Anunta to learn about their new product specifically targeted towards small and mid-size organizations which will allow the SMBs to provide a sustainable and modern workplace to their employees. Let us get into the basics of Anunta's new product DESKTOPREADY, the modern Desktop as a Service.
What is DestkopReady™ by Anunta?

Anunta's new desktop offering is specifically created for SMB's and is branded as DesktopReady. It is an online assistant which helps you to choose the way you want to use those desktops to work. You can choose the licensing, support, or whether you're bringing your own Microsoft Active Directory (AD) domain or not. Let's have a look at the different screens. For the benefit of the readers, I have captured the screenshot of Anunta's DesktopReaddy demo, which provides immense simplicity when using the product.
When you first open that page, you will be presented with different options. You can choose between Business or Individual option package of service.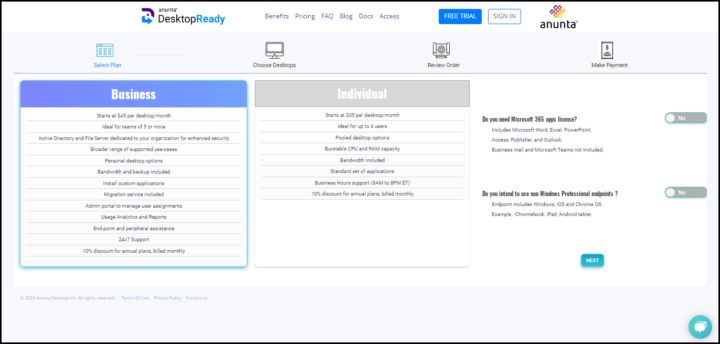 Business – With this option, you'll choose to build your own tenant at Azure. You're not sharing anything. You have your own file server and dedicated Microsoft Active Directory (AD). You can choose from single-session desktops or multi-session desktops.
Note: the multi-session desktops on Windows 10 are quite new as this technology was only reserved to server operating systems (OS). Now Microsoft has brought this down to desktops too.
Individual – With this option, you will have still the possibility to choose from Light, Medium and Heavy user choices, however, you do not have an option for Multimedia and Power desktops. As for the Microsoft login domain, there is one created by default where you don't have the choice of the name. It is fixed domain Desktopready.com which belongs to multiple shared clients.
On the right-hand side, you have licensing options that allow you to choose the correct option for Office 365. There is basically an option whether you already have O365 license or not, if you need O365 or not.
There is also an option whether you want to other then Windows endpoint (iOS or Chrome OS).
The next page allows you to choose the type of desktop you need.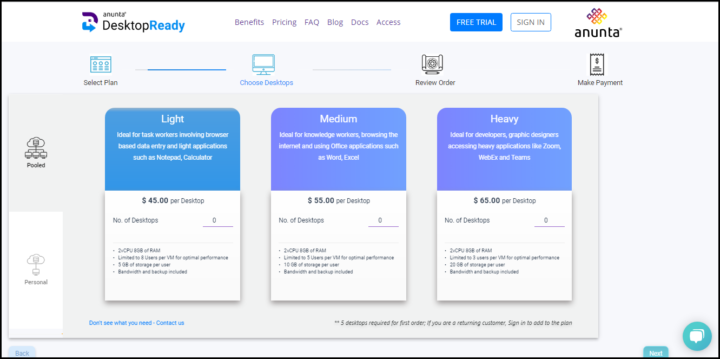 When you select single-session you will get an option to configure Power or Multi-Media desktops. You can also perfectly select some desktops for multisession AND at the same time some desktops for Multimedia.
This is not one or the other, but it is combined option where at the end you'll be presented with the cost summary and infrastructure composition of services where you'll see all the desktops you have chosen.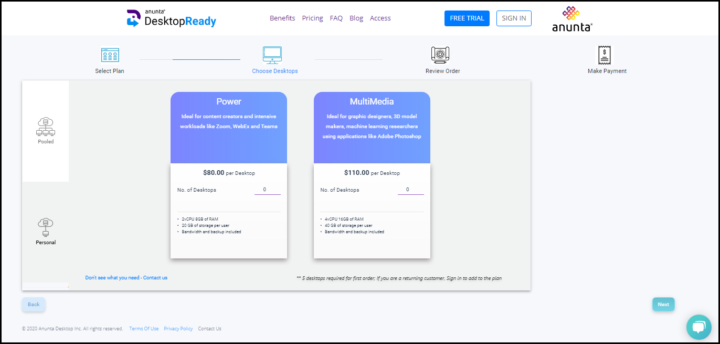 Click next to continue the configuration process.
On this page, you'll see the summary of what you have chosen, and what the composition of the infrastructure will be.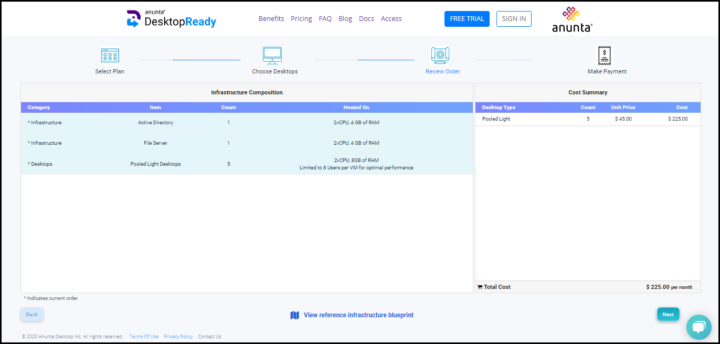 If you click on the link at the bottom, you'll see a nice technical diagram of how all this is going to work. With access ports, Azure AD, Azure AD connect, Rdweb, Rdgateway and the tenant at Microsoft Azure.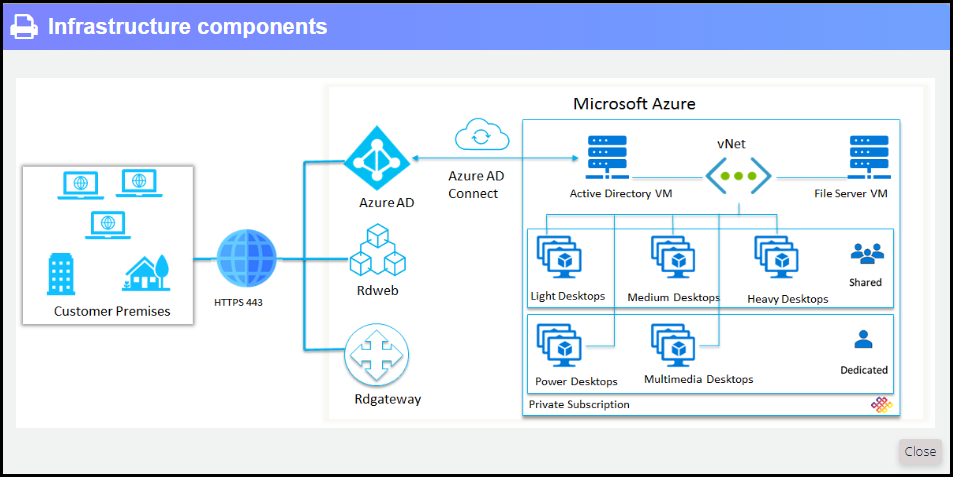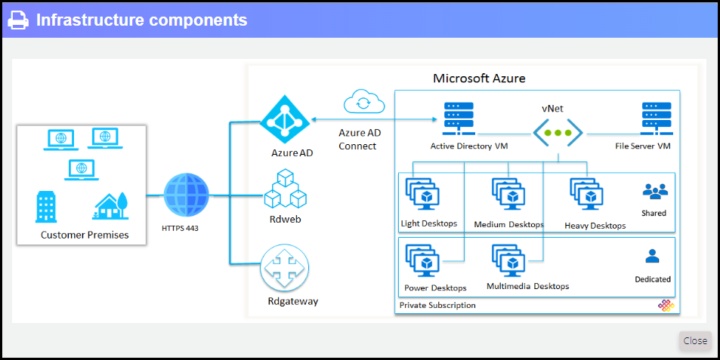 And the last one when you click Next, you will end up on the payment page. You see what you purchased and there is also an option for auto-renewal (which can be unchecked). At this stage, you should create an account and proceed with the payment.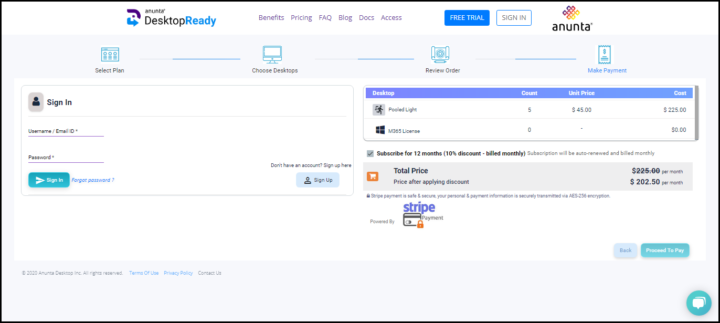 .
Final Words
This was a quick walkthrough of this new cloud desktop offer from Anunta. Finally, cloud desktops aren't that difficult to understand. The options are clear to choose from and the assistant is helpful. And you can also ask a quick question via chat from their service desk.
Caring about user's apps and data
Anunta offers onboarding services allowing the seamless transition to cloud desktops. They offer onboarding services where they setup the cloud desktop environment at Azure and integrate it and configure it with the existing infrastructure you might be running within your own datacenter.
Part of the onboarding process is the configuration of Microsoft active directory (AD), image creation, application configuration, end to end technical testing, and migration services. All this without disruption of the production services.
For organization running local Microsoft Active Directory (AD) this means that Anunta will use Microsoft Azure's AD as a tenant. The objects stored in your local on-prem AD are simply copied and replicated to the Azure AD which is able to provide authentication for your remote desktops and its users.
A secure VPN setup is established from Azure to an on-prem location, then the configuration of security (IPSec), defining subnets, and access via VPN.
You have the option for proactive monitoring, incident management, change & patch management, and service desk. Usually, with VDI, there are always questions, problems to resolve and keep your users happy. The goal is of course to ensure consistent delivery of a superior end-user experience.  "Slow desktops" are things of the past.
I remember that VDI was often problematic during the days when the datacenter and virtual machines (VMs) were running on storage backed by spinning media. Now with SSD and NVMe protocols admins finally get good performance.
Anunta is a recognized specialist in cloud and desktop virtualization technologies, managing 116,000+ endpoints across 177,000+ users globally. Anunta delivers computing environments with unmatched end-user experience guaranteeing 99.98% application delivery anytime, any device, and anywhere access. Anunta's outcome-focused approach in designing, building and managing user-centric, high-availability application delivery architectures makes it the technology partner of choice for global enterprises. For more information about Anunta, please visit Anunta website.
Anunta has been named as a Managed Desktop as a Service Provider in the Gartner's Managed Desktop as a Service Guide 2019. VMware has awarded Anunta as a Regional Partner of the Year 2020 for service excellence in Asia Pacific and Japan.
Link to the home page at Anunta.
More from ESX Virtualization
Stay tuned through RSS, and social media channels (Twitter, FB, YouTube)