Atlantis Computing continues impress me with their solution which is currently unique in the industry as you can use your own hardware to create your own hyper converged solution.
What Atlantis USX needs is to use your server's local disk resources (or shared storage) to create an acceleration layer composed of Memory, SSD and HDD. The solution uses similar aproach as Nutanix. Controller VMs which gathers the resources from the host where it runs to provide the acceleration layer (iSCSI or NFS) for the whole infrastructure present in the cluster.
Using inline deduplication and compression makes the solution very efficient especially for VDI workloads, but also DB workloads which can get compressed efficiently.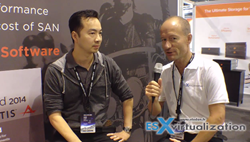 Atlantis USX:
Accelerate existing SAN solutions
Build a hyper-converged solution with local storage
Their solution can extend the life of the existing storage (up to 5 years) by applying deduplication and compression (so data reduction – can reclaim up to 80% of the existing storage) and IO acceleration via server side RAM and Flash. They add capabilities to do fast provisioning and data mobility.
So it's possible to use Atlantis USX 2.0 as a fully functional storage platform and turn DAS into enterprise storage. USX is able to pool and abstract storage and present a pool of storage to all the hypervisor.
Here is a video with Hugo Phan from Atlantis.
Enjoy…