VSquare Backup is new backup solution (agent-less) for VMware and Hyper-V infrastructures.  The particularity of the offering is that it's a subscription based solution. Today I'll show How-to Backup and Restore VM in VSquare Backup.
The admin console called Anywhere Administration Console allows to setup the connection to the VSquare backup servers. The connection to the VSquare backup servers with particular backup plan unlocks features present in each one of those. It's very lightweight and agent-less backup solution (no agents in VMs).
To get you started you can download their software and start with the free plan which allows backup and restore.


During the installation you'll need some parameters like:
An e-mail account for alerts and results of jobs
A local storage repository where all the backups and indexed files are stored (this repository will grow up over time ….)
The product is quite small in size and install takes less than 1 min. However you might want to know that you can install the console separately from the backup server.
Let's say that on your backup server you installs the VSquare backup server AND the console, but on your laptop you'll most likely want to install ONLY the console. To do that you'll have to uncheck the checkbox during the install and keep only the VSquare Anywhere Administration Console…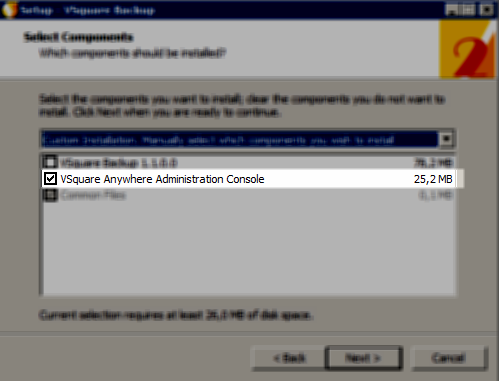 Directly after installation it launches the download of latest patches. The download space on VSquare website allows to download the latest patch just in case your backup server do not have direct connection to the internet. Once installed and configured on your Server or Workstation the admin console looks like this.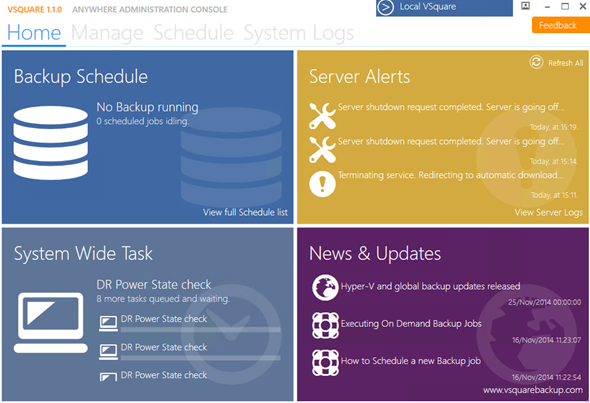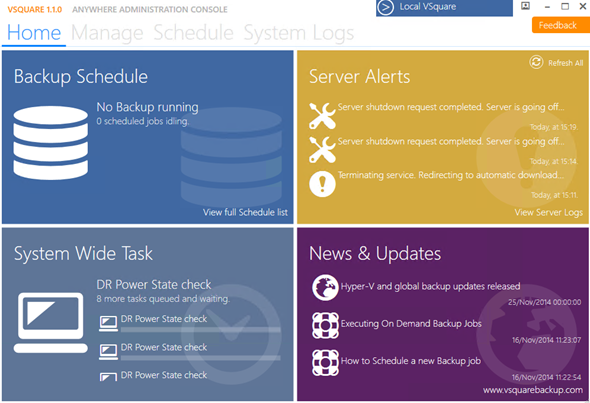 Then you are able to add your environment. VMware and Hyper-V are supported virtualization environments.



A small window opens where you can add your datacenter and your connection details… It looks like this.


Once done you can see your environment. A list of VMs with their status shows up… Note the colon "Last Backup", where you can see if any of your VMs has been backed up.
How-to Backup and Restore VM in VSquare Backup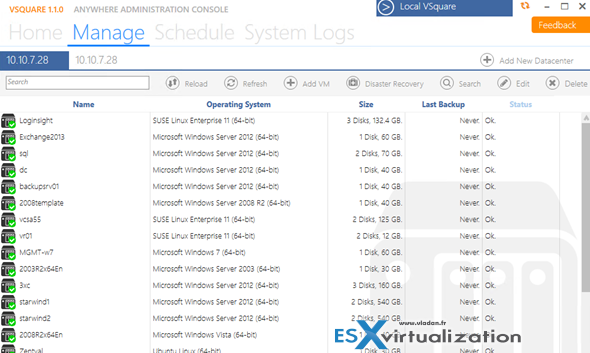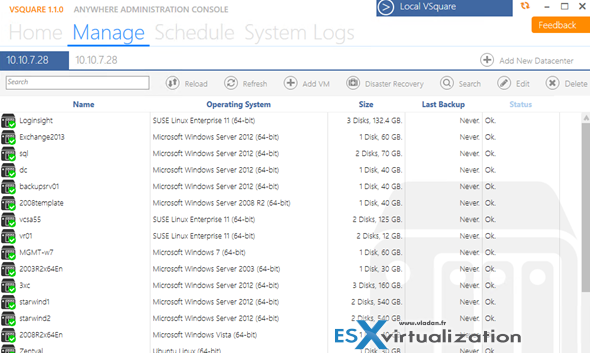 Now to backup a single VM all you need to do is double-click a VM from the list. This brings a pop-up window which allows to see the options and choose the backup (or restore).
Just click the Backup and Restore TAB and click the Execute backup now option.


By clicking the menu button it brings-up a window allowing to chose the destination for the backup. As you can see, the window brings also information about how much storage space is left on the destination….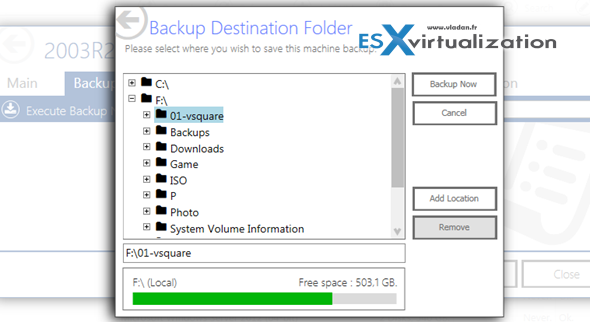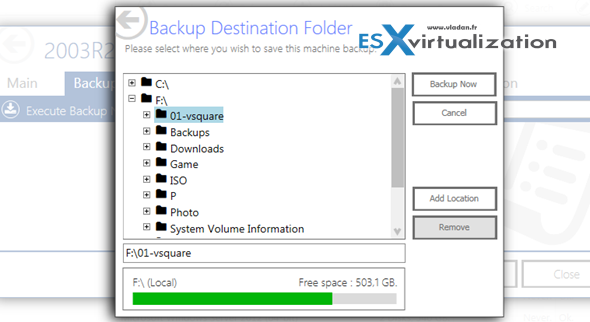 Here is a usual screen showing snapshot taken by VSquare backup product. Nothing unusual.


Once backup completed you'll receive a confirmation e-mail, which shows details about the job…
How to restore?
Again, fairly simple. Double click the VM you want to restore and you'll see all available restore points… In my case I have only single restore point.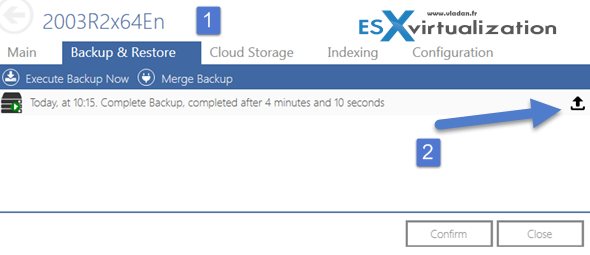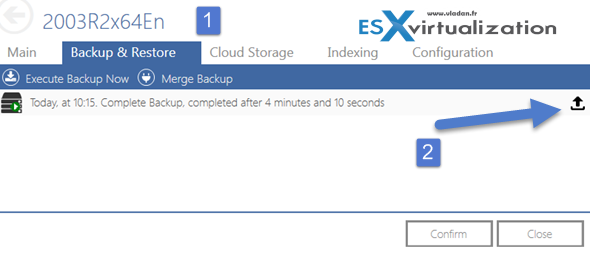 And then you'll see this screen which allows to chose restore option.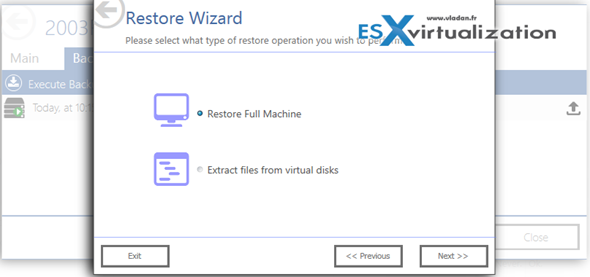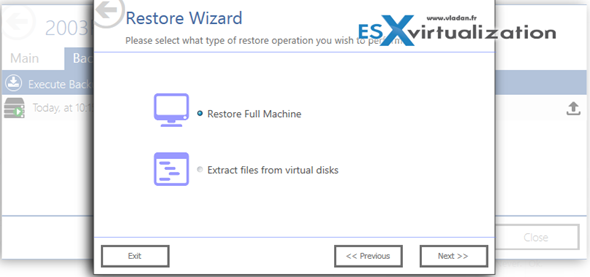 I took the Full VM restore option for my test and all I changed is the VMs name. The other options came here pre-filled so you don't have to waist your time to enter those details again.
But if you want to restore elsewhere, that's where you would have to go.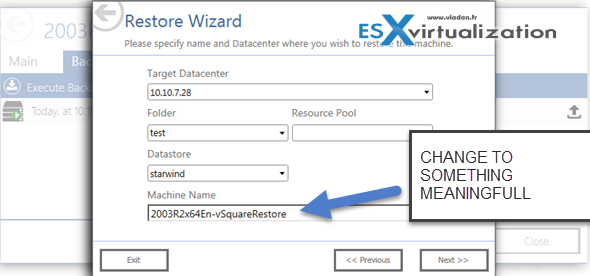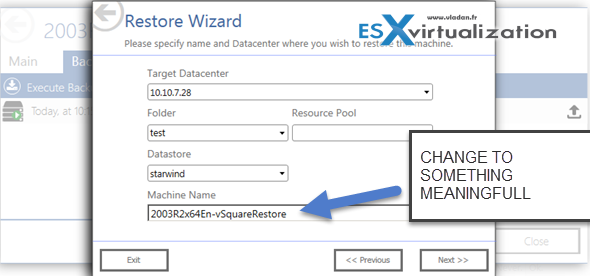 And then you'll see this recap window showing what will happens with the disks. You can see that the destination VMs disks will follow the naming convention (VMs name = VMs virtual disks name).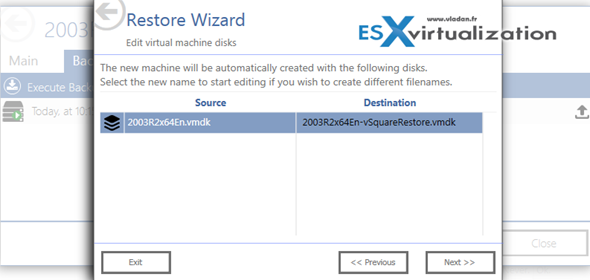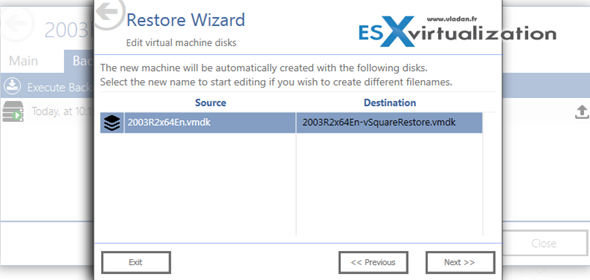 And then you can check the recap screen if everything looks like you wish.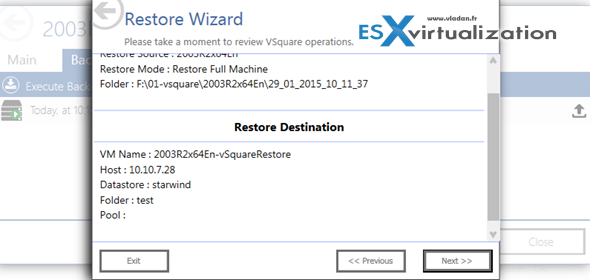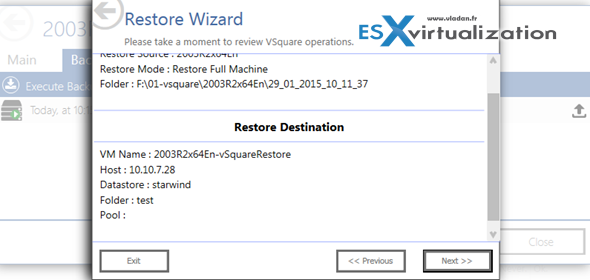 That's all folks. We were able to successfully backup our VM and restore it with different name.
Obviously there is a possibility to configure a schedule, which can be done on the main menu's Schedule TAB.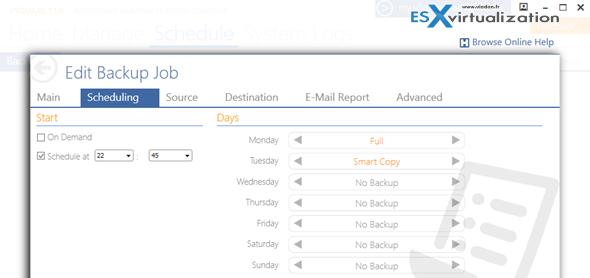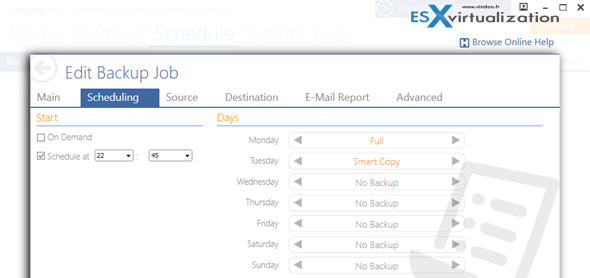 The roadmap of VSquare is interesting as well:
They're working on following features.
Real-Time deduplication of backups – Its real-time because it will not require any hydration and dehydration to restore or extract files. The deduplicated storage is seen as a full disk device and remain transparent to every operation (you could even play the virtual machine straight from there).
Other features which shall be added in the future are:
Physical server backup possibility – with a small lightweight agent installed on physical host
Tape support – yes, tapes are still around and for archiving purposes it's easy-to-transport media…
Check the VSquare Backup Website for more info.